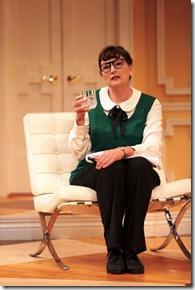 Boeing, Boeing 
Written by Marc Camoletti
Directed by Dennis Zacek
Drury Lane Theatre, Oakbrook Terrace (map)
thru Aug 4  |  tickets: $35-$49   |  more info
  
Check for half-price tickets 
  
  
   Read entire review
  
---
Totally groovy farce flies high for summer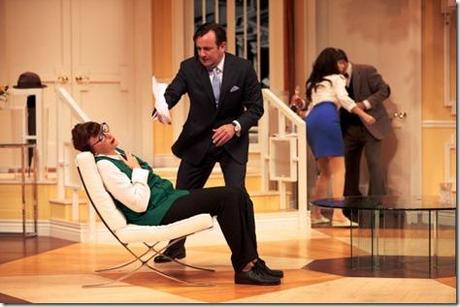 Drury Lane Theatre presents
Boeing Boeing
Review by Catey Sullivan 
Ah, summer. Generally speaking, 'tis the season to be silly on many an area stage. So it goes at the Drury Lane, Oak Brook Theatre where Nora Dunn ensconced as the comedic lynchpin of Marc Camoletti's feather-weight, thoroughly unnecessary and totally groovy farce Boeing, Boeing. The plot is essentially an extended episode of Love, American Style, as a swinging single guy juggles an "international harem" of three comely fiancés in 1960s Paris. Playboy Bernard (Stef Tovar) keeps his stewardesses separate thanks to the miracle of modern day air travel, a closely monitored book of flight schedules and a gimlet-eyed, no-nonsense maid, Berthe. As the help, Dunn – sporting owl-eyed spectacles and a dotty French accent – is at the heart of the show's funny bone.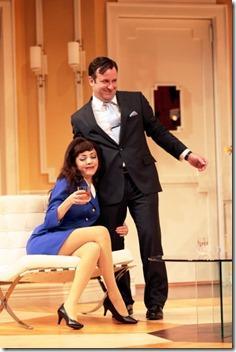 Directed by the venerable
Dennis Zacek
, Dunn is surrounded by a sturdy cast of solid comedians. The result is full throttle mindless fun, a comedy that careens from one outlandish scene to the next as our flighty hetero hero finds himself mired in increasingly complicated, compromised sexual shenanigans. As anyone who has ever flown out of O'Hare well knows, airline timetables are more aspirational than factual, so it's no spoiler to note that the women in Bernard's life all wind up in his Parisian pad at the same time. The arrivals and departures of the German Gretchen (
Katherine Keberlein
), a statuesque blonde bombshell; Gabriella (
Dina DiCostanzo
), a raven-haired, va-va-va-voom Italian; and Gloria (
Kara Zediker
) , a brunette vixen born in the USA provide plenty of hijinx as Bernard scrambles to keep the ladies from crossing paths. Assisting Bernard and the invaluable Berthe is Robert (
Daniel Cantor
), the square straight man (both in the sexual and the comedic sense) to Bernard's high flying player.
The plot is as thin as the air at 40,000 feet, but that doesn't make Boeing, Boeing any less of a hoot. Because of its slight story, Camoletti's farce looks deceptively effortless. There's no subtext here to ponder, no metaphors to unpack, no great nuance to any of the characters. But like even the simplest of farces, Boeing, Boeing requires the elite level comic timing and a cast with a pitch-perfect degree of comic verve. The former can be honed during the rehearsal process. The latter, arguably, is something that's more innate; either you're funny or you aren't. Most of the jokes in Boeing, Boeing are obvious, and cheesy. For them to land, you absolutely must have an ensemble of seriously superior comedic chops. That the Drury Lane has.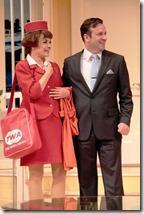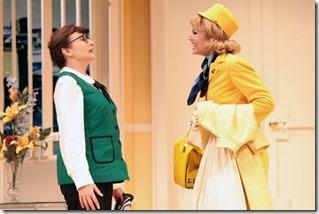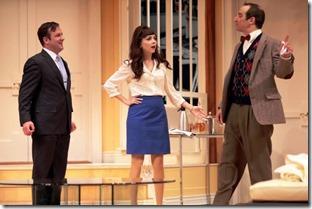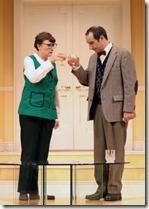 Dunn plays Berthe as a buttoned-up, daffy sort of martyr, a long-suffering servant whose prim allegiance to order is upended by the all-too friendly skies Bernard insists on traveling. With pursed lips and a glower that could intimidate a rampaging Hun, Berthe's aggravation eventually escalates to stratospheric heights. She's the anti-flight attendant, brow-beating anyone who gets on her nerves (and by the close of the first act, everyone has gotten on her nerves ) .
As Bernard's Wisconsin-bred pal Robert, the rubber-faced, putty-limbed Cantor mines comic gold, nailing the wide-eyed, corn-fed affect of a Midwestern boy who has never been anywhere more cosmopolitan than, say, Sheboygan. DiConstanzo, Keberlein and Zediker do a commendable job in creating three distinct women from three shallowly written characters. Zediker, in particular, hits the hilarious sweet spot during scene when her dialog is essentially limited to exclamations (Ka-pow!)
As for Tovar, he's competent but seems miscast. He by no means derails the production, but he's not terribly convincing as an ultra-suave ladies' man either. He's more boy-next-door than international-man-of-mystery.
That said, Boeing Boeing is a rollicking ride from start to finish, packed with the sort of turbulence that's makes for a high-flying hit.
Rating: ★★★
Boeing, Boeing continues through August 4th at Drury Lane Theatre, 10 Drury Lane, Oakbrook Terrace (map), with performances Wednesdays at 1:30pm, Tuesdays at 1:30pm and 8pm, Fridays at 8pm, Saturdays 5pm and 8:30pm, Sundays 2pm and 6pm.  Tickets are $35-$49, and are available by phone (630-530-0111) or online through their website (check for half-price tickets at Goldstar.com). More information at DruryLaneOakbrook.com.  (Running time: 2 hours 20 minutes, includes an intermission)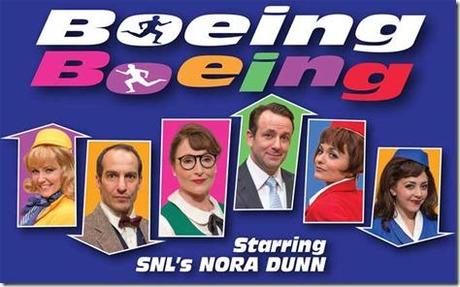 Photos by Brett Beiner 
---
artists
cast
Nora Dunn (Berthe), Stef Tovar (Bernard), Daniel Cantor (Robert), Dina DiCostanzo (Gabriella), Katherine Keberlein (Gretchen), Kara Zediker (Gloria).
behind the scenes
Dennis Zacek (director), Sam Ball (set design), Jesse Klug (light design), Christine Pascual (costumes), Lindsay Jones (sound design), Nick Heggestad (props design), Brett Beiner (photos)
16-0629