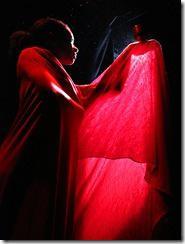 Bodies
Written by Carla Stillwell  
Directed by Chuck Smith
Greenhouse Theater, 2257 N. Lincoln (map)
thru June 24  |  tickets: $15-$23   |  more info
  
Check for half-price tickets 
  
  
   Read entire review
  
---
Brilliant 'Bodies' exposes culture of secrecy within the Black church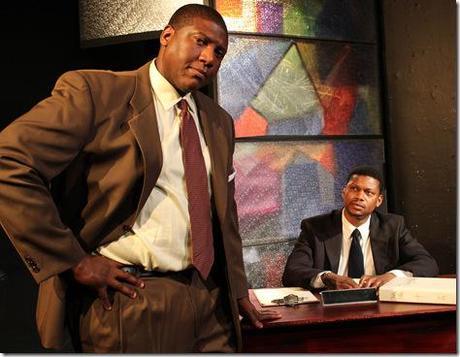 MPAACT presents
Bodies
Review by K.D. Hopkins
Carla Stillwell's brilliant new work is about the nature of family obligations, secrets, and the emotional labyrinth that is the Black church in America. The Catholic Church has been the most prevalent in the media with sex scandals and lawsuits. The church in the Black community is often the foundation and only source of family and security. They are bound by loyalty and secrets are held even tighter. In these days of full disclosure and over-exposure, there is very little heard or written about the Black church. Does that mean that there is no scandal or depraved behavior? Not by a long shot.
Bodies builds a story that encompasses the subtleties of a religious subculture that has always had to protect itself from larger society. The church is a refuge from racism, poverty, and quite often, the source of nurture. The Black family at the church in Bodies has a legacy to maintain.
The wonderful Andre Teamer plays the son who followed in his father's footsteps to become a man of God. Teamer has the resonant preacher's voice and the powerful posture of a man who uses the pulpit well. It is a stunning contrast when his character faces a heart wrenching family decision. Teamer's emotional range simmers under the surface and releases like steam.
Rev. Black is responsible for his younger brother Calvin, an antisocial man who never fit in with his religious heritage. William R. Riley's portrayal of Calvin Black is deceptively brilliant. Riley's Calvin seems to be the sullen family scion living on the good graces of his late father's legacy and his older brother's desire to be a forgiving man of God. Legacy and ambition turns out to be a dangerous mask of denial. Calvin's motivations turn sinister and Riley portrays the emergence of what is termed a reprobate character in a stunning turn of events. The scene where he is confronted with his behavior is chilling. His face becomes a mask of fury. He is like a cornered and feral animal forced to admit to brutal crimes.
Corena Black (Ebony Joy) is the very portrait of a minister's wife, as I know it. Joy creates the archetypal minister's wife. She is devoted, strong willed, and subservient only to a point. The minister's wife is always the power behind the pulpit. That has been my experience with every Baptist church I have experienced. Corena is an upstanding Christian woman who loves her husband. Stillwell has given this minister's wife a sexy backbone that is mighty refreshing. Joy is voluptuous and funny. She brings levity and a grounding influence to the action. She is very skilled at turning from that levity to being haunted by a ghost and accusations of denial akin to Peter's denial of Jesus at Gethsemane. At first the intermingling of flash-forward and flashback is jarring – but as the action continues, the present and future as recent past becomes very effective. Corena's fervent prayers and calls to God for strength struck me to the core. She sees a horrible crime as the result of sickening behavior and her benign denial. Joy's portrayal of shock and nausea never goes into Grand Guignol over-the-top emoting.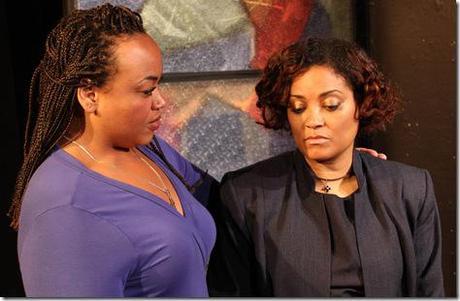 Sidney Miller beautifully portrays the character of Lane, the arranged Christian wife for Calvin.  In the words of Pastor Black, Lane is a good Christian woman washed in the blood of the lamb. She is devout and has saved herself for marriage into the age of what is still considered spinsterhood. She wears what is called the visage of Churchie Mae, as was defined by some of my relatives when describing women of God. She wears modest attire with no "scarification of the flesh" (ear piercing or tattoos) because that is how women are told to behave according to the Bible. Miller is heartbreaking as she comes to see that her dreams of a marriage 'sent to her from God' are not only an illusion but also, a nightmare.
Caren Blackmore plays the haunting wraithlike Natalie Black, the daughter of Calvin, and a woman who abandoned her. Blackmore spends most of the evening behind a translucent screen backlit and swathed in flowing red. Her childlike voice rings to the core, speaking from the books of Lamentations and the crucifixion described in the New Testament. When she is not behind the screen, Blackmore's delicate features and petite stature project a young child. She is innocence and yet innocence ruined by the betrayal of those who are supposed to protect her.
Stilwell's writing is gorgeously brutal and builds to a not so simple climax that evoked gasps from the audience and from me. Her dialog is economical, with just the right touch of scripture and 'amen's' thrown in for proper evocation of church life and church business. Chuck Smith's direction is smooth and metered, giving a surreal quality to the ghost visions. The set looks like every Baptist church office of which I have ever been privy. It is authentic and spare with a stained glass cyc wall. The lighting (designed by Casey Diers) gets a special mention because it is integral to the action. The lights signal a great deal of foreshadowing and a sinister motif.
I found myself sitting for a few moments after I left the theater. Bodies' brutality is the stuff of nightmares, but also an eye opener for those who say that "it's not in my backyard." 
Rating: ★★★½
Bodies continues through June 24th at the Greenhouse Theater Center, 2257 N. Lincoln (map), with performances Thursdays-Saturdays at 8pm, Sundays 3pm.  Tickets are $15-$23, and are available by phone (773-404-7336) or online at Tix.com (check for half-price tickets at Goldstar.com). More information at MPAACT.org.  (Running time: 75 minutes with no intermission)
---