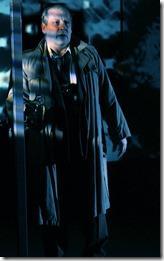 Compelling, nuanced story in the wrong medium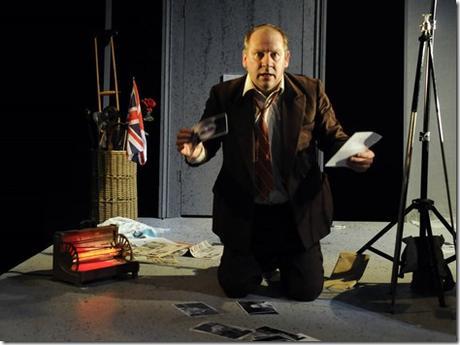 Review by Lauren Whalen
Over the years I have reviewed a multitude of one-person shows, and a general observation has held true throughout: solo shows do best without an intermission. No matter how fascinating the subject matter and/or entertaining the actor, two-hour solo shows just do not work. Bloodshot is living proof of the aforementioned. It's a compelling story in the wrong medium: a story of obsession and murder that deserves a better outlet than an overly long and indulgent solo show featuring completely unnecessary music breaks and magic tricks. Greenhouse Theater Center has begun its foray into producing with a year-long season of solo shows, and odds dictate that not every production can be a winner. Thus far, out of the three Solo Celebration! shows I have seen (including last month), lags behind.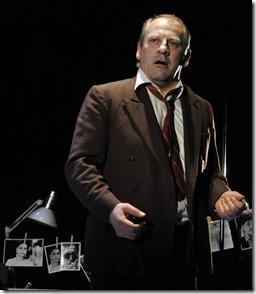 Written by Chicago playwright
Douglas Post
,
Bloodshot
follows Derek Eveleigh (
Simon Slater
), a police officer in 1957 London. After his dismissal from the force (his raging alcoholism may have something to do with it), Eveleigh seeks to turn his photography hobby into a profession, with some success. After the work dries up, a mysterious benefactor offers Eveleigh a generous weekly salary to stalk Cassandra, a young black woman living on her own in the Notting Hill neighborhood, which was then mostly populated by people of color and immigrants. But when Cassandra is shot to death, Eveleigh's curiosity descends into obsession.
makes its U.S. premiere at the Greenhouse after successful tours of Europe and the UK, and its press release boasts that the show is "one of the only solo thriller plays written." There may be a reason for this: the best thrillers are composed of different personalities and voices, and their collision is often more interesting than the central mystery itself. True crime, and its fictionalized approximations, has risen dramatically in popularity in the past couple of years, but the podcasts and shows are never solo efforts. Even the features phone calls from accused murderer Adnan Syed in its first season and voiceovers from disgraced soldier Bowe Bergdahl in its second. The point is, crime stories need voices, and having one actor play multiple characters (including all three of Cassandra's alleged rapists) doesn't have the same powerful effect.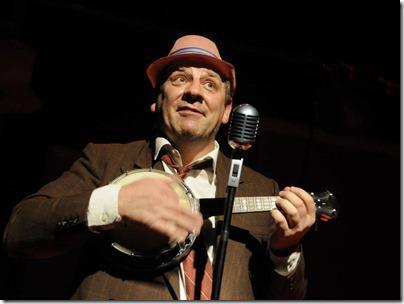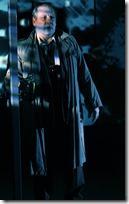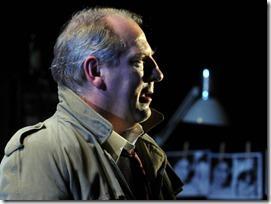 To be sure, the most fascinating aspect of is its mystery: who killed Cassandra? However, the plot is often thrown aside in favor of Slater playing various suspects and minor characters. He plays the ukulele (the actor is also an accomplished composer, writing the show's original music), sings and pulls razor blades out of his mouth, which is all well and good, but visibly detracts from the central issue. As I watched Slater mug and pluck a tiny instrument, I was reminded of a line from Mystery Science Theater 3000: "apparently the story is none of our business." Though largely doesn't work as a solo show, it may have been more effective if Post had trimmed these musical and sideshow acts in favor of the darker questions of mystery and obsession.
There's no question that is well-done. David W. Kidd's lighting transitions are ethereal and spooky, and Agnes Dewhurst 's scenic design includes beautiful, haunting projections and photographs of the victim in better days. And despite the near-constant mugging, Slater is a dynamic presence, engaging the audience and making them laugh (though his dramatic moments sometimes fall flat). is a nuanced, captivating story, but in a solo show format, doesn't live up to its potential.
continues through September 10 at Greenhouse Theater Center, 2257 N. Lincoln (map), with performances Wednesdays-Fridays at 8pm, Saturdays and Sundays 2:30pm & 8pm. Tickets are $34-$48, and are available by phone (773-404-7336) or online through Vendini.com (check for half-price tickets at Goldstar.com ). More information at GreenhouseTheater.org. (Running time: 2 hours, includes an intermission)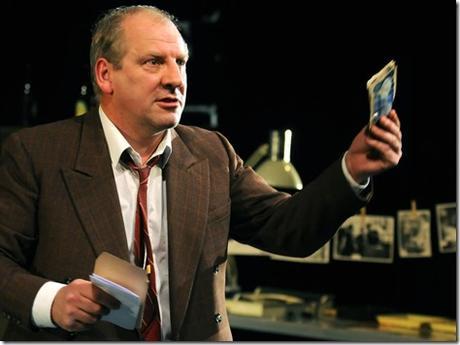 Photos courtesy of Carol Fox and Associates
behind the scenes
Patrick Sandford (director), Ingenious Purpose Ltd. (co-producer), Agnes Dewhurst (scenic design), David W. Kidd (lighting design, projection design), Simon Slater (original music), (sound design), Lynne M. Harris (stage manager)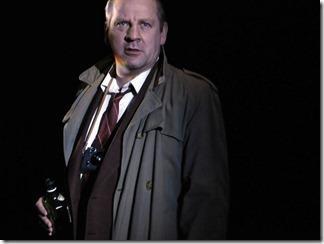 Tags: 16-0818, Agnes Dewhurst, Carol Fox and Associates, Chicago Theater, David W. Kidd, Douglas Post, Greenhouse Theater, Ingenious Purpose, Ingenious Purpose Ltd., Lauren Whalen, Lynne M. Harris, Patrick Sandford, post, Rob Jones, Simon Slater
Category: 2016 Reviews, Greenhouse Theater Center, Lauren Whalen, One-Man Show, Video, YouTube