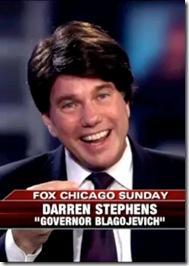 Blagojevich, Blagojevich! 
Written by Michael K. Feinstein
Directed by Clayton Fox
Athenaeum Theatre, 2936 N. Southport (map)
thru Sept 22  |  tickets: $29   |  more info
  
Check for half-price tickets 
  
  
   Read entire review
  
---
A thoroughly unnecessary journey into some infamous dissonance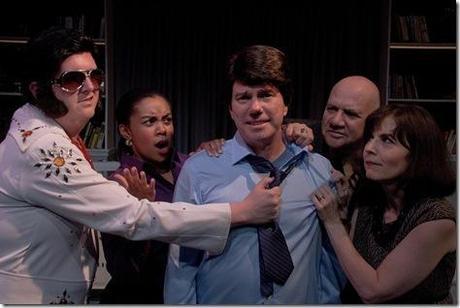 Heckman and Brost Productions presents
Blagojevich, Blagojevich!
Review by Clint May 
The Machiavellian machinations of politicians—particularly in Illinois—is nothing new. Four of our recent governors have gone to prison. If that doesn't make you a little cynical about politics, you have more optimism than me. Blagojevich, Blagojevich! is a supposed comedy that wants to go inside the delusions of the delusional to explore just how these people justify their criminal behaviour. Blago is certainly a convenient effigy to hold to the flames as our most recent example of someone who got caught doing what is probably being done all the time. Spending 90 minutes inside the rambling justifications that reside under his infamous football of hair is an unedifying portrayal that commits its own crime—that of not being funny.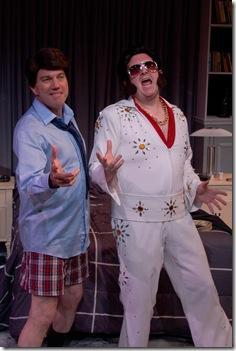 A judge (
George Manisco
) begins the proceeding, presiding over Blago (
Darren Stephens
) and his wife Patti's (
Franette Liebow
) bed and pronouncing a scathing sentence. Rod's greatest crime cannot be measured in physical damage, he says. It could only have increased the level of distrust the already-jaded American public feels towards its elected officials, and for that, he must be made an example. Starting awake, Rod won't confide to Patti his restlessness and we see that we are actually in the past – long before his conviction, but after his arrest. We never leave the bedroom during the ensuing follies as Rod attempts to tap-dance his way out of trouble by justifying his actions to his own hallucinations: two zeitgeist-definers of the last generation, Elvis Presley and Richard Nixon (
Eric Roach
, playing a dual role). Each tells Rod they are "cut from the same cloth" and go on to explain why. It's almost a "Ghosts of Icons Past" immorality tale. When the Tribune sends intrepid young reporter Nancy (
Melanie Loren
) to interview him, she's an accusatory stand-in for the Illinois residents he let down with his impropriety and the subsequent media circus he fed so fervently. Rod uses some of Tricky Dick's dubious advice to lie about a statement from then Chief of Staff Rahm Emmanuel and then attempts to blackmail him into delivering it, thus exonerating him. Things spiral quickly out of control while Rod quotes Shakespeare's
St. Crispen's Day speech
and Rudyard Kipling's "
If
." in increasingly desperate attempts to rationalize his actions and make himself the hapless victim. [Possible spoiler alert: Could this all just end up being a dream?]
Bland and repetitious, Blagojevich, Blagojevich! seems just as frustrated with itself as it does with its protagonist. It goes blue surprisingly fast in an attempt at being shocking that only comes off as grotesquely vulgar. Hearing a Richard Nixon impersonator say "pussy" or a Blago impersonator say the "N" word comes off as desperate as the star. (I've said it once and I'll say it again, making fun of things that are already jokes unto themselves is cheap humor. The last time that worked—and it really worked well—was Jerry Springer: The Opera.)  Blago made many of us ashamed to be Illini, and watching this surreally apologist work of supposed satire is not going to change that. I'm still unsure what this kind of sitcom humor mingled with reheated political commentary is supposed to accomplish. since laughter wasn't one of them.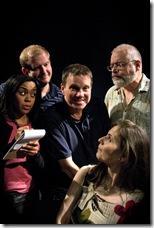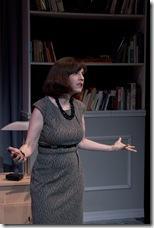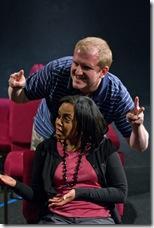 Stephens does a mediocre job of impersonating Rod (though he does show off some vocal chops in a song near the end), while Roach throws himself into his Elvis & Nixon with gusto despite what he's asked to do with them. Watching Nixon taunt Rod inside his mind about taking advantage of Nancy in his bedroom is just one of a few squirm-worthy moments. As Patti, Liebow has little to do but react too shrilly to her inexplicable husband. As the Judge, Manisco brings a somber gravitas that bookends the production in a serious tone at home in another production.
Overlong and late to the stage, Blagojevich, Blagojevich! is an endurance ritual that we've already lived through and will surely do so again with some other politician, but I can't endorse paying for the privilege beyond the price of our belief in our government (that's more of a sacrifice anyway). The first time around was a satire of itself that made the media a meta joke and found new depths of despair for analysts to mine. Giving Blago more time in the limelight is just wearying and feeds into his own belief of himself as the center of the universe. One can only hope he never gets his hands on a copy of this script in his cell.
Rating: ★½
Blagojevich, Blagojevich! continues through September 22nd at Athenaeum Theatre, Studio 2, 2936 N. Southport (map), with performances Thursdays-Saturdays at 8pm, Sundays 3pm.  Tickets are $29 (students $18), and are available by phone (773-935-6875) or online through OvationTix.com (check for half-price tickets at Goldstar.com). More info at BlagojevichThePlay.com.  (Running time: 90 minutes, no intermission)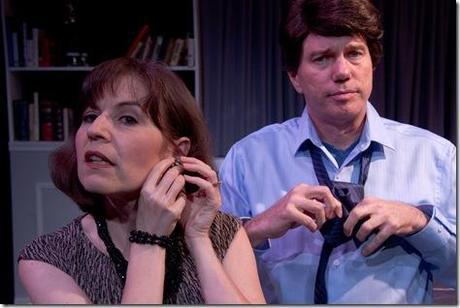 Photos by Corey Lubowich 
---
artists
cast
Darren Stephens (Rod), Franette Liebow (Patti), Eric Roach (Elvis and Nixon), George Manisco(Judge/Sam), Melanie Loren (Nancy)
behind the scenes
Clayton Fox (director); Starkid's Corey Lubowich (scenic); Yonit Olshan (costumes); Mitch Ost (lighting); Max Heckman, Bernhard Brost (co-producers); Corey Lubowich (photos)
12-0909