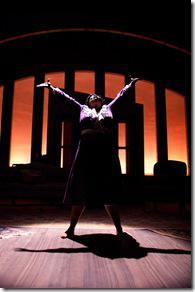 Black Pearl Sings 
Written by Frank Higgins
Directed by Steve Scott  
at Northlight Theatre, 9501 Skokie Blvd. (map)
thru Feb 19  |  tickets: $25-$60   |  more info
  
Check for half-price tickets 
  
  
   Read entire review
  
---
Delving into America's musical past through a remarkable friendship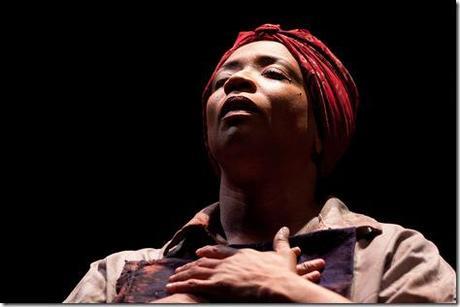 Northlight Theatre presents
Black Pearl Sings
Review by J.H. Palmer
Frank Higgins' Black Pearl Sings is based on the real life story of musicologist John Avery Lomax and Huddie "Lead Belly" Ledbetter, and tells the story of Susannah (Susie McMonagle), a Library of Congress musicologist who discovers Pearl (E. Faye Butler) in a Texas women's prison. Susannah hears Pearl sing in her cell, and convinces her to be recorded for the Library of Congress. Like the real life Lomax and Ledbetter, Susannah advocates on behalf of Pearl and manages to get Pearl released on parole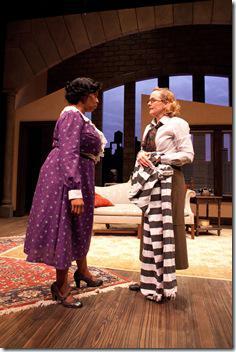 based on the cultural importance of her songs, and takes her to New York City to perform in front of a crowd of sympathetic listeners. Act I in set in the Texas prison, and Act II is set in a New York City apartment. With only two actors in the play, it is critical that the performers be substantial, and Butler and McMonagle stay in strong, convincing character for the duration of the 2 hour play.
Based in historical fact, this story takes on an authenticity that is remarkable while avoiding the difficulties of representation that can bog down a biography. Higgins says of his decision to tell a fictional story: "My idea was to change the characters' gender and let them tell their own stories rather than trying to hammer historical round pegs into theatrical square holes." By doing so, Higgins has taken the specific story of John Lomax and Huddie Ledbetter and created a universal story of American identity, cultural authenticity, and what it means to be connected to the past through music.
Early in Act I the story is grounded in the strength of Butler and McMonagle's portrayals of two women who come from very different backgrounds and levels of socioeconomic privilege, and does so without condescending to the audience or to each other, and without simplifying their story. While this is a play about what it means to be a black woman in prison in the 1930's, and what it means to be a white woman who chose career over the expected trajectory of a woman's life in the 1930's, it is first and foremost the individual story of Pearl and Susannah, made interesting and compelling by their specific friendship and life circumstances.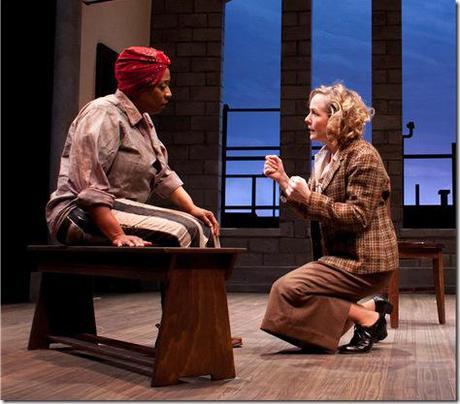 There is music throughout the piece, with traditional songs sung a capella or played with accompaniment by McMonagle on a zither. The story takes an interesting turn in Act II, when Susannah presents Pearl to an elite New York audience; during this scene the audience at Northlight suddenly becomes an active participant in the piece as Pearl encourages the audience to join in the singing, and Susannah takes issue with Pearl's gregariousness, telling her in an aside that this highly educated audience may not be comfortable singing along. At that moment the story being depicted onstage becomes one with the actual experience of a black woman performing for an almost exclusively white audience. It is a remarkable experience of self-consciousness that transforms the audience from passive viewers to historical re-enactors, and highlights issues at the core of the play: what is authenticity, and what does it mean to be connected to the past through music?
Butler and McMonagle are remarkable in their depictions of Pearl and Susannah, and the story holds up from beginning to end. Black Pearl Sings is historically important, and moving, in its depiction of two specific, individual women's stories. This play will fill you with wonder.
Rating: ★★★★
Black Pearl Sings continues through February 19th at the North Shore Center for the Performing Arts, 9501 Skokie Blvd. (map), with performances Tuesdays at 7:30pm, Wednesdays at 1pm and 7:30pm, Thursdays at 7:30pm, Fridays at 8pm, Saturdays at 2:30pm and 8pm, and Sundays at 2:30pm and 7pm.  Tickets are $25-$60, and are available by phone (847-673-6300) or online at Tickets.com (check for half-price tickets at Goldstar.com). More info at Northlight.org.  (Running time: 2 hours 15 minutes, which includes one 15-minute intermission)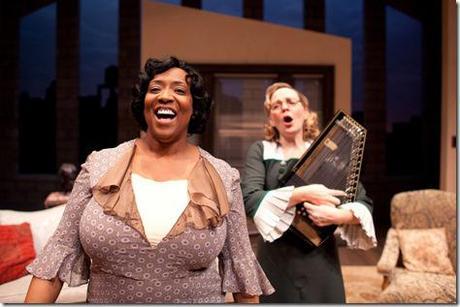 All photos by Starbelly Studios
---
artists
cast