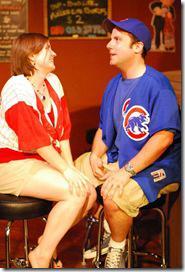 Black & Blue
Written by Anthony Tournis and Nick Digilio
Directed by Nick Digilio
at Prop Thtr, 3502 N. Elston (map)
thru Sept 3  |  tickets: $15-$20  |  more info
Check for half-price tickets
   Read entire review
---
A tribute to Chicago's colorful sports scene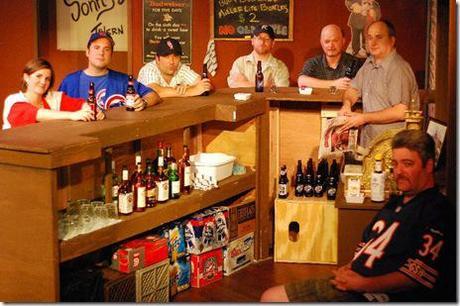 Factory Theater presents
Black & Blue
I remember where I was in 2005 when the Sox won the World Series.  Not because of people turning over cars or the triumphant sound of unified jubilation, I remember it for the blip in conservational hum.  Bill and I were at Charlie's Ale House in Andersonville.  We were actually there to watch the championship.  For others, it was happenstance to their evening out.  When the win was declared, there were a few claps, an overall 'hmmm' and then a return to normal.  It was obvious that night the true separation between the North Siders and South Siders. The Factory Theater presents Black & Blue.  Cubs vs Sox.  Two brothers maintain a baseball rivalry.  They gather for the seasonal Crosstown Classic on neutral territory:  their dad's bar.  He's a Bears fan.  The brotherly conflict spans ten years.  As they toss back annual beers and bets, a variety of sports fans come and go.  Black & Blue is a tribute to Chicago's colorful sports scene.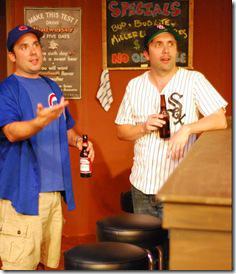 The family feud has been written by
Anthony Tournis
and
Nick Digilio
. The writers are switch hitters. Tournis plays brother Jake.  Digilio is the director.  Not surprising, the content is heavy duty baseball.  The decade retrospective hits the humor in hindsight.  It's not essential to be a baseball aficionado to get the jokes but it probably would enhance. Toss in deconstruction of Cubs vs Sox fans and Chicago vs New York, and the contention is familiar.  The initial set-up feels natural. Scenic designer
Joseph Riley
has created an authentic bar vibe.  Tournis (Jake) and
Greg Caldwell
(Tommy) have a genuine sibling chemistry.  They have an unspoken understanding.  It's a great mixture of  camaraderie and opposition.  Whenever they spiral out of control, their dad,
Brian Amidei
(Sonny) thunders out an order that momentarily stops the fighting.  Amidei is hilarious! 
Under Digilio's direction, the entire ensemble adds character to the bar scene.  The Cliff- and-Norm regulars, the psychic bartender, hot chick, obnoxious fans is all pretty formulaic and it works.  It's funny!  It just gets cliched.  To quote the bartender, 'that shit gets old fast.'  Tournis and Digilio pitch out a few non-sporting moments that hint at broadening character development.  It's a swing and a miss.  Those instances are benched.  The return to the batting line-up becomes routine.  Black & Blue is like watching baseball in Chicago.  It entertains with the usual sports bar shenanigans.  Everyone is focusing on getting a big win.  And at the end of the day, oh brother, it's just a game!  
Rating: ★★½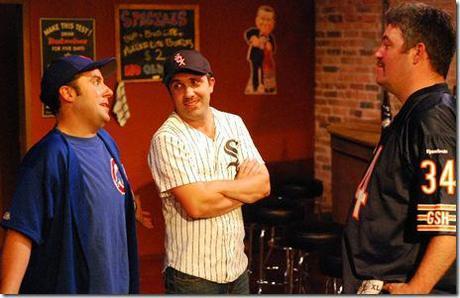 Factory Theater's Black & Blue continues through September 3rd at Prop Thtr, 3502 N. Elston (map), with performances Fridays and Saturdays at 8pm, Sundays at 3pm. Tickets are $15-$20, and can be purchased online at OvationTix.com. More information at TheFactoryTheater.com. (Running time: 90 minutes with no intermission)
---
artists
cast
Anthony Tournis (Jake, Writer); Greg Caldwell (Tommy); Brian Amidei (Sonny); Ernie Deak (Cassell); Laura Deger (Liz); Zach Bloomfield (Milt); John Moran (Mickey); Danny Reese (Nick); Blake Dalzin (Chris); Mike Ooi (Poser); Ray Brazaski, Heidi Grace, Tony Rossi, Andrea Wielgus (ensemble)
behind the scenes
Nick Digilio (co-writer, director); Anthony Tournis (co-writer); Jennifer Pompa (producer); Joe Gehr (asst. producerd); Jermaine Thomas (stage manager); Jason Moody (graphics); C.W. van Baale (technical director); Joseph Riley (sets); Paul Foster (lighting); Chas Vrba (sound); Mike Tutaj (film, video); Carla Hamilton (costumes); Cat Dughi (props)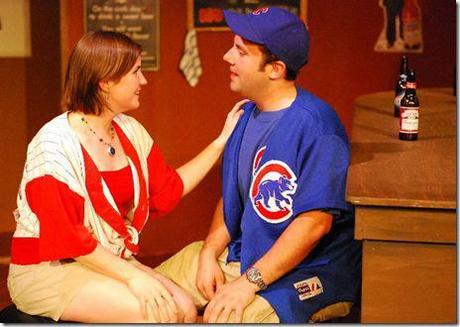 The bleacher bum to my left, Tom describes it with 'salty, sports-obsessed, passionate.'