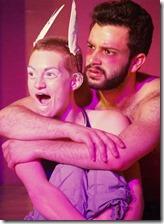 Bite: A Pucking
Queer Cabaret
Joyous and fun, with surprising depth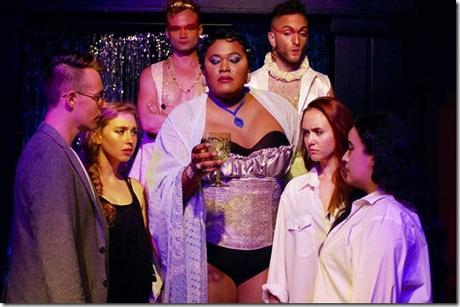 Review by Lauren Whalen
Bite is pure enjoyment. (My review could end there, but it won't.) Staged at Mary's Attic in Andersonville, Pride Films and Plays' latest - a loose adaptation of A Midsummer Night's Dream in pop music-cabaret form - fully embraces its atmosphere. Not for a while have I seen an ensemble so willing to play: they sing, dance and run around the bar with gleeful abandon without ever descending to Glee-esque cheesiness. At first glance, appears to be pure camp, with its flexible fairies, literal Queen and lovers of various sexualities. But as the ninety minutes swirl by, Derek Van Barham's glittery cabaret feast shows a remarkable amount of intelligence and depth.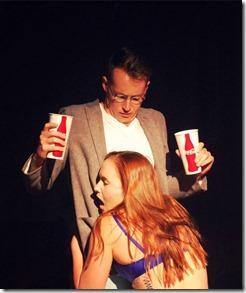 Though a working knowledge of Shakespeare isn't required to enjoy
Bite
, here's a primer. In this adaptation of Shakespeare's
Dream
, Van Barham chooses to focus on the lovers' storylines. Fueled by an epic feud, romantic and business partners Oberon (
Kevin Webb
) and Titania (
Raymond K. Cleveland
, who also performs around Chicago as drag queen
Coco Sho-Nell
) deploy their four mischievious fairies to play with mortals and their love. Beautiful lush Mia (
Melanie Vitaterna
) wanders into the fairies' bar with her loyal girlfriend Liz (
Caitlin Aase
), followed by Demi (
Jennifer Ledesma
), who nurses an unrequited crush on Mia, much to the disappointment of her childhood best friend Lin (
Will Kazda
), who is in love with Demi. Once three-fourths of the quartet imbibe a special, magical cocktail, a complex and sexy free-for-all ensues.
Van Barham and music director Jeff Bouthiette (the latter appearing onstage as a flamboyant keyboardist with a favorite toy) pepper the Shakespearean story with pop songs. Everything from Nikki Minaj to Rufus Wainwright is lovingly interpreted by a diverse (in gender, ethnicity and body) ensemble who are clearly loving every minute. Van Barham and assistant director Christopher Young also choreograph, and each move plays to the cast's physical prowess (Aase's seductive chair number is one of the show's standouts). Bouthiette too has a lot of fun with vocals, particularly those that spotlight the show's strongest singers: Vitaterna, Webb and Ledesma. And in between knockout production numbers are quiet moments of reflections on love, friendship and pronouns, unexpected pockets of subtle beauty interspersed among the sparkle.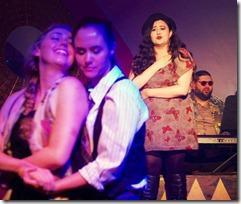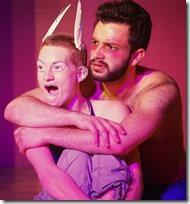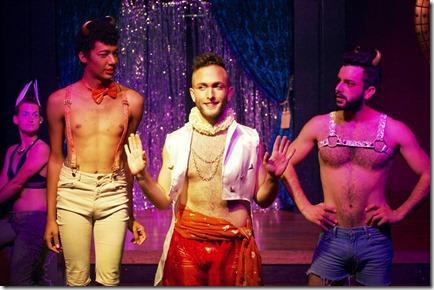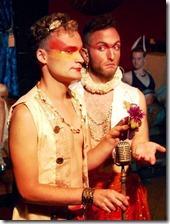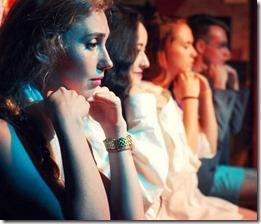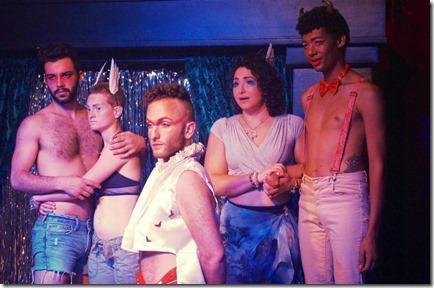 Scenic and costume designer Brad Caleb Lee uses the intimate space of Mary's Attic to full advantage, clothing the performers in multi-layered, colorful ensembles with whimsical detail (such as the flowers in Mia's hair). Director Van Barham keeps the pace perfect, effectively straddling the fine line between fast and frenetic. In addition to the aforementioned actors, standouts include Cleveland as the imposing yet vulnerable Titania, and the utterly sassy fairy quartet: Jacob McKenzie Gilchrist, Kathleen Hoil, David Morand Jordan Shomer.
I do wish there had been at least one reference to Nick Bottom, and the Demi character - while allowed to showcase her powerhouse vocals - is a bit underwritten. Small flaws aside, however, Bite: A Pucking Queer Cabaret is thoroughly entertaining and sweetly thought-provoking, radiating positivity without once going off the rails. is only around for a short time longer: don't miss it!
Bite: A Pucking Queer Cabaret continues through August 26th at Mary's Attic, 5400 N. Clark (map), with performances Thursdays-Saturdays at 7pm, Sundays 5pm. Tickets are $25-$30 (student/senior discounts available), and are available by phone (800-737-0984) or online through Vendini.com (check for half-price tickets at Goldstar.com ). More at PrideFilmsAndPlays.com. (Running time: 90 minutes, no intermission)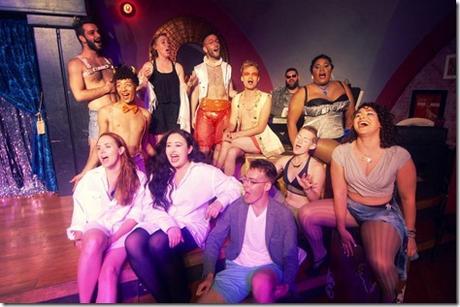 Photos by Carolyn Reynolds Photography
behind the scenes
Derek Van Barham (director, choreographer), Jeff Bouthiette (music director), Jamie Link (stage manager), Christopher Young (asst. director, asst. choreographer), Brad Caleb Lee (scenic and costume design), G. "Max" Maxin IV (lighting design, projection design), Kallie Noelle Rolison (sound design), Carolyn Reynolds Photography (photos)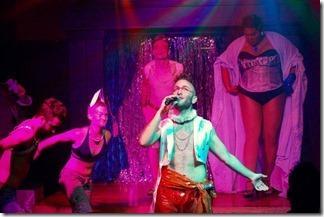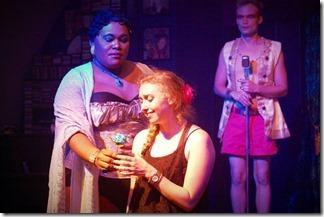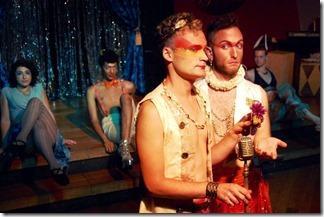 Tags: 16-0718, Brad Caleb Lee, Caitlin Aase, Carolyn Reynolds, Carolyn Reynolds Photography, Chicago Theater, Christopher Young, Coco Sho-Nell, David Mor, Derek Van Barham, G. Max Maxin IV, Jacob McKenzie Gilchrist, Jamie Link, Jeff Bouthiette, Jennifer Ledesma, Jordan Shomer, Kallie Noelle Rolison, Kathleen Hoil, Kevin Webb, Lauren Whalen, Mary's Attic, Melanie Vitaterna, Nathan Maurice Cooper, post, Pride Films and Plays, Raymond K. Cleveland, Will Kazda, William Shakespeare
Category: 2016 Reviews, Extensions-Remounts, Lauren Whalen, Mary's Attic, Musical Revue, New Work, Pride Films and Plays, William Shakespeare, World Premier