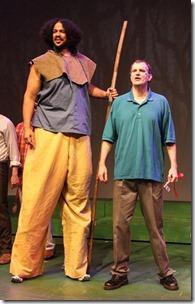 Big Fish
Music and Lyrics by Andrew Lippa 
Book by John August  
Directed by Dante J. Orfei
Jedlicka Performing Arts Center, Cicero (map)
thru Aug 9  |  tickets: $16-$18   |  more info  
  
Check for half-price tickets 
  
  
   Read review
  
---
Strong vocals prove 'Big Fish' has a score to remember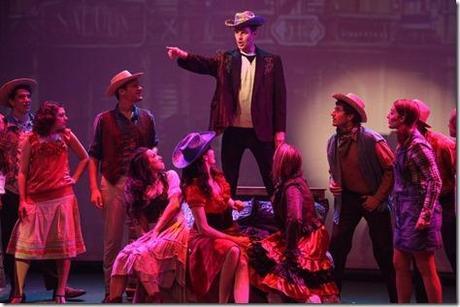 Jedlicka Performing Arts Center presents
Big Fish
Review by John Olson
Tucked away in a remote corner of Cicero, within the campus of Morton College, lives a relatively little-known Chicago theater company that is nonetheless significant for the musical theater buff. The self-produced shows at Morton's Jedlicka Performing Arts Center (JPAC) have, over their 32 years, included all sorts of straight plays and musicals, but what's of the greatest interest to true believers of the musical theater stage is their commitment to providing a second chance to little-known shows, flops or lesser hits of known composers. These are titles that buffs may have heard about but never have had the chance to see. New York has had this sort of thing for years, with concert stagings or scaled-down productions of obscure musicals, but in Chicago, not so much. Porchlight Music Theatre has recently started one-night-only readings, but JPAC offers fully staged productions that give a fair feel for how the material works. Some of their past shows of this category include Andrew Lloyd Webber's Whistle Down the Wind, Joseph Brooks' rather notorious Broadway flop In My Life and Queen's We Will Rock You. Big Fish, which had its pre-Broadway tryout in Chicago just 15 months ago might not seem to be in that category, but given the extensive changes to the show before it opened (and quickly closed) on Broadway last fall, this really is a version of the show that hasn't been seen locally.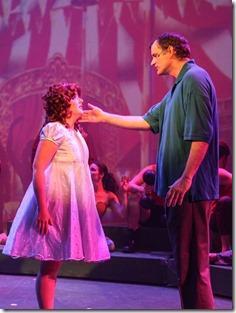 This musical, based on Daniel Wallace's
novel
and Tim Burton's
film
, follows the tale (and tales) of a son and his traveling salesman/tall-tale-telling father. The son, Will, has always resented his father's absences and felt his stories to be a means of obscuring rather than revealing his dad. Its pre-Broadway tryout got mostly favorable notices from Chicago critics for its warmth and
Andrew Lippa
's score, but the New York reviewers were less kind and the show lasted just under four months there. Some of the criticisms were that the physical production – with elaborate sets and special effects for the fantasy scenes – may have overshadowed the piece. With this non-profit company of modest means giving the show a try, we have a chance to test that theory. The verdict from this reviewer is that the material, though still charming, melodic and very watchable, still suffers from a confused point of view. Who's telling the story, and whose side are we on? Will is desperate to learn just who his father really is before Edward dies. Edward is equally anxious to connect with the son. Edward is enigmatic until the final resolution, though, and we learn the truth behind his stories only as Will does. Trouble is, we don't know much about Will either, and don't get invested enough in his journey until very late in the show. This complaint was expressed in Chicago reviews of the tryout, and the writers apparently tried to address it by giving Will a new song, "Stranger," to better express Will's motivation, but it's not enough. The plot remains fairly episodic without much of an arc until the last half-hour or so as events lead father and son to reconcile.
Will's new song is one of five that was added to the first act between the Chicago and Broadway runs of the Chicago. There's a new opening number in which Edward encourages the five-year-old Will to "Be a Hero," establishing Edward's character and the theme of the show. There's also a nice new song for Edward's wife Sandra in "The Men in My Life," that wins sympathy for this wife and mother. All are reasonable changes, though they don't do enough to solve the basic dilemma of the show – the question of where to place our sympathies.
This production does make a case for Lippa's score – a melodic mix of country-influenced and pop sounds that captures the charm of Edward Bloom and his stories. Without exception, the cast delivers truly impressive vocals, accompanied by a 14-piece orchestra that is the equal to or better than any pit band around town. In the lead role of Edward, Edward J. MacLennan, a musical theater singer who's also sung opera, has the range and versatility to bridge the score's varied styles and influences. Also a knockout is Jonah D. Winston as Karl, the "giant" that Edward Bloom saves from a fearful populace. Winston has a gorgeous bass-baritone that we don't get to hear enough of in this show. Taylor Okey has a winning musical theater style to put over Will's songs and Marisa Boynton sweetly sells her two love ballads as well as leading the Andrews Sisters homage "Red White and True." Music Director John Warren, who's head of the music department at Morton College, has, with his singers and instrumentalists, delivered musical performances that can be compared with any of the area's top musical theater companies. In their renditions of ballads that include Sandra's "I Don't Need a Roof," and her duet with Edward, "Time Stops," as well as the sweet Father-to-Son songs "Be the Hero" and "Fight the Dragons," Lippa's score gets a lovely reading as it convinces us that this is a score that shouldn't be forgotten.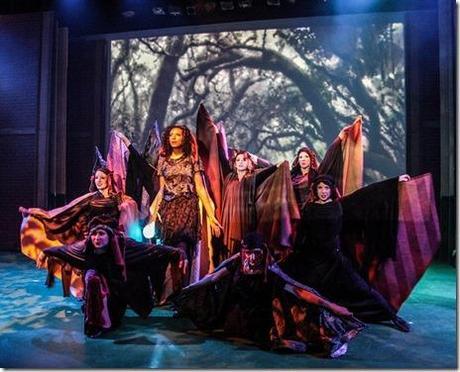 Even so, Big Fish may be a show that needs a star – or at least a very skilled comic actor in the lead role. MacLennan tries mightily to capture Edward's unique character and imagination, but he has a rather awkward presence on stage and nowhere near the showmanship needed to reel us in to his character. Overall, the production's acting is far weaker than the musical performance, though there are two exceptions. Louie Bartolomeo as the diminutive werewolf-owner of the circus who hires Edward and Karl is a riot, and Winton's Karl captures the loneliness and warmth of the giant Edward saves. The vocally-strong ensemble also executes Dina DiCostanzo's lively dances capably, though not with the precision we find with most area professional companies. Technically, the show was a bit rough on opening night – with lighting cues looking a little delayed and the sound design tinny in places. It should be noted, though, that the opening night performance I attended was the production's first public performance – they didn't do previews – and I would imagine things will have tightened up by the second weekend.
Director Dante J. Orfei and team have made a good effort at providing some visual magic on a budget. The scenes are set mostly by Michael A. Kott's effective projections, but Michael Nedza's set ground the more real moments with physical props and walls. They even find a way to fill the stage with daffodils that, while not as overwhelming as the original production's, is impressive nonetheless.
While JPAC's Big Fish is not as polished a production as you'll usually find among professional companies in the area, Orfei brings imagination to his staging. The musical skill shown here in bringing Lippa's underrated score back to the stage is well worth catching. Come to Big Fish with the expectation of seeing some impressive talent in the raw and you won't be disappointed – especially given the bargain price of $18 per ticket.
Rating: ★★½
Big Fish continues through August 9th at Jedlicka Performing Arts Center, 3801 S. Central, Cicero (map), with performances Fridays and Saturdays at 7:30pm, Sundays 3pm.  Tickets are $16-$18, and are available by phone (708-656-1800) or online through TicketPeak.com (check for half-price tickets at Goldstar.com). More information at JPACTheatre.com.  (Running time: 2 hours 20 minutes, includes an intermission)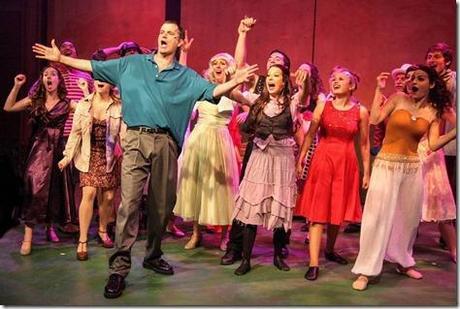 Photos by Emily Schwartz
---
artists
cast
Taylor Okey (Will Bloom), Edward J. MacLennan (Edward Bloom), Landon Barnickel (Young Will), Marisa Boynton (Sandra Bloom), Jordan Taylor (Don Price), Peter Rugar (Zacky Price), Jerica Exum (The Witch), Morgan Glynn Briggs (Josephine), Daniel Hurtado (Dr. Bennett), Aimee Erickson Langfeld (Jenny Hill), Warren Karas (Major), Jonah D. Winston (Karl the Giant), Louie Bartolomeo (Amos Calloway), Heidi Boyck, Alex Campea, Christie Coran, Brianne DeFrang, Michael DeFrang, Matthew Durin, Nic Eastland, Alicia Hurtado, Kelly Marysnski, Alyssa O'Donnell, Jenna Payne, Kathleen Trainor, Laura Williams, JZ Zaeske (ensemble)
orchestra
Robert Dietz, Carissa Gonzalez (keyboards), Julia Birnbaum (violin), Nicholas Jeffery (viola), Sarah Ritch (cello), Sarah Ritch, Lara Regan (reeds), Ryan Hobbs (trumpet), Jordan Tyner (French horn), Brent Moore, Andrea Salcedo (guitars), Chris Wysoglad (bass), Mike Pryzgoda (drums), Jesus Velasquez (percussion)
behind the scenes
Dante J. Orfei (director, lighting design, artistic director), Dina DiCostanzo (choreography), John Warren (music director), Carissa Gonzalez-Sambolin (assistant musical director), Michael Nedza (scenic design, props design, tech director), Genesee Spridco (costume design), Michael A. Kott (multimedia design, sound design), Steve Calzaretta (managing director), Samantha Nieves (theater assistant), Rebecca Primm (graphic design), Justin Dashiell (scenic construction), Antonio Barrios (theater staff), Emily Schwartz (photos)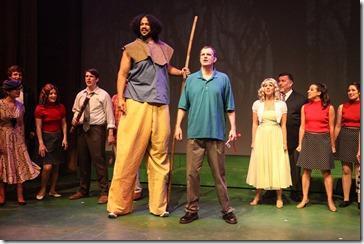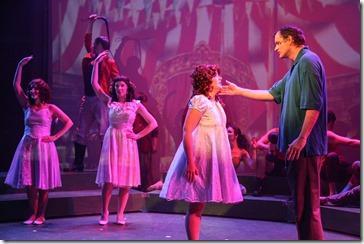 14-0731