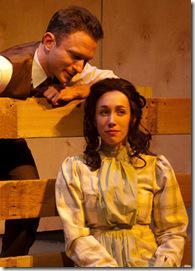 Beyond the Horizon 
Written by Eugene O'Neill  
Directed by Louis Contey  
Athenaeum Theatre, 2936 N. Southport (map)
thru April 22  |  tickets: $20-$28   |  more info
  
Check for half-price tickets  
  
  
   Read entire review
  
---
Bro-mantic drama places happiness just out of reach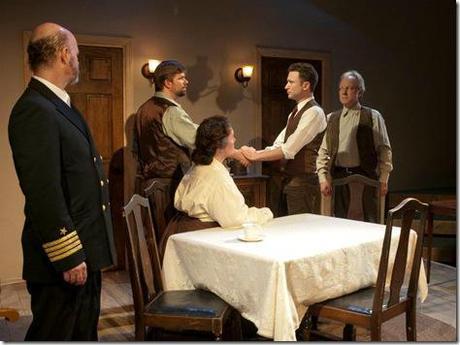 Eclipse Theatre presents
Beyond the Horizon
Review by Katy Walsh 
Suppose I was to tell you that it's just beauty that's calling me, the beauty of the far off and unknown, the mystery and spell which lures me, the need of freedom of great wide spaces, the joy of wandering on and on—-in quest of the secret which is hidden over there—-beyond the horizon?"   ― Eugene O'Neill, Beyond the Horizon
Eclipse Theatre Company presents the first offering in their Eugene O'Neill 2012 Season, Beyond the Horizon.  Andy is a farmer.  Rob is a poet.  Andy wants to till the soil and establish roots.  Rob wants to travel and explore new places.  The brothers' plans are in motion.  But on the eve of Rob's departure, he confesses his love to the girl-next-door, Ruth.  To Rob's surprise, Ruth loves him too.  She convinces him to give up his dreams and become a farmer.  He romantically agrees.  When Andy hears Rob is giving up his dreams for Ruth, he decides he must give up his dreams for Ruth too.  Andy loves Ruth.  To escape his broken heart, he leaves his beloved home and sets sail on Rob's journey.  Can a farmer find satisfaction at sea?  Can a poet stop writing and start plowing?  Beyond the Horizon places happiness just out of reach.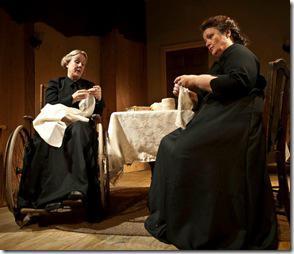 Eugene O'Neill won a Pulitzer Prize for Drama in Beyond the Horizon.  It was his first published play.  It is a drama but it's also a love story.  Not so much about Ruth – the real love is between Andy and Rob.  A tight brotherly bond forces them apart while always tethering them together.  This is the core of O'Neill's story. And it's a beautiful bro-mantic sentiment. O'Neill then heaps on other complicated relationships but discards them too quickly.  The layers of additional angst disappear and the love triangle remains.  Sure, unresolved issues feed the main storyline, but I miss the other characters.  The scenes between Joe-Andy-Ruth or some duo variation are prevalent and repetitive.  Long soliloquies feel forced and melodramatic.
Director Louis Contey is at full engagement when scenes veer from the Joe-Andy-Ruth trio.  In the most powerful scene of the play, a riveting fight breaks out within the dining room.  Brian Parry (Dad), Nathaniel Swift (Andy), Molly Lyons (Mom), and John Wehrman (Rob) argue with a passion befitting an Irish family.  It's messy.  And it's real.  The effect leaves me lip-pursing-eye-watering-upset until a hilarious Zach Bloomfield (Captain) breaks the tension with a well-placed word.  In another unforgettable scene, Kate Harris (Ruth's mom) and Emily Shain (Ruth) bicker with overlapping dialog.  It's completely natural, nasty, needling.  These are a few of the standout moments in an otherwise rambling story.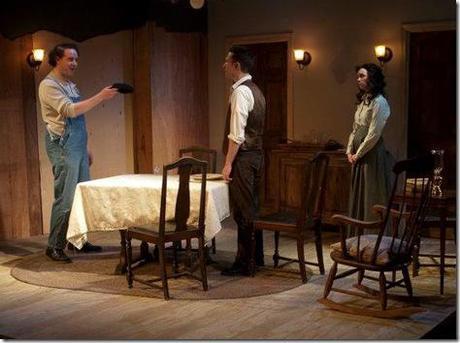 Beyond the Horizon awarded O'Neill the big prize for his first published work.  Still, it's a play infrequently produced.  (Perhaps O'Neill hesitated to retool and tighten his Pulitzer Prize winner.)  It henceforth has become a challenge for theater companies to get this play off the shelf and onto the stage.  Eclipse Theatre goes after their dream, Beyond the Horizon.  Their quest results in some beauty but definitely some wandering on and on.  
Rating: ★★½
Beyond the Horizon continues through April 22nd at the Athenaeum Theatre, 2936 N. Southport (map), with performances Thursdays-Saturdays at 7:30pm, Sundays at 2pm.  Tickets are $20-$28, and are available by phone (773-935-6860) or online at OvationTix.com (check for half-price tickets at Goldstar.com). More information at EclipseTheatre.com.  (Running time: 2 hours 15 minutes, includes intermission)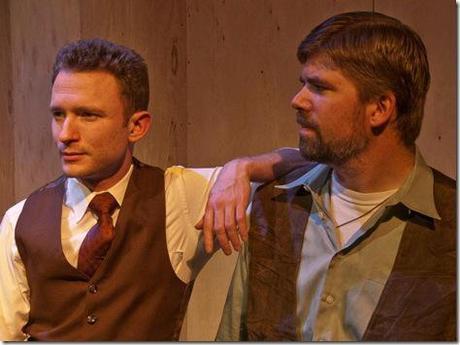 All photos by Scott Cooper 
---