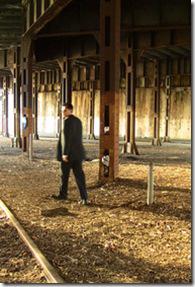 Between the Shadow 
   and the Wall
Written and Directed by Jamie-Lee Wise
Athenaeum Theatre, 2936 N. Southport (map)
thru Nov 13  |  tickets: $15-$25   |  more info
Check for half-price tickets 
  
  
   Read entire review
  
---
'Shadow' a run-on death sentence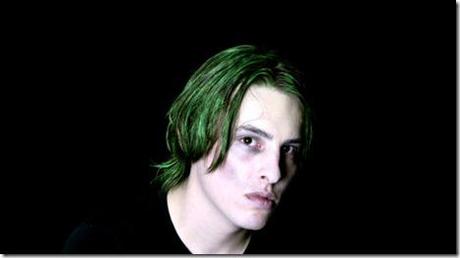 Shadow and the Wall Productions presents
Between the Shadow and the Wall
Review by Lauren Whalen 
In the mid-1990's, playwright Jaimie-Lee Wise moved into the Harrison Hotel. Then a student at Columbia College Chicago, Wise thought living in the downtown transient hotel would be "romantic," but was profoundly affected by the residents' inner demons, among them post-traumatic stress disorder, drug addiction and depression. Wise purveyed this experience into Between the Shadow and the Wall, which he also directed and now has stepped into a main role due to a last-minute conflict. If only these feelings were contagious. If only upon experiencing Between the Shadow and the Wall, I felt anything but extreme, frustrating boredom. If only.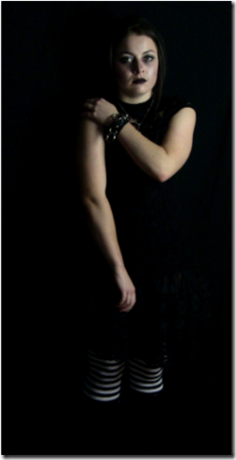 It's 1996: Kurt Cobain's suicide is still painfully fresh, hippies populate the corner of Clark and Belmont, and a group of Harrison Hotel residents are at the end of their collective rope. Scientist Holiday Marcher (
Larry Filas
) is hiding out, sporting contact lenses that blind the wearer to everything false. In hot pursuit of said lenses is Los Angeles hack Merv (
Cesar Gonzales
), who wants them for the movie business. Holiday can't sleep as a result of the lenses, and meanwhile his film student brother Drake (
Mike Dunbar
) and Drake's teenage friend Hyatt (
Phoebe Stoltzenberger
) can't sleep for a very different reason: their crystal meth use. Hyatt's sister Omni (
Andrea Lucius
) dreams of being a biologist but supports the family through prostitution, and Blank (
Jaimie-Lee Wise
) lurks around wrapped in gauze and claiming to have no identity.
How do I know the plot? It was in the press release. Between the Shadow and the Wall provides the audience with absolutely no sense of story, character or space. The set design (attributed to no one in the program, perhaps with good reason) and transitions are extremely lazy: for example, one wall has a cut-out space approximating a window that is never referred to or utilized in any way. In the play's opening moments, Holiday – named after a hotel, as are Drake, Hyatt and Omni – frantically pops what are supposed to be sleeping pills. Except the pill bottles don't rattle. The carton from which he chugs is clearly weightless and doesn't hold any liquid. What could have been a disturbing Lynch-ian opening sequence instead fell short due to this lack of attention, which was sadly prevalent in almost every aspect of the play.
Perhaps the play's most interesting character, wannabe biologist Omni, is inexplicably absent for most of the second act. It's a shame: Lucius brings an intense duality to the role – Omni's survivalist nature and maternal instincts toward Hyatt contrasted with her concern for her own dreams – that would be welcome in the dull second half. Dunbar also stands out, providing one of the show's few chuckles, though the character's crystal meth addiction is not only unconvincing but strangely absent. As Blank, Wise is twitchy and damaged but quite endearing. It's too bad the watchable performances didn't include that of Stoltzenberger, who as Hyatt is onstage for most of the play. Hyatt is an extremely interesting teenage girl – a gifted Goth mimic who channels the living – but Stoltzenberger acts in a complete emotional void. There are ways to portray detachment as self-protection due to childhood trauma. She hasn't figured them out.
Like Wise, I lived in Chicago in the mid-1990's and am intrigued by stories set in that place and time. I try to promote and encourage local artists, especially those whose shows have the cast outnumbering the audience. With these factors in mind, I want to recommend Between the Shadow and the Wall. I can't. As a "dramatic psychological thriller" bordering on two and a half hours, the play cannot decide what it wants to be. While that confusion may accurately reflect the mindset of the lost souls residing in the Harrison Hotel, it's the opposite of entertaining to watch.
Rating: ★½
Between the Shadow and the Wall continues through November 13 at Athenaeum Theatre, 2936 N. Southport (map), with performances Thursdays through Saturdays at 7:30 p.m., Sundays at 2:30 p.m. Tickets are $15-$25, and can be purchased online at ovationtix.com. More information at Shadowandthewall.com. (Running time: A too-long 2 hours 20 minutes with 10-minute intermission)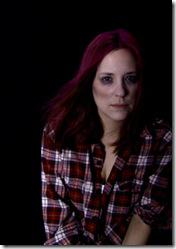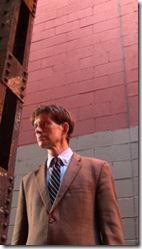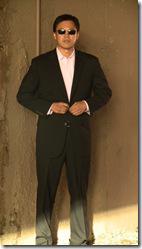 ---
artists