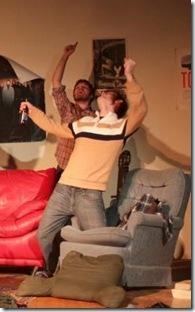 Better 
Written by Amy Giacalone  
Directed by Kristina Carr  
The Den Theatre, 1333 N. Milwaukee (map)
thru Sept 30  |  tickets: $10   |  more info
  
Check for half-price tickets 
  
  
   Read entire review
  
---
A few charming scenes can't save so-so script, acting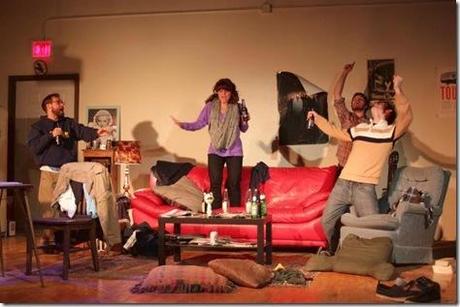 Bartleby Productions presents
Better
Review by Lauren Whalen 
An actor is only as good as his or her script: an old adage, but a true one. And good scripts are difficult to create, requiring endless revisions, feedback and plain old writing sweat. Better does not have a good script. Despite some strong technical elements, the inaugural effort of Bartleby Productions plays like a first draft: clumsy and inconsistent for the audience, and difficult for actors, who may have fared well with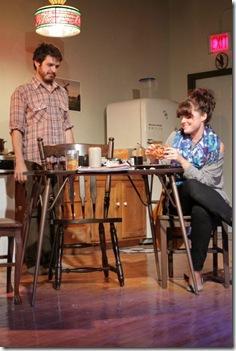 stronger source material.
Narrator and everyman Josh (Joe Giovannetti) is 29 years old, works at Starbucks and has no real career ambition or love life. This doesn't bother him, until his roommate Steven (Samuel Drew Brown) announces that his doctor brother Brian (Ryan Finn) is coming to stay after a contentious breakup with dog walker Abby (Katherine Dingle). One drunken night, Josh, Steven and Brian make a plan to be "better": quit smoking, learn Spanish and fall in love, among other lofty goals. Complications arise when Steven is challenged by his long-suffering girlfriend Sarah (Jill Meyer), Brian hits on Josh's younger sister Catie (Kelly Parker) and Josh finds himself falling for Abby.
As a concept, Better has a lot of potential, but it's never fully realized. Characters disappear for extended periods, plot threads are introduced then dropped with no real explanation, and the framing device just doesn't flow. At only 90 minutes, the play may have worked better as a one-act (especially with such a random and sudden act break). What also would have worked better: if the male characters weren't so blatantly awful. Brian and Steven are both verbally abusive and disrespectful: when he's not trying to pick up a teenager, Brian calls his girlfriend's job "stupid" and accuses her of being a gold-digger, and Steven expresses love by buying Sarah a bottle of wine and then yelling at her for not drinking it. (Perhaps misogyny runs in the family.) And rather than telling them where to go, Abby and Sarah apologize. What a wonderful, empowering message for women: let your boyfriend walk all over you and enable his horrid behavior! (No wonder I'm single.)
Better's few redeeming qualities come mostly in the form of its technical elements. Nigel Harsch's sound design is lovely, incorporating Sublime, Oasis and fun. for an indie movie-esque soundtrack that effectively underscores the characters' emotions. And the set design (which isn't credited in the program) hits the feel of a twentysomething's apartment right on the nose, from the unframed posters to the red leather sofa, to the same coffeepot and water pitcher that I own. (I'm 32, but still….)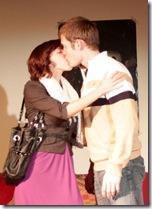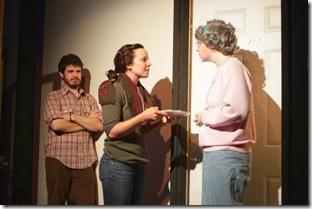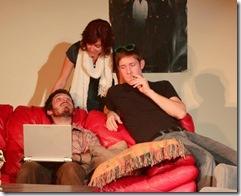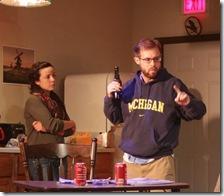 It's difficult to discern whether the cast of Better suffers from poor acting or just contradictory characterization. However, one performance stands out: Kelly Parker as Catie, Josh's college student sister who likes to hang around the apartment. From her effortless delivery of lines "I need a thingy" (she means a bottle opener) to her slouchy posture and constant texting, Parker is utterly real. The play's second to last scene, in which Josh tries to express brotherly loyalty to Catie, is awkwardly sweet and touching. If only Better had more scenes like that – polished in their sense of reality – I wouldn't have wished Amy Giacalone had received more tough love from her playwright peers.
Rating: ★½
Better continues through September 30th at The Den Theatre, 1333 N. Milwaukee (map), with performances Fridays and Saturdays at 7:30pm, Sundays at 3pm.  Tickets are $10, and are available online through BrownPaperTickets.com (check for half-price tickets at Goldstar.com). More information at Facebook.com/Enjoy.Bartleby. (Running time: 1 hour 30 minutes, includes an intermission)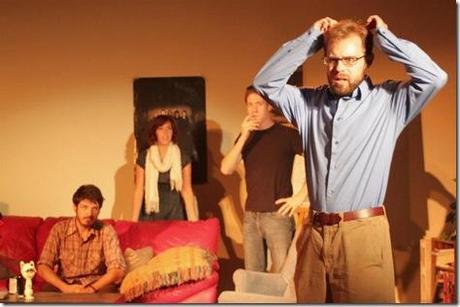 ---
artists
cast
Joe Giovannetti (Josh); Samuel Drew Brown (Steve); Ryan Finn (Brian); Katherine Dingle (Abby); Jill Meyer (Sarah); Kelly Parker (Catie); Karolyn Ake (Sylvia)
behind the scenes
Kristina Carr (director, producer); Sarah Nelson (production manager); Kathy Palm (stage manager); Nigel Harsch (sound design); Karen Thompson (lighting)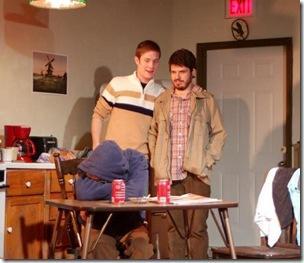 12-0908