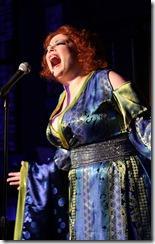 Bette, Live
   at the Continental Baths 
Directed, Choreographed by Christopher Pazdernik
Music Directed by Jeremy Ramey 
at Mary's Attic, 5400 N. Clark (map)
thru Aug 21   |  tickets: $20-$22   |  more info
  
Check for half-price tickets  
  
   Read review
  
---
Entertaining tribute to daring bathhouse diva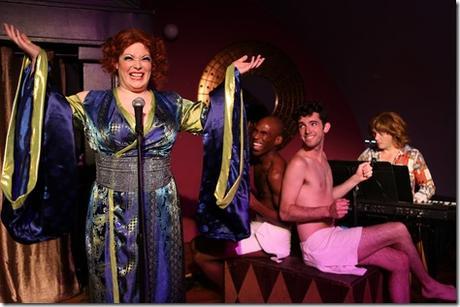 Hell in a Handbag Productions presents
Bette, Live at the Continental Baths
Review by Lauren Whalen 
Bette Midler has many faces: powerhouse singer, award-winning actress and all-around diva for decades. Sometimes it's difficult to remember that she used to sing in bathhouses – but have no fear, Hell in a Handbag Productions is here with a sparkling, hilarious reminder. Bette, Live at the Continental Baths comes fresh on the spike heels of Handbag's hit Miracle!  A smaller show, it packs just as much of a glittery punch, thanks to Jeremy Ramey's excellent music direction and boisterous leading lady Caitlin Jackson.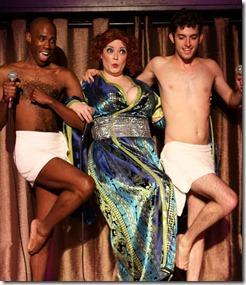 At the beginning of Midler's career, she performed a well-loved cabaret act at the legendary
Continental Baths
in New York City. The newly remodeled Mary's Attic in Andersonville is transformed into said bathhouse, complete with two backup singers (
TJ Crawford
and
Will Wilhelm
) sporting strategically placed towels, Barry Manilow (music director Ramey) tickling the ivories, and Midler herself (Jackson) wailing everything from "Chapel of Love" to "Chattanooga Choo-Choo" during two energetic sets.
Bette doesn't pretend to be any more than what it is: a short but sweet, song-and-dance packed tribute to the Divine Miss M. On opening night, Mary's Attic was packed with Midler fans young and old, who hooted, hollered and whistled at the familiar tunes with Midler – and Jackson's – sassy, show-stopping flair. Director and choreographer Christopher Pazderknik keeps the action moving, with a nice balance of banter, funny songs and more serious numbers – not to mention some seriously dirty jokes (though I wish he had made better use of the Bathhouse Boys in the first set). Bette's homage to the girl groups of the 1940's features hilarious choreography, and the second set's "I Shall Be Released" continue to haunt me the next day. Ramey, ever game in his colorful 70's attire and shaggy blond wig, can be proud of his beautiful arrangements, fun accompaniment and easy onstage persona. Set designer Zachary Gipson maximizes the small space of Mary's Attic, and Stephanie Vera's light cues nicely compliment each number. While Bette's gold pants in the first set appeared poorly constructed, Kate Setzer Kampausen's costume design shines bright and gorgeous in the show's second set.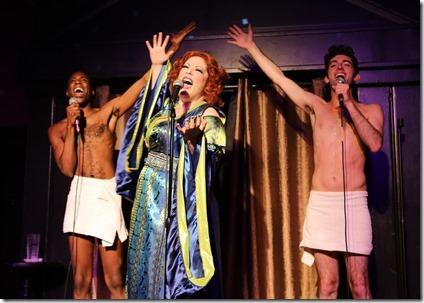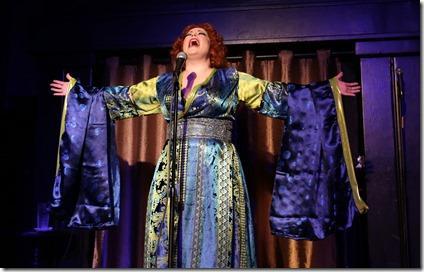 Each of the adorable Bathhouse Boys is prominently featured before Bette takes over each set, with audience interaction and classic solo songs. Both Crawford and Wilhelm boast impressive resumes, having worked with Theo Ubique, Northlight and other impressive companies. Each brings the perfect sensibility of campy fun, whether belting out "Leader of the Pack" or declaring his love for an unsuspecting spectator. But of course, the real star is Jackson as Miss Midler. Her passion for the cabaret rings true in every note, shimmy and joke, and her rapport with the audience (and on opening night, reacting to a few performer and tech gaffes) is nothing short of stellar. Jackson is equal parts down-to-earth and diva, engaging spectators while proving Midler's mettle as a superstar on the verge. Her powerful voice glides easily through stirring torch songs and silly pop, and her command of the crowded cabaret space never wavers.
Bette Midler has a legion of admirers and outright fanatics, many of whom appeared to be present at opening night of Bette, Live at the Continental Baths. Judging from the thunderous applause and standing ovation the show received, no one was disappointed, including me. Whether you're a casual listener or a devotee, Bette represents some of Handbag's strongest work to date, and is an utterly unmissable accolade for a living legend.
Rating: ★★★½
Bette, Live at the Continental Baths continues through August 21st at Mary's Attic, 5400 N. Clark  (map), with performances Fridays and Saturdays at 8pm. Tickets are $20-$22, and are available by phone (800-838-3006) or online through BrownPaperTickets.com (check for half-price tickets at Goldstar.com). More information at HandbagProductions.org.  (Running time: 1 hour 30 minutes, includes an intermission)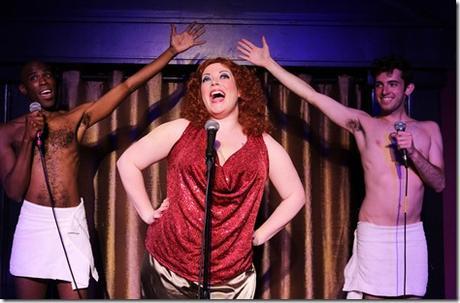 Photos by Rick Aguilar 
---
artists
cast
Caitlin Jackson (Bette Midler), Jeremy Ramey (Barry Manilow), TJ Crawford (Bathhouse Boy #1), Will Wilhelm (Bathhouse Boy #2)
behind the scenes
Christopher Pazdernik (director, choreographer), Jeremy Ramey (music director), J.C. Widman (stage manager), Zachary Gipson (set design), Stephanie Vera (light design), Kate Setzer Kampausen (costume design), Mikey Moran (sound design), Mealah Heidenreich (props design), Karen Kawa (wig design), Michael S. Miller (art director, graphic designer), Rick Aguilar Studios (photography), Danni Quider (box office manager), David Cerda (executive producer)
15-0727