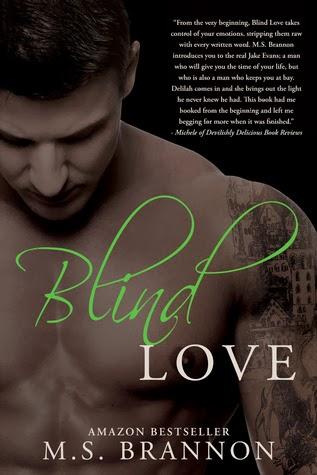 Blind Love (Sulfur Heights #3) by M.S. Brannon Summary: "She is magnetic to me. Every emotion she feels pulls me that much closer to her charm and energy. For reasons unbeknownst to me, I want her to know what she means to me." ~Jake Evans
For Jake Evans, life was as it should be. No responsibilities. He was the master at embracing his reckless lifestyle whenever it presented itself. Surviving on his ability to expertly hustle, fight and womanize, Jake could do it all; lived it all.
Raised in a rundown city, filled with crime and drugs, he had survived the death of an abusive mother and a life with an absent father while only having his brothers to depend on. His lifestyle became fast and Jake had lived it the only way he knew how, until the day he met Delilah.
Delilah St. James was the epitome of flawless. Brought up in an affluent southern household, Delilah's life had been planned from the moment she was born. She was raised to be the perfect socialite and daughter, and groomed to be the ideal wife. When a school internship moved her to Sulfur Heights for the summer, Delilah collided with the bitter reality of life outside her comfortable gated community when Jake Evans upset her perfect world.
Over the next two years, Jake and Delilah became best friends, embracing a friendship neither one was prepared to have, although they soon found it to be a relationship that neither one of them were willing to sacrifice.
A tragic turn of events brings Jake and Delilah together once again. Only this time, the feelings are different. Lines within their friendship are blurred. Everything they vowed never to do, become the very thing they cannot deny. Will Jake and Delilah's relationship withstand the changes surrounding them? Or will the emotions sever the two year friendship they'd fought so hard to keep?
Source: I received a copy of the book from the author in exchange for an honest review.
Review:  

***This review is based on the beta copy of the novel I read. I acknowledge the final version will be different and some scenes will be changed.***  

This review may contain spoilers from books one and two of the Sulfur Heights series.
 I've been waiting to read Jake's point of view since I first read Scarred Love. He became my favorite member of the Evan's family! I was ecstatic when the author asked me to be a beta reader. I was also excited to read Delilah's point of view, too, since I met her in Tragic Love. I was not a huge fan of her character in Tragic Love and I wanted to get to know her better as a person.
Blind Love was spectacular. The beginning of the novel was set in the same time frame as most of Tragic Love, so I was able to see the same scenes from other perspectives, which I enjoyed. I knew the events of Tragic Love impacted the Evan's family more than the other novels, so it was important that I get to witness it all.
Jake was everything I thought he would be. I loved his attitude, even when I hated it. It was great to watch him grow and change and begin to be affected by his friendship with Delilah. It was awesome to watch the romance unfold throughout the novel and see Jake at war with himself. I'm still not totally sold on the idea of Delilah, but I feel like I really understood her and her struggles in the novel. When she cares, she really cares, so I get why Jake would fall for someone like her.
Blind Love was another amazing addition to the Sulfur Heights series. I can't wait to read more and see what happens to all of the characters. The series is my guilty pleasure and my NA romance addiction. I need more of the Evan's family!