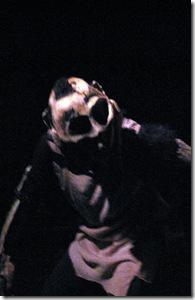 Beowulf
Created by Sarah Gubbins
Directed by Jeff Lynch  
at Studio BE, 3110 N. Sheffield (map)
thru June 10  |  tickets: $20   |  more info
  
Check for half-price tickets 
  
  
   Read entire review
  
---
An epic tale told in choreographed movement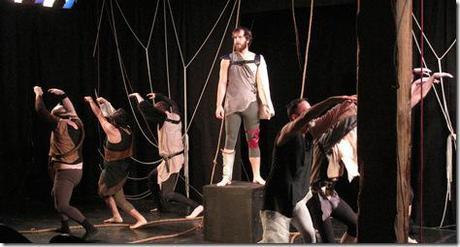 Arcas Productions presents
Beowulf
Review by J.H. Palmer
Arcas Productions' Beowulf is subtitled An action-theatre adaptation, and indeed, the movement and choreography in the piece take center stage. Half dance, half recited poetry, Jason Laboy's role as Movement Coach takes on the bulk of the delivery of the ancient story of Beowulf, a Scandinavian hero who comes to the aid of King Hrothgar of the Danes in fighting off the mythic beast Grendel who feasts nightly on his soldiers. In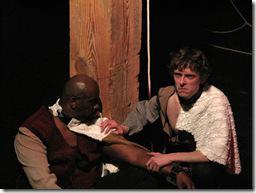 the Arcas adaptation we see the actors standing motionless onstage, connected by ropes that have been wrapped around their wrists and ankles. One by one, they are unbound, and begin to speak, reciting lines of poetry like: "A warrior would sooner die than live a life of shame," "The floor of the meade hall would be slick with slaughter," and "My flesh was not for feasting."
Dance represents movement in the story, with epic battles, sea voyages, and murders acted out in choreographed steps. Grendel (Adam Overberg) is represented by a grotesque mask and arms. Beowulf is at once a complicated story and a simple one, and the set for this production is spare; a fog machine and Jackie Guerrero's lighting add to the ambience, the rest comes through in movement and poetic recitations.
In the program, director Jeff Lynch answers the question: Why Beowulf?
"Beowulf presents an exciting challenge for the stage, one too tempting to pass up. As a fan of the fantasy genre in books, movies, and video games, this poem has always spoken to me. When I set out to create a show for Arcas Productions, the nonprofit company I helped start last year to promote a healthy male body image through theater and dance, I wanted to do something that required movement and featured strong male characters. The action in Beowulf is nonstop, and often impossible. Making the impossible occur is why I do theater."
This is an interesting way to present the ancient tale of Beowulf, and one I wouldn't have expected. While visually interesting and complex in its use of movement, more often than not the dialog falls flat in the actors' delivery. The role of Beowulf is played by two actors – one representing Beowulf the Youth (Jason Clements), the other representing Beowulf the King (Bobby Owens), which is more confusing than anything else. At the opening and closing of the piece, lines of dialog are spoken by more than one person, which is distracting. Fans of epic poetry and body movement will appreciate its creative use of space and movement, but as an overall theatrical experience, Beowulf leaves something to be desired.
Rating: ★★
Beowulf continues through June 10th at Studio BE, 3110 N. Sheffield (map), with performances Thursday thru Sunday at 7:30pm.  Tickets are $20, and are available online through PrintTixUSA.com. More info at Facebook.com/ArcasProductions.  (Running time: 50 minutes without intermission)
---
artists