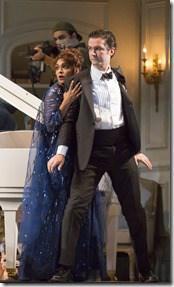 Bel Canto 
Music by Jimmy López
Libretto by Nilo Cruz
Civic Opera House, 20 N. Wacker (map)
thru Jan 17  |  tix: $17-$269  |  more info
  
Check for half-price tickets  
---
Timely and haunting world premiere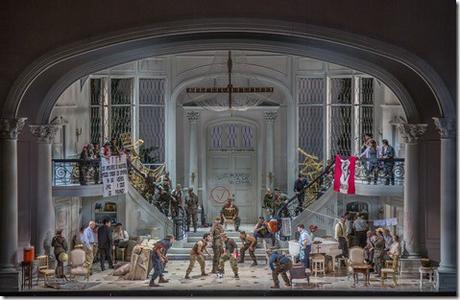 Lyric Opera of Chicago presents
Bel Canto
Review by Lauren Whalen 
Bel Canto is Lyric Opera's first world premiere in over a decade, and a production five years in the making. It's based on Ann Patchett's award-winning 2001 novel. It's also about terrorism: an unfortunately timely and pervasive subject, but when you think about it, a perfect topic for an opera. Sung in eight languages and featuring a diverse cast, Bel Canto is a stellar world premiere of an unusual but tragically lovely contemporary opera that explores the effects of mob rule, the strange bonds that arise out of a stranger situation, and the healing and humanizing power of music.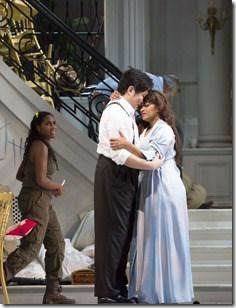 Inspired by actual events,
Bel Canto
begins at a party in Lima, Peru. However, this isn't just any party: held at the home of Peruvian Vice President Rubén Iglesias (
William Burden
), the fête is a birthday celebration for Katsumi Hosokawa (
Jeongcheol Cha
), head of a large Japanese electronics company. Celebrated American soprano Roxane Coss (
Danielle de Niese
) has just finished performing a solo in Hosokawa's honor when Iglesias' mansion is overrun by the Tupac Amaru Revolutionary Movement, a terrorist group hell-bent on liberating imprisoned comrades and building a better life for the poor. Eventually the elderly, ill and female – except for Roxane – are released, but the remaining hostages are confined to the house and under constant watch from their rifle-toting captors. As weeks turn into months (calculated by a crude tally on the mansion walls), alliances are formed, secrets revealed and love found, with Roxane's singing uniting them all.
Composer Jimmy López and librettist Nilo Cruz have done an admirable job of capturing the themes of Patchett's original novel. (Patchett herself was also involved in the process, and it shows in the characterization.) Bel Canto is rife with complex people and subjects, and boasts fascinating arias in multiple languages. Yes, the opera is incredibly dramatic, but drama is appropriate and fitting for a months-long hostage situation with many nationalities and personalities under one roof. Bel Canto's composer and librettist deftly handle the interchanges between the feisty Roxane and the terrorist leader General Alfredo (Rafael Davila); the increasing frustration of Red Cross emissary Joachim Messner (Jacques Imbrailo), the peacemaking efforts of Catholic priest Father Arguelas (Takaoki Onishi), and the growing love between Roxane and Hosokawa, as well as Hosakawa's translator Gen Watanabe (Andrew Stenson) and terrorist Carmen (J'Nai Bridges), whose fierce exterior camouflages a gentle heart.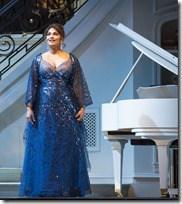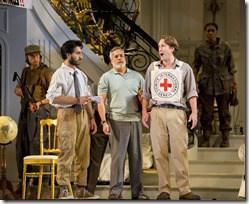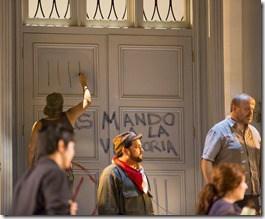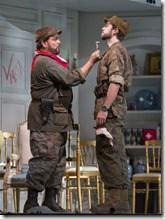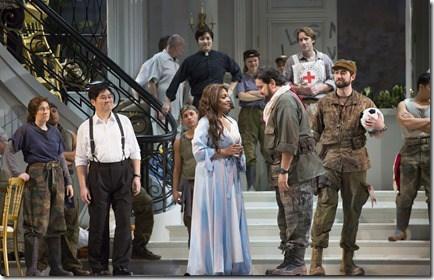 Set designer David Korins creates a wondrous mansion – the show's sole set piece – and its gradual decline with aplomb, and thanks to Duane Schuler's lighting and Greg Emetaz's projection design, the lights strike the perfect balance of realistic and fantastic. Constance Hoffman's costumes are unparalleled, especially Roxane's sparkling blue gown and the terrifying soldier uniforms. Chorus master Michael Black and conductor Sir Andrew Davis display a perfect understanding and deep appreciation for the complex score, aptly guiding actors and musicians alike. Finally, director Kevin Newbury keeps the action moving (despite some slow moments in the second half) and the stories compelling.
Casting has never been an issue for the world-renowned Lyric Opera, especially since the establishment of the Ryan Opera Center, a training program for up-and-coming singers. Ryan Center alumna Bridges is a rising star, highlighting Carmen's intricacies with assured grace and a flawless mezzo. Davila's General Alfredo is a commanding villain, and bass Rúni Brattaberg lightens the mood as a Russian diplomat with a penchant for name-dropping artists and a crush on Roxane. Countertenor Anthony Roth Costanzo shines brightly in the second act as a young soldier who displays a gift for singing. Both Cha and Stenson exhibit remarkable vocal and acting skills, creating believable relationships with minor and major characters. And de Niese's Roxane hits all the right notes: her diva demands provide comic relief, and her deeper emotions of love, despair and grief are felt from the front row to the back of the balcony.
We are no longer safe, as a nation or as the human race. In this rough political climate, it seems any gathering has the potential for invasion, destruction and bloodshed. Bel Canto – Italian for "beautiful singing," used to define a style that demands vocal agility and clear articulation of notes and words – is a timely story wrapped in a gorgeous production. The opera doesn't shy away from the horror of everyday life, nor does it underplay the beauty that arises from simple human connection. Bel Canto isn't light subject matter to be sure, but it also serves as a reminder of how unlikely relationships can surface, and heal, in the ugliest of situations.
Rating: ★★★½
Bel Canto continues through January 17th at Civic Opera House, 20 N. Wacker (map). Tickets are $17-$269, and are available by phone (312-827-5600) or online through their website (check for half-price tickets at Goldstar.com). More information at LyricOpera.org.  (Running time: 3 hours, includes an intermission.)
*Please note: this opera contains scenes of violence and loud theatrical gunfire, and is sung in Spanish, English, Japanese, Russian, German, French, Latin and Quechua.)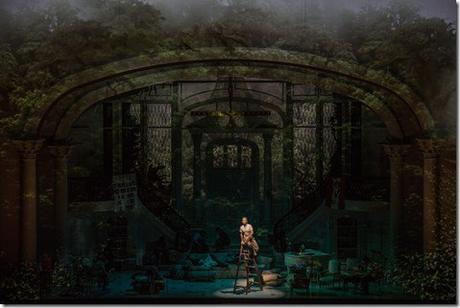 Photos by Todd Rosenberg 
---
artists
cast
Annie Rosen (Edith Thibault), Anthony Clark Evans (Simon Thibault), Rúni Brattaberg (Victor Fyodorov), Kimberly McCord (German Diplomat), Takaoki Onishi (Father Arguedas), Hoss Brock (Spanish Ambassador to Peru), Andrew Stenson (Gen Watanabe), William Burden (Rubén Igelsias), Jeongcheol Cha (Katsumi Hosokawa), Danielle de Niese (Roxane Coss), John Irvin (Christopf), Rafael Davila (General Alfredo), Bradley Smoak (General Benjamin), J'Nai Bridges (Carmen), Alec Carlson (Ismael), Diana Newman (Beatriz), Anthony Roth Costanzo (César), Jacques Imbrailo (Joachim Messner), Matthew Carroll (Soldier of the Peruvian Army)
actors
Jonathan Beal, Eduardo Xavier Curley-Carrillo, Kevin Matthew Reyes, Jorge Santos, Kai Young
behind the scenes
Sir Andrew Davis (conductor), Kevin Newbury (director), David Korins (set design), Constance Hoffman (costume design), Duane Schuler (lighting design), Greg Emetaz (projection design), Michael Black (chorus master), Sarah Hatten (wigmaster and makeup design), Janice Paran (dramaturg), Elise Sandell (assistant director), Chelsea Antrim Dennis (stage manager), Vladimir Kulenovic, Keun-a Lee, Matthew Piatt and Mauro Ronca (musical preparation), Susan Miller Hult (prompter), Nick Sandys (fight director), Derek Matson (projected English titles, Spanish diction coach), Renée Fleming (curator), Todd Rosenberg (photos)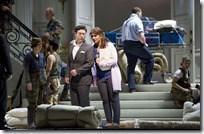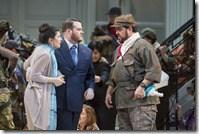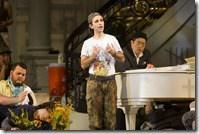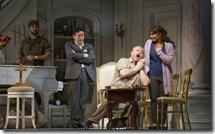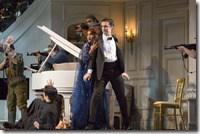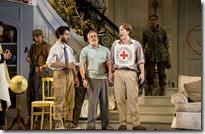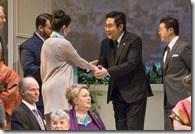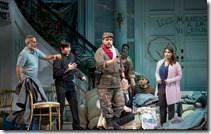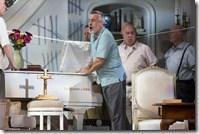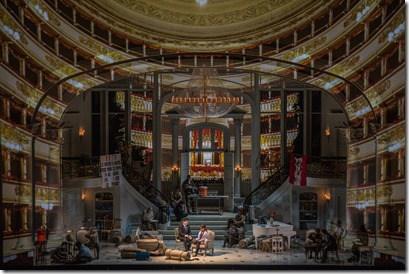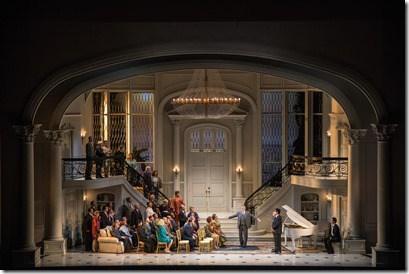 15-1222