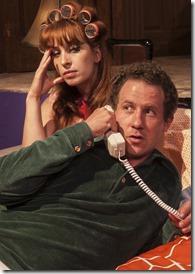 Bedroom Farce 
Written by Sir Alan Ayckbourn 
Directed by Nick Sandys
Athenaeum Theatre, 2936 N. Southport (map)
thru Sept 1  |  tickets: $18-$28   |  more info
  
Check for half-price tickets 
  
  
   Read entire review
  
---
One night. Three bedrooms. Four couples. Lotta laughs!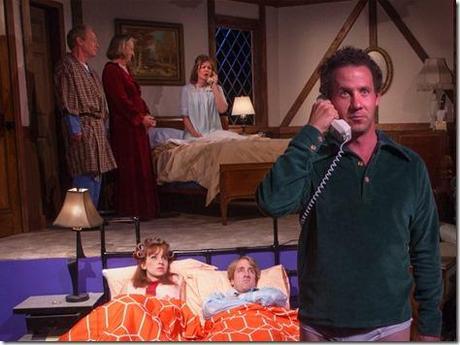 Eclipse Theatre Company presents
Bedroom Farce
Review by Clint May 
If you like your humor with a side of kippers, Eclipse Theatre has brought back a classic Sir Alan Ayckbourn comedy for your enjoyment. Second in their season of three of the prolific playwright's works, this is a frothy farce that takes aim at marital woes. Alternating between dry humor and broad slapstick, it's an Anglophile delight buoyed by a superb cast of the ersatz English.
Mingling the relatable with the absurd, Bedroom Farce opens with an antique of a couple. Delia (Donna Steele) and Ernest (Brian Parry) are preparing for their anniversary. Their tiresome struggles and frequent talking over and at each other shows a habitual dysfunction many of us will recognize from parents or grandparents. Son Trevor (Joe McCauley) is the only topic that seems to get them to pay true attention to the other. They reminisce fondly about his former girlfriend Jan (Sasha Gioppo) while bemoaning his current wife Susannah (Nina O'Keefe). Unlike the amiable Jan, Sue is a high-strung woman prone to hysterical bouts. (She's the only woman in Ayckbourn's script that isn't smarter and more well-adjusted than the man-children to whom they are married.)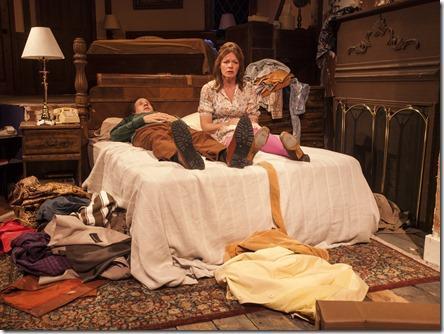 When mutual friends Malcolm (JP Pierson) and Kate (Emily Tate) throw a housewarming party, they invite the troubled younger couple—and Jan—to their peril. While her poor hubby Nick (Stephen Dale) is laid up with a bad back (and an even worse case of the whinings), Jan is left to confront Trevor alone. The fallout from that encounter will lead to a lot of improbable circumstances as the impossibly self-absorbed Trevor and Sue take turns airing their laundry to everyone but each other. No one gets any sleep as phone and doorbells ring in a long dark night of the soul-searching couples.
This is nothing you haven't seen before as far as characters go. It's up to the more than capable cast of eight under Nick Sandys' direction to make these characters sparkle—and sparkle they do. Parry and Steele are eminently lovable as a duo whose relationship is a tacit commentary on those around them. Normally two such experienced elders would show up their younger counterparts, but not here. Embodying the best of good old- fashioned Brit wit, there's many a chuckle to be had as the cast deftly delivers punchlines and pratfalls. Though I personally like my comedies to end at the 90-minute mark, the verve of the company is enough to almost make me not notice the ever-so-slightly-too-long two hour runtime.
There's an oddly melancholy denouement for a farce. Coupled with a wryly acidic look at the differences between the generations and the sexes, Eclipse has brought us a finely balanced work of commentary and comedy. I was amazed at how well the near-forty year-old work had endured (lord knows I haven't always thought the same of other period comedies). Either Ayckbourn was peculiarly prescient, or things haven't changed much at all.
Rating: ★★★
Bedroom Farce continues through September 1st at Athenaeum Theatre, 2936 N. Southport  (map), with performances Thursdays-Saturdays at 7:30pm, Sundays 2pm.  Tickets are $18-$28, and are available by phone (773-935-6875) or online through OvationTix.com (check for half-price tickets at Goldstar.com). More information at EclipseTheatre.com.  (Running time: 2 hours, includes an intermission)
Photos by Scott Cooper 
---
artists
cast
Stephen Dale (Nick), Joe McCauley (Trevor), Nina O'Keefe (Susannah), JP Pierson (Malcolm), Sasha Gioppo (Jan), Brian Parry (Ernest), Donna Steele (Delia), Emily Tate (Kate)
behind the scenes
Nick Sandys (director), Kevin Scott, Nathaniel Swift (co-producers), Kathleen Dickinson (stage manager), Rebecca Ross (asst. stage manager), Mike Winkelman (scenic design), Morgan Lake (sound design), Rachel Lambert (costume design), Michael McNamara (lighting design), Beth Golemo (properties), Sara Moeller (dramaturgy), Sally Eames (dialect coach), JP Pierson (casting director), Scott Cooper (photos)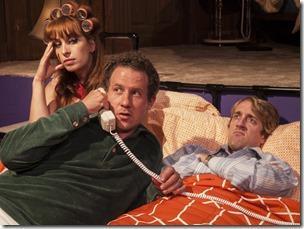 13-0727