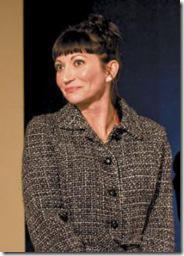 Becky Shaw
Written by Gina Gionfriddo 
Directed by Damon Kiely  
A Red Orchid Theatre, 1513 N. Wells (map)
thru Nov 6   |  tickets: $25-$30  |  more info
Check for half-price tickets
  
  
   Read entire review
---
Damon Kiely's exquisitely cast ensemble defines the meaning of 'tough love'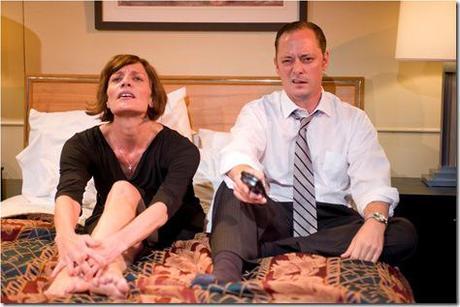 A Red Orchid Theatre presents
Becky Shaw
Review by Catey Sullivan 
Ah, love. A transcendent emotion borne of selflessness and intimacy or simply a by-product of use? For Max, the staggeringly anti-social 30something who shares the dark heart of Becky Shaw with his adopted sister Susanna, it's the latter. As cynicism goes, he's in a class unto himself, a fellow who is to sarcasm as DaVinci is to the Sistine Chapel. Or something like that. You'd think Max would be able to crush and dispose of the damaged, needy, and sloppily emotional Becky Shaw with no more effort than a jack-booted sumo-wrestler stomping broken-legged hamsters. But the title character of Gina Gionfriddo's alternately disturbing and disturbingly funny romantic comedy has hidden powers of persuasion. To strain the zoological comparison: She's not so much a hamster as she is a leech with superpowers – She may be easily flattened, but she's all but impossible to shake off.
As far as romantic comedies go, Becky Shaw has nothing in common with the pastel-hued fare usually associated with the genre. Think Neil LaBute rather than Nora Ephron and you've got a rough idea of Becky Shaw's toxic pleasures. Exquisitely cast and directed by Damon Kiely, this is a tale of gasp-inducing cruelty popping with equally unavoidable humor.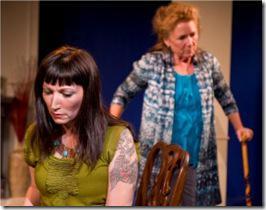 A carefully plotted acid bath of a story,
Becky Shaw
traces the damage of a blind date so torrentially godawful that it ruins the marriage of the couple who set it up. It's a case of expanding damage via a sort of toxic butterfly effect as the seemingly helpless, hapless Becky cuts a swath of destruction not even the steel-skinned Max can repel.
The piece begins not with Max (Lance S. Baker) and Becky (Mierka Girten), but with Max and Susanna (Jennifer Engstrom), a couple with its own complicated history. She's in mourning for her recently deceased father, he's trying to deal with the will and her family's messy finances, a task rendered almost impossible by Susanna's monumentally difficult mother, Susan (Susan Monts-Bologna.) Becky doesn't show up until over a year later, after Susanna has hastily married Andrew (Dan Granata), a crunchy-granola, touchy-feely, annoyingly sensitive type whose wide-eyed earnestness grows ever more irritating with every heart-felt declaration he makes.
Gionfriddo's dialogue is as taut as razor wire and as funny as hell, slicing through the skin of her characters with a surgeon's precision to reveal their inner minds and hearts. The cast is a twisted joy to behold as the emotional eviscerations progress. It's tough to imagine an actor more suited than Baker to delivering Max's deadpan, withering put-downs (more like TKOs). He's got an understated way with passive-aggressive venom that's truly impressive. Max has met an unlikely match in Girten's Becky, a floundering hot mess of a woman whose survival instincts are so strong she can turn from pleading neediness to icy blackmailer in under a minute. It's a marvelously complex role, rich with contradictions and layers that make you both want to cheer and condemn the woman. Often managing the feat of seeming simultaneously a doe-eyed innocent and a gimlet-eyed con-woman, Girten creates one of the season's most memorable anti-heroines.
As Susanna, Engstrom is a tightly wound mass of roiling emotion, a woman who is at once a romantic at heart yet also as sardonic as her life-long friend Max. "I want the love boat," she laments in a crystalline bit of dialogue that captures both qualities, "Not a real boat with real lovers." Engstrom brings a distinctively regal carriage to the stage, a quality that creates a powerful and intriguing contrast: Her presence is both inarguably powerful and, at times, noisy with weeping distress. It's a tricky balance between dominance and distress and Engstrom pulls it off with both confidence and clinginess. As Susanna's husband Andrew, Granata is an ultra-sensitive man that's fun to despise. He is a fellow far too in touch with his softer side, the sort of person who thrives on sharing painful, soul-baring stories in group therapy sessions and to provide unwavering support to the damaged, emotionally distressed women who do likewise. In other words, he and Becky totally deserve each other.
Despite the obvious Becky/Dan, Susanna/Max pairings, Becky Shaw is decidedly not the kind of rom-com wherein mismatched lovers realize they were meant for each other after overcoming various and sundry obstacles and their inability to realize what's been obvious to the audience since the first scene. As Max infers, happily ever after is a crock: "Look long enough at anyone and you'll be revolted."
It falls to Susanna's mother, Susan, to make the case for unwavering loyalty to the love of one's life. She does so in a fashion that's wholly consistent with the "epic Faulknerian dysfunction" that characterizes the rest of the players. Bologna turns in a pile-driving performance, as an intractable, unflappable and entirely unreasonable matriarchal force whose capacity for love and bullying seem limitless. And for all Susan's maddening ingratitude and irrational attitude, she's got a few things to teach the younger generation about the nature of love and commitment. In her, Ginofriddo brings a whole new meaning to the phrase "tough love."
Rating: ★★★½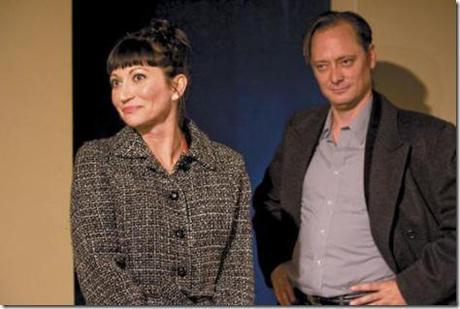 Becky Shaw continues through November 6th at A Red Orchid Theatre, 1531 N. Wells (map), with performances Thursdays-Saturdays at 8pm, and Sundays at 3pm. Tickets are $25-$30, and can be purchased by phone (312-943-8722) or online at OvationTix.com. More information at aRedOrchidTheatre.org. (Running time: 2 hours, 15 minutes, which includes an intermission)
All photos by Michael Brosilow 
---
artists
cast
Lance Baker*, Jennifer Engstrom*, Mierka Girten*, Dan Granata, Susan Monts-Bologna
behind the scenes
Damon Kiely (director), Stephen H. Carmody (sets), Jeremy W. Floyd (costumes),   Michael Stanfill (lighting), Joseph Fosco (sound), Emily Guthrie (props), S.G. Heller (stage manager), Meg Lindsey (production manager), A.J. Links (asst. director), Rob Dieringer (dramaturg), Michael Brosilow (photos)
* denotes A Red Orchid ensemble member