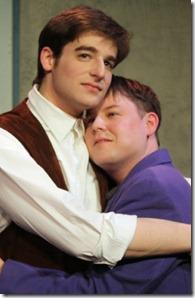 Beautiful Thing 
Written by Jonathan Harvey
Directed by John Nasca
Athenaeum Theatre, 2936 N. Southport (map)
thru Feb 17  |  tickets: $23-$25   |  more info
  
Check for half-price tickets 
  
  
   Read entire review
  
---
A classic for gay and gay-friendly audiences alike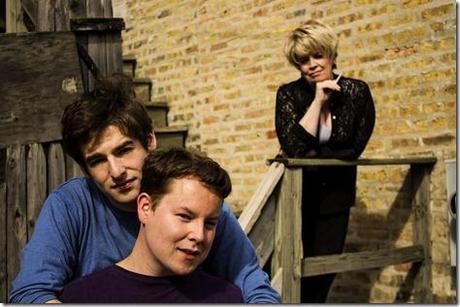 Pride Films and Plays presents
Beautiful Thing
Review by John Olson
While the gay experience in America has certainly changed in the twenty years since this British play's 1993 premiere (and its 1998 American premiere by Chicago's Famous Door Company), the coming out experience it depicts has been and is likely to remain pretty consistent across time. By and large, gay kids will be born to straight parents and go to school with mostly straight classmates.As these kids enter sexual maturity, they will have to find a way to refine their familial relationships and build networks of friends and lovers in ways they and their families weren't expecting. Beautiful Thing, which concerns the coming out and first love of two lower class teenage boys in South London's subsidized housing, remains timely today. But apart from the relevance of its gay theme, we'd hope there would always be a place for a play like this – with rich, human and funny characters and an optimistic ending.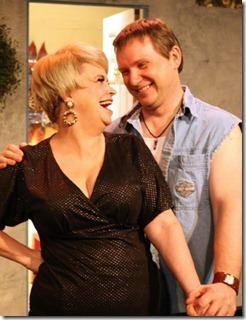 Jamie and Steven (called "Ste") are classmates and next door neighbors in a "council estate" (what we would call "the projects") and though Ste is a pretty good athlete while Jamie does whatever he can to avoid gym class, the two get along pretty well. When Ste's alcoholic dad beats Ste badly one night, he takes refuge at Jamie's flat where the two share Jamie's bed, though, initially in a chaste "top to tail" position. Ste's vulnerability due to his abuse at home leads him to let down his guard and respond to the affections of Jamie, who is a bit farther along the path of self-acceptance of his orientation.
What makes this two-hour play so rich, though, are the other characters, who in different ways are struggling to find their own place in the world. Jamie's mother Sandra is a single mom and barmaid with ambitions to get into pub management and out of the estates. Earthy Sandra was presumably a teenage mother (the father Jamie never met is long gone) so she's not all that much older than Jamie, and her parenting style waffles sometimes awkwardly between authority figure and pal. She's had a succession of boyfriends and the current one, Tony, is an amusingly un-selfaware artist/hippie whose presence in the household is made even more uncomfotrtable as his age is somewhere between Sandra and Jamie's. Then there's the neighbor on the other side, the teenager Leah – who's been kicked out of high school, experiments with drugs and is obsessed with her mother's Mama Cass recordings, Leah's more rebellious than Jamie or Ste, but doesn't seem to know exactly what she's rebelling against or for.
It is revealed that Jamie has had his share of taunts on suspicions that he's gay, while Ste – a good looking and athletic kid – has passed for straight. So far as coming-out experiences go , Jamie's is probably better than most in real life – and the play's situation of having the handsome boy next door become your gay boyfriend and your having a loving mom for support, is an attractive fantasy indeed. We buy it, though, and not only because it's such a nice fantasy. Jonathan Harvey's keen eye for people and ear for how kids and lower class Brits talk (at least it sounds believable to my American ears) gets us so invested in the characters we buy the story both in spite of and because of the idealized situation they're in.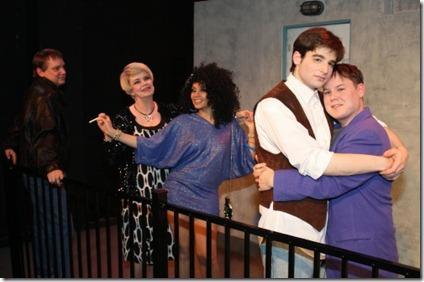 Director John Nasca and cast pull this all off quite nicely. Jamie gets the most stage time of the cast and is the more verbal of the two boys, and Robert Hilliard captures Jamie's vulnerability mixed with a certain acceptance of his orientation. He gets some big emotional blowups as well as some softly sweet and funny times with Ste. Charlie Wein makes a terrific Ste. He balances the character's sensitivity and charm, and makes us believe Ste would fall for Jamie. Michelle McKenzie-Voigt gives us a loud-mouthed, rough-on-the-outside Sandra with a soft inside. Kiah McKirnan captures Leah's loopiness quite nicely while Patrick Rybarcyzk is fine as Tony, the artist who's struggling as much as the others to find himself. The play is heavy with British slang (and a helpful glossary is provided in the program), but in context, the audience can get the meaning well enough. It would be a shame to Americanize or simplify the language as it helps to define the young and lower-class characters. Harvey worked as a teacher in such a London neighborhood and used the experience to create this authentic-sounding dialog.
Sara Heymann's set is a realistically plain exterior of the council estates building while Nasca's costumes and Hilliard's wigs and makeup suggest London without being too time-period specific. While there are various references to pop culture that are of the early nineties, to American ears they're largely unfamiliar and pass as simply generic references. The idea that Leah would have a mother listening to Mama Cass recordings gets a little less likely with each passing year, but the songs used in the play – particularly "It Gets Better" and Dream a Little Dream of Me" – work beautifully in the play's context.
Thankfully, Beautiful Thing, was preserved in a 1996 film, which Harvey scripted and nicely opened up the play. We can still hope, though, that it will remains a classic for gay and gay-friendly audiences alike. This production shows the piece is still sturdy and entertaining with resonance for its audiences.
Rating: ★★★
Beautiful Thing continues through February 17th at the Athenaeum Theatre, 2936 N. Southport (map), with performances Thursdays and through Saturdays at 7:30 pm. and Sundays at 2 pm. Tickets are $23-$25, and are available by phone (773-935-6875) or online through OvationTix.com (check for half-price tickets at Goldstar.com). More information at PrideFilmsandPlays.com.  (Running time: 2 hours 15 minutes, includes an intermission)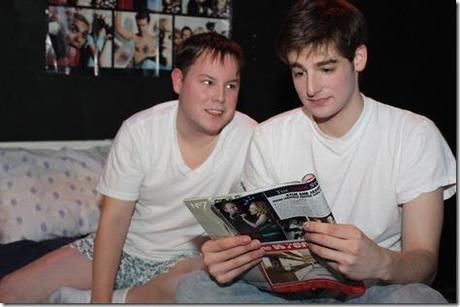 Photos by Jeff Bolek
---
artists
cast
Robert Hilliard (Jamie), Kiah McKirnan (Leah), Michelle McKenzie-Voigt (Sandra), Charlie Wein (Ste), Patrick Rybarczyk (Tony).
behind the scenes
John Nasca (director, costume designer), Annie Goodson (stage manager), Tiffany Nasca (assistant director, graphic designer), Sara Heymann (set designer), Scott Pillsbury (lighting designer), Alexander St. John (sound designer), Robert Hilliard (hair and makeup designer), Jeremiah Davis (voice and dialect coach), Zack Meyer (violence designer), Jeff Shields (prop designer), Charlie Wein (fight captain), Jeff Bolek (photography), Christine Rivera (house manager), Brooke O'Donnell (intern)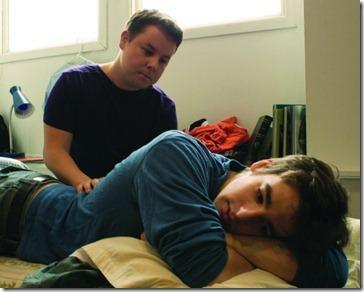 13-0125