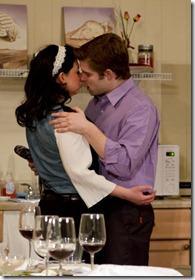 Beau Jest 
Written by James Sherman  
Directed by Ron Ben-Joseph  
Oil Lamp Theater, 723 Glenview Road (map)
thru April 7  |  tickets: $30   |  more info
  
Check for half-price tickets 
  
  
   Read entire review
  
---
A sederful of Jewish angst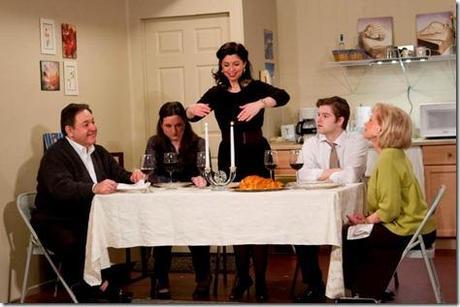 Oil Lamp Theater presents
Beau Jest
Review by Leah A. Zeldes  
Passover starts March 25. Therefore it's Jewish play season. I have seen three Jewish-themed shows within the past two weeks, and doubtless there are more. Why do theaters decide to mount such shows during a period when most Jews are busy cooking and cleaning for the holiday? Everything is Illuminated (my review) and Fiddler on the Roof (review) deal with exoduses of sorts, while Chicago playwright James Sherman's hilarious 1989 comedy, Beau Jest, currently in revival at Oil Lamp Theater in Glenview, tackles Passover even more directly.
Like Irish plays and Russian plays, Jewish plays tend to be darkly humorous, and no matter what they're about, the central theme tends to be angst. Beau Jest, the original production of which ran for a year in Chicago and two and a half years off-Broadway, mines all the tropes with side-splitting results. Sarah Goldman can't bring herself to tell her parents that she's still seeing the goy they disapproved of so strongly, so she tells them she's dating a Jewish surgeon. To her boyfriend's chagrin, when they insist on meeting him, she hires an actor, Bob Schroeder, to play the part. Bob isn't Jewish, either, but has gleaned enough Jewish culture from Broadway musicals to be able fake it, and he's a hit with the Goldmans … except for Sarah's divorced sister, who has her own issues with their parents.
The family dynamics are the heart of the play, and Andrea Rappaport as Sarah, Judi Schindler as her mom, Rick March as her dry-cleaner father and Laura Coleman as sister Joelene get all the nuances just right. From arguments over whether kugel can be successfully reheated in the microwave to deeper family values, every Jewish family has been through situations like those of the play. Josh Greiveldinger is convincing as the importunate boyfriend with the unlikely but very gentile name of Chris Kringle, and Shaun Nathan Baer plays a goy to charm any Jewish mother.
Where does Passover come in? The play features the family at seder — the funniest seder you'll ever see, and yet one that will resonate with anyone who ever opened a Maxwell House haggadah.
As somebody who recited the Four Questions every Passover till I was over 30, I found everything about this production charming. I think there are enough universals to keep anybody laughing, but I can't really tell what someone who has had no exposure to Jewish culture might think. For anyone with a Jewish family, though, Beau Jest is absolutely worth taking the time away from kashering the house to see.
The intimate, 36-seat Oil Lamp Theater's drawing-room comedies just get better and better. Go early to mingle in Oil Lamp's comfortable lobby-bar area, where Executive and Artistic Director Keith Gerth serves homemade cookies, and patrons are welcome to bring their own wine. Perhaps there will be macaroons during Passover?
Rating: ★★★½
Beau Jest continues through April 7th at Oil Lamp Theater, 1723 Glenview Road, Glenview (map), with performances Fridays/Saturdays at 8pm, Sundays 3pm.  Tickets are $30 (includes cookies! BYOB), and are available by phone (847-834-0738) or online through their website (check for half-price tickets at Goldstar.com). More information at OilLampTheater.org.  (Running time: 2 hours, includes an intermission)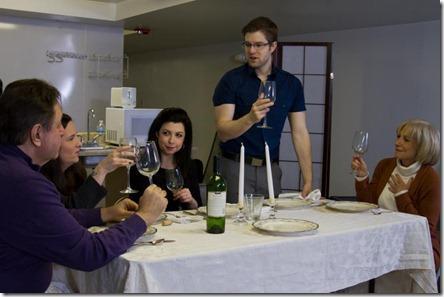 Photos by Kerramel Photography
---
artists
cast
Andrea Rappaport (Sarah Goldman); Shaun Nathan Baer (Bob Schroeder); Judi Schindler (Miriam Goldman); Rick March (Abe Goldman); Josh Greiveldinger, (Chris Kringle) and Laura Coleman (Joelene Goldman).
behind the scenes
Ron Ben-Joseph (director), Bridget Lachowsky (stage manager).
13-0326