Ensconced in one of the most scenic parts of the Yorkshire Dales, Beacons Festival is growing bigger and bigger each year. We went down last weekend and caught some of the best up-and-coming live acts, and one of the best young festivals, around.
Beacons has already got a great reputation for giving great, if slightly lesser know, live acts the chance to play the sets they want to on a bigger stage. Friday night was no exception as Bonobo brought his own brand of bassy soundscpaes to the main stage. For any mainstream festival this would be a weird booking, but set against the hilly Yorkshire backdrop with a chilled but interested audience in attendance, it was the perfect occasion for a pure appreciation of music. Described as "spacey and nice" by all.
Before that, Ghostpoet had brought the urban to the countryside in front of a packed tent, with tracks like 'Cold Win' and 'Cash and Carry Me Home' proving crowd favourites. In a similar way, Chad Valley briefly brought Ibiza to Beacons with the sugary-sweet Balearica from his 2012 album Young Hunger.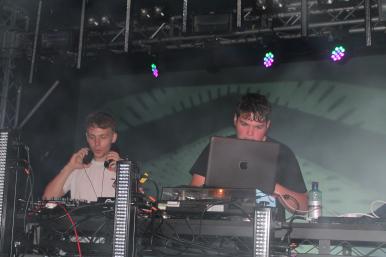 Bondax playing on Saturday night at Beacons 2013
Saturday saw Bondax demonstrate once again that they are destined for bigger things; the opening bars of 'Gold' drawing ravers into the tent like space debris to a black hole. Their combination of nu-house sounds and forward thinking bass provided the perfect set up to an eclectic evening of music which continued with Dutch Uncles  on the main stage. Tracks from this year's release, Out of Touch, In the Wild, were well received but their angular singles and alt-pop anthems set the evening alight, energising the crowd for what was to come.
Gold Panda's Half of Where You Live was released to critical acclaim a couple of months ago and his minimalist electronica was perfect for the Beacons stage. Once again, the artist had an appreciative and malleable audience in front of him, willing to respond to anything put in front of him, and the DJ duly responded with a superb set, half-ambient, half-banging. Local Natives followed up and showed that comparisons with Arcade Fire and The National are not over generous; the electric atmosphere of their performance matched only  by the complex emotional journey of their material and the appreciation from all who watched. A perfect closing set from a band who will be making bigger headlines yet.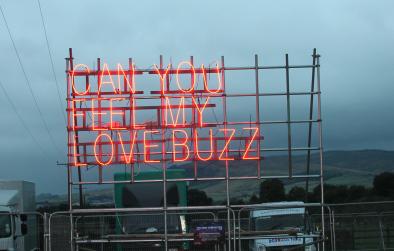 Sunday was an altogether quieter affair after the late night antics of Saturday (£2 for 5 minutes on a 12ft slide is HOURS of fun) but Drenge woke everybody up with their loud, angsty, Stella-fuelled rock on the You Need to Hear This Stage. With track titles like 'People in Love Make Make Me Feel Yuck' their self-titled debut is an interesting affair but there's no doubting the energy they put in on the stage. SBTRKT followed later with a DJ set which reminded us all why tracks like 'Hold On' and 'Something Goes Right' were so fresh-sounding when they came out; his disco-electro blend still remains fresh today.
All in all, Beacons is a festival for new experiences. Don't get stuck going to see the same festival set for the third time this year. Don't get stuck in your campsite all day too stoned to move. Don't get stuck behind your A-Level teachers dancing to the Stones. Go to a festival to see new music, and see new things.