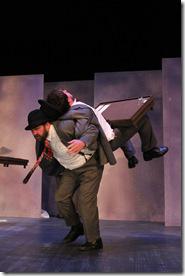 Bartleby the Scrivener 
Written by Herman Melville
Adapted and Directed by Alexander Gelman  
at Greenhouse Theater, 2257 N. Lincoln (map)
thru June 24  |  tickets: $18   |  more info
  
Check for half-price tickets 
  
  
   Read entire review
  
---
Melville's exploration of the absurd adapted for a modern audience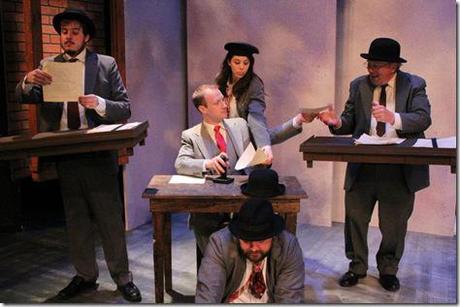 Organic Theater presents
Bartleby the Scrivener
Review by J.H. Palmer
Herman Melville's Bartleby the Scrivener, adapted by Alexander Gelman and produced by Organic Theater Company, is a 90 minute romp through the absurdities of working life. Bartleby (Richard L. Gross) is hired by Master in Chancery (Bryan James Wakefield) to join the rag-tag company of scriveners who include Turkey (Paul Tinsley), Nippers (Colin Jackson), Comely Chaffington (Joel Stanley Huff) and Teeny Notes (Kristina Cottone). Life at the company is repetitive; Master in Chancery stamps papers and hands them to his colleagues in a choreographed dance that resemble the jerky movements of old timey animatronics in train stations of long ago that played for small change. Nippers and Turkey have desks fastened to them with belts, on which they do paperwork from all points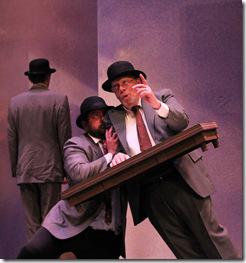 on the stage. Master in Chancery stamps papers, and hands them off to his colleagues, who perform the next task in the assembly line production of paperwork that is as familiar today as it was in Melville's time.
Bartleby is a fount of production, creating reams of paperwork that he hands over a screen in two foot stacks, until the fateful moment that he responds to a request from his boss with: "I prefer not to." No one knows how to handle this pronouncement, which is repeated countless times through the rest of the piece like Edgar Allen Poe's raven who quoth "nevermore." The office is thrown from order into chaos, its inhabitants expressing their anxiety in clownish performances that evoke entertainment from an earlier era. The screen in center stage is used to comic effect, with hands and feet sticking just above it in impossible proportions to the actor whose head is presumed to be attached to them. At one point Master in Chancery reaches behind the screen with a key in his hand as another unseen actor reaches his hand (also holding a key) on the opposite side, making the Master in Chancery's arm appear twenty feet long. In another scene, the entire cast lines up and plays a game of disappearing hats with, among other toppers: a pith helmet, a top hat, and a green felt Mexican hat. Other notable props include a bed sheet held against Master in Chancery to represent a bed while he holds a pillow to his head. The choreographed use of props and pratfalls are one part Marx Brothers, one part Ren & Stimpy, and a joy to behold.
Unable to get rid of Bartleby, who "prefers not to" do anything – including quit his post, Master in Chancery moves his entire staff to a new office, but continues to be haunted by Bartleby until he discovers the secret to dealing with his stubbornly insubordinate hireling. This production moves at a clip, makes the audience laugh, and brings new life to a classic piece.
Rating: ★★★
Bartleby the Scrivener continues through June 24th at the Greenhouse Theater Center, 2257 N. Lincoln (map), with performances Wednesdays-Fridays at 8pm, Saturdays at 3pm and 8pm, Sundays at 8pm.  Tickets are $18 for one show, $30 for tickets to both Bartleby and Rhinoceros, running concurrently. Tickets are available by phone (773-404-7336) or online at Tix.com (check for half-price tickets at Goldstar.com). More information at OrganicTheater.info.  (Running time: 90 minutes with no intermission)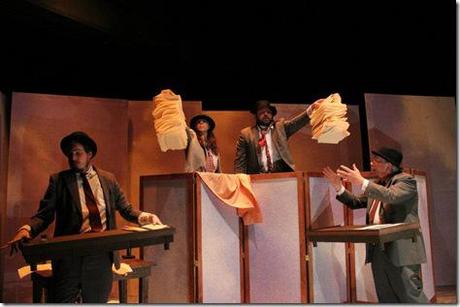 Photos by Matthew Knox
---
artists