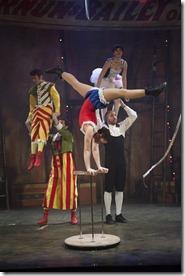 Barnum 
By Cy Coleman (music), Michael Stewart (lyrics)
   and Mark Bramble (book)  
Directed by L. Walter Stearns 
at Mercury Theater, 3745 N. Southport (map)
thru June 16  |  tickets: $25-$59   |  more info
  
Check for half-price tickets 
  
  
   Read entire review
  
---
A big show about the big top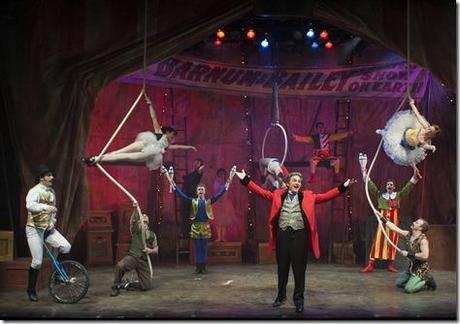 Mercury Theater presents
Barnum
Review by John Olson
Chicago theater lovers are blessed with an abundance of good theater all year round, not the least of which has been four full-time union theaters producing mostly musicals on a year-round basis. Thing is, those four (Marriott, Drury Lane Oakbrook, Paramount and Theatre at the Center) are all in the suburbs. Now we have a fifth – and it's in the city – right in Wrigleyville – where it's nicely served by three bus lines and one el line. Sure, I'm a little late to the party in celebrating this news – The Mercury Theater began its first full season of self-produced musicals in January with the Rodgers and Hammerstein revue A Grand Night for Singing back in January (our review).  But though I missed that show, I suspect it's fair to say the Mercury's extravaganza that is Barnum gives a better sense than that five-person revue of the scale the new team who took over the Mercury two years ago intends to deliver. It also shows what director L. Walter Stearns can do with a larger canvas than was available to him during his many years of leading Porchlight Music Theatre and their shows at the former Theatre Building.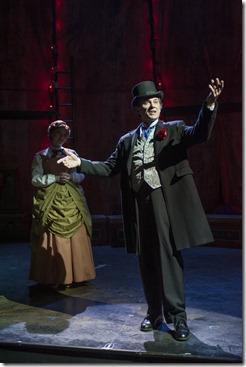 This 1980 musical by
Cy Coleman
,
Michael Stewart
and
Mark Bramble
is a bio of P.T. Barnum, the legendary 19th Century American showman – who founded "The Greatest Show on Earth" – the Barnum and Bailey circus – so would we expect any less than a spectacle?  Bramble's script presents Barnum's story in the guise of a circus. A ringmaster (
Kevin McKillip
) serves as narrator, and the dramatic scenes and songs are surrounded by circus acts and an ensemble of honest-to-god tumblers, jugglers, clowns, aerialists, acrobats and gymnasts, and a strongman. Another Chicago blessing –
The Actor's Gymnasium
– has been instrumental in making this happen, with its co-founder/co-artistic director
Sylvia Hernandez-DiStasi 
providing the circus choreography. The cast of 14 – which feels a lot bigger filling up the Mercury's stage as they do – does tumbling, magic tricks, rope spinning, stilt walking and puppetry in addition to the usual singing and dancing stuff. They perform those more traditional musical theater duties most spiritedly and professionally, with
Eugene Dizon
's musical direction and
Brenda Didier
and
Andrew Waters
's dance choreography.
With regard to that singing and dancing stuff, Stearns has locally-based Equity players in the lead and key supporting roles, starting with Gene Weygandt as Barnum. Weygandt has the showman's flair needed for the role and he plays him as an affable, even a bit naïve, good guy who only wants to make people happy. You might expect a little bit of a dark side from the character who allegedly said "there's a sucker born every minute," but this Barnum is a pretty good guy. Weygandt doesn't play him with a whole lot of shading in the first act, but in the second he shows Barnum's pain at the death of his wife and his disillusionment with the world of politics he competed in for a time. He's a good Barnum – selling the archetypical Cy Coleman show tunes like "Come Follow the Band" and "Join the Circus" with all the requisite flair. Barnum's sensible and supportive wife, Chairy, is warmly played and beautifully sung by Cory Goodrich, while Naomi Summer Smart is a lovely-to-look-at and-listen-to Jenny Lind.  There's also a wonderful and hilarious show-stealing moment from Donica Lynn as the purportedly 161-year-old Joice Heth; Ms. Lynn also gets to be sultry as the blues singer performing "Black and White" later in the show.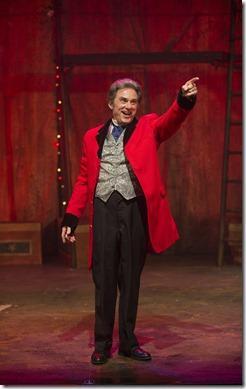 Speaking of Stearns' larger canvas – there's tons of it along with other fabrics used in the sets and costumes of the show's sumptuous and colorful design.
Jacqueline and Richard Penrod
's set places the action under the big top – with a canvas backdrop looking convincingly arced  around the stage – and
Carol J. Blanchard
's costumes are a fantastical assortment of circus attire all in "fire engine red," "buttercup yellow" and "kelly green," to quote the script. (And yes, the onstage band is in circus band uniforms). The puppetry, by
Joanna Iwanicka
, ranges from the tiny Tom Thumb to Jumbo the elephant, creating some magical effects of perspective on beings large and small.
Bramble's book is light on character development, but the intention of this show is giving the audience a spectacle and a good time. The songs are among Coleman's best. Best known for his optimistic march anthems like "Hey Look Me Over," Coleman's score for Barnum includes three such numbers – "One Brick at a Time," "Follow the Band" and "Join the Circus" – and they're all winners. (In their Porchlight days, Stearns and Dizon often would focus for a time on the works of specific composers – specifically Stephen Sondheim, William Finn and Maury Yeston.  I'd like to see them give the underappreciated Cy Coleman his due and maybe this is a start .) The high energy of the songs sort of forces Dizon and Stearns to keep the intensity at a fairly uniform level, though they might have slowed the pace and turned down the volume a bit for Barnum and Chairy's lovely duet, "The Colors of My Life." In the second act, though, they better follow the contours of story – slim as it is – and let us relax just a little bit to take it all in.
There's much to take in – and it's all a delight. The Mercury has clearly spared no expense or energy in putting on a big and highly entertaining show. They've set their bar quite high for their upcoming projects, but with Barnum, they show us they're not afraid of high-wire acts.
Rating: ★★★
Barnum continues through June 16th at Mercury Theater, 3745 N. Southport (map).  Tickets are $25-$59, and are available by phone (773-325-1700) or online through Vendini.com (check for half-price tickets at Goldstar.com). More information at MercuryTheaterChicago.com.  (Running time: 2 hours 15 minutes, includes an intermission)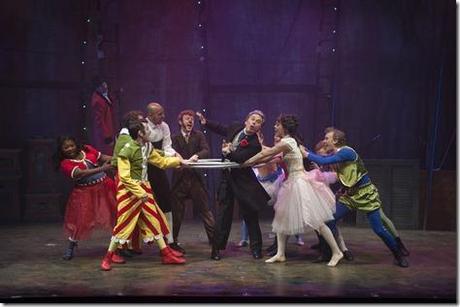 Photos by Michael Brosilow 
---
artists
cast
Gene Weygandt (Barnum), Cory Goodrich (Chairy Barnum), Donica Lynn (Joice Heth, Blues Singer), Christian Libonati (Tom Thumb), Summer Naomi Smart (Jenny Lind), Kevin McKillip (Ringmaster, Julius Goldschmidt, James A. Bailey), Nathan Drackett (Chester Lyman, Edgar Templeton), Ryan Westwood (Amos Scudder), Taylor Krasne-Wilton (Waitress), Jeremy Sonkin (Sherwood Stratton, Wilton), Karissa Barney (Mrs. Stratton), Kris Hyland (Hubert Morrissey), Leah Morrow, J. Tyler Whitmer (Ensemble).
behind the scenes
L. Walter Stearns (director), Eugene Dizon (musical director), Brenda Didier, Andrew Waters (co-choreographers), Sylvia Hernandez-DiStasi (circus choreography), Jacqueline and Richard Penrod (scenic design), Jason Epperson (lighting design, graphic design), Carol. J. Blanchard (costume design), Mike Ross (sound design), Shawn Pryby (production stage manager), Frank Paul (asst. stage manager), Joanna Iwanicka (puppet design and construction), Molly Brennan (clowning consultant), Neil Tobin (magic consultant), Kevin Barthel (wig/hair design), Michael Brosilow (photos)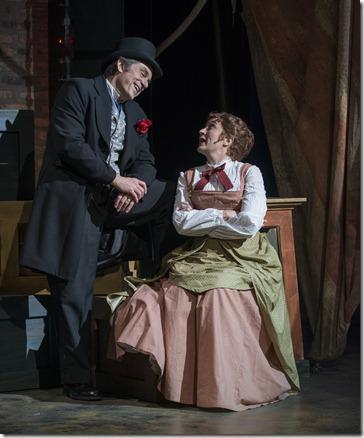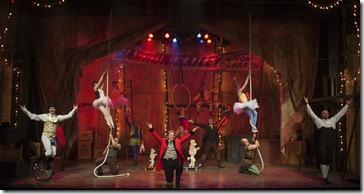 13-0404