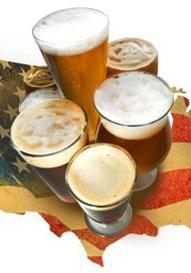 Barnstormers
Written and Performed by Sean Benjamin
   and Steve Mosqueda
Haymarket Pub, 737 W. Randolph (map)
thru Oct 6  |  tickets: $15   |  more info
  
Check for half-price tickets 
  
  
   Read entire review
  
---
A fun night of beer and stories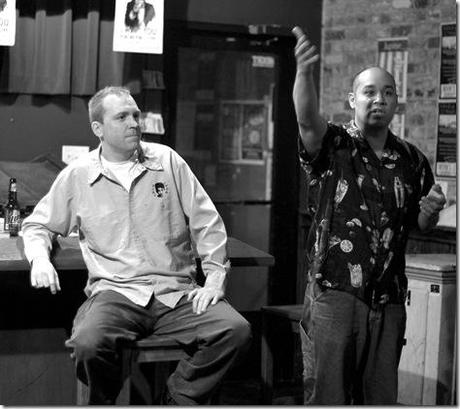 Drinking & Writing Theater presents
Barnstormers
Review by K.D. Hopkins
It's that time of year when sports fans and those there just for the snacks are in hog heaven. Sean Benjamin and Steve Mosqueda present a funny and bare-knuckle commentary that is equal parts history lesson and hilarious spoof of the business that is sports.
It is fitting that Drinking and Writing Theater takes place in a brewery pub. Benjamin and Mosqueda chug beers and drink a shot of Malort with gusto while telling stories of baseball greats and sports scandals. Barnstormers explores great writers like Hemingway, Ring Lardner, and Hunter S. Thompson. All of them were heavy drinkers and wrote about the stories behind sports. Barnstorming refers to the tours that athletes, politicians and their ilk take across the country.
Sports are akin to sex to men and according to Barnstormers that means winning. It's all about the penis – with an exception made for soccer great Mia Hamm who said, "Anyone who says winning isn't everything has never won!" Mosqueda makes a funny and very true comment about how both sides need to win when it comes to the sport of sex. The ladies in the audience wholeheartedly agreed.
These guys are on the same level as those shows with a larger audience such as "Saturday Night Live" (and sometimes they surpass SNL). Benjamin is particularly good at sharing personal stories of his youth and the stupid things that kids do. The warning from parents about losing an eye applies with Benjamin's story of 'Darts of Doom'. His recounting of hot tar, a Geronimo doll, darts, and a fishing pole evoked a childhood idyll in suburbia.
Barnstormers features Carolyn Shoemaker as the hyper-real woman sports reporter. Shoemaker delivers laughs spoofing the strident and eye-on-the-camera style. A mock interview with an audience member in the Halsted Street penalty box turns hilarious with Carolyn cussing into a microphone that unbeknownst to her is live.
Bring a sharp ear and be prepared to learn some cool stuff watching Barnstormers. The lines are rapid fire and appeal to the trivia lover. Listen for quips from great sports movies and an elegy to Hunter S. Thompson featuring Norman Greenbaum's "Spirit in the Sky". It's a badass bow-your-head moment for the Gonzo literature fan. Benjamin and Mosqueda put in a long stint as original members and writers of the Neo-Futurists, who are known for the art of the two-minute play. It's the perfect accompaniment as the boys of summer head into the playoffs and the NFL starts up. The beer is brewed in-house and – unless you are following in the footsteps of rabble-rousers like Thompson, Lardner and, my personal writing hero, Mike Royko – beware of the Malort   .
Rating: ★★½
Barnstormers continues through October 6th at the Haymarket Pub & Brewery, 737 W. Randolph (map), with performances Wednesdays at 8pm and Saturdays at 4pm.  Tickets are $15, and are available in advance through their website (check for half-price tickets at Goldstar.com). More information at DrinkingAndWriting.com.  (Running time: 1 hour, no intermission)
---
artists
cast/crew
Sean Benjamin, Steve Mosqueda, and Carolyn Shoemaker
12-0925