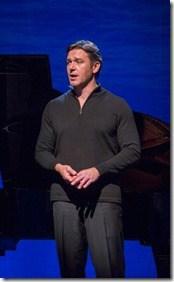 Baritones Unbound
Created by Marc Kudisch, Merwin Foard,
   Jeff Mattsey and Timothy Splain
Royal George Theatre, 1641 N. Halsted (map)
thru Jan 3  |  tix: $60  |  more info
  
Check for half-price tickets  
  
---
Enjoyable but indulgent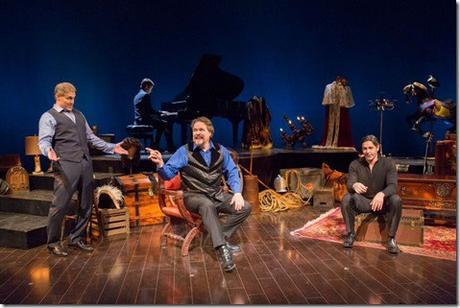 Hershey Felder presents
Baritones Unbound
Review by Lauren Whalen 
According to the three men of Baritones Unbound, the baritone is a rare bird. He (for the occasional female baritone isn't taken into account here) sings in a range that's below the otherworldly tenor but above the rock-bottom bass. Essentially, Baritones Unbound claims, the baritone is the earth. He's the one with feet firmly planted on the ground, whose music speaks to the common folk, the base emotions of love and pain, the feelings hidden in the depths of those who appear angelic and those who project a villainous air. At its heart, Baritones Unbound is genuine. As a performance, it's superb. As a concept and a production, it's a little thin and a lot indulgent.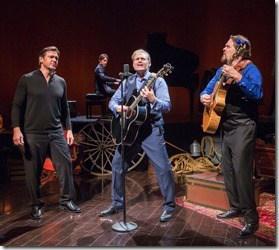 Celebrated baritones
Mark Delavan
,
Nathan Gunn
and
Marc Kudisch
(the latter is also a co-creator) uncover the history of the baritone, from the days of competing with boy sopranos (and
castrati
) to the modern-day tunes of superstars like Josh Groban, by way of Mozart, Rodgers and Hammerstein and everyone in between. The trio claims that the baritone is underrated, often ignored, but gets to the heart of human emotion like no other vocal range. Using various wigs, props and costumes, and supported by music director and accompanist
Timothy Splain
, the three baritones are lively and game tour guides, taking the audience through hundreds of years at a time, in a few well-paced and gorgeously performed tunes.
Baritones Unbound is clearly a passion project – and a well-funded one at that. Producer and performer Hershey Felder has brought the show to the Royal George Theatre as part of his new series for the venue. Baritones Unbound has enjoyed successful runs in Boston and San Francisco, and the opening day crowd at the Royal George was warm, receptive and enthusiastic. Like the Broadway and opera professionals they are, the three baritones expertly played with the crowd, riffing with each other in between canned dialog and tuneful renditions.
Quality-wise, I have no issues with Baritones Unbound. Broadway veteran Kudisch and opera superstars Gunn and Delavan (Gunn's handsome looks and smooth voice have earned him the monikers "Barihunk" and "Hunkitone") are simply stunning from beginning to end. Their opening trio of "Some Enchanted Evening" from South Pacific is nothing short of breathtaking, and they know their way around everything from classical to musical theater to pop. Other highlights include an aria from The Magic Flute (the character of Papageno is considered the first major baritone role) and the stirring Act One finale, the soulful "Lonely Room" from Oklahoma.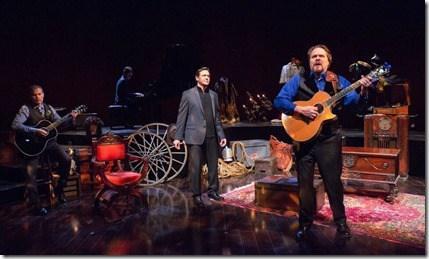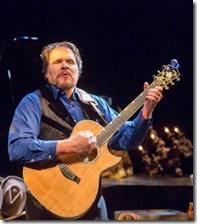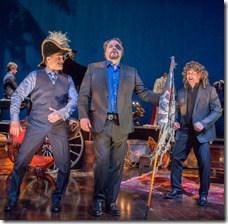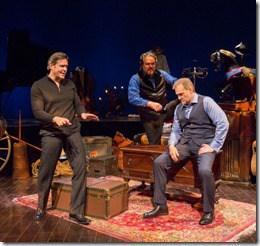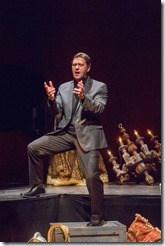 However, at two and a half hours, Baritones Unbound is easily an hour too long and the second half especially drags. It's during these slower moments that Baritones especially feels indulgent, and I found myself questioning why such a show has to exist at all. Certainly Delavan, Gunn and Kudisch are phenomenal singers, but seeing three white men talk about feeling marginalized gets a little ridiculous at times. This blithe disregard of privilege is most evident when the baritones perform "Old Man River" – yes, the iconic song from Show Boat that was not only written for a man of color, but is all about marginalization at the hands of Caucasians. Hearing this song come out of the mouths of three white men feels wrong.
Baritones Unbound is a beautifully produced and performed mixed bag. It's a fun idea and a collection of wonderful songs rendered by three of the musical world's best and brightest. It's also occasionally dated and clueless, not to mention lengthy. If I were only reviewing the three performers, I'd easily give them four stars, but the source material and concept of Baritones Unbound gives me pause.
Rating: ★★★
Baritones Unbound continues through January 3rd at Royal George Theatre, 1641 N. Halsted (map), with performances Wednesdays and Thursdays at 7:30pm, Fridays 8pm, Saturdays 3pm and 8pm, Sundays 3pm.  Tickets are $60, and are available by phone (312-988-9000) or through Ticketmaster.com (check for half-price tickets at Goldstar.com). More information and a full schedule can be found at TheRoyalGeorgeTheatre.com.  (Running time: 2 hours 30 minutes, includes an intermission)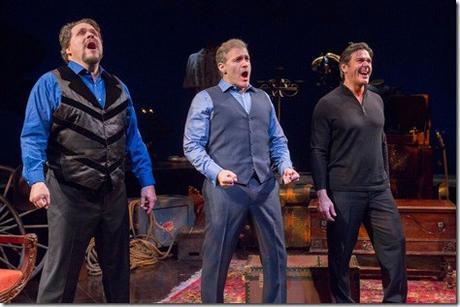 Photos by Chuck Osgood
---
artists
cast
Mark Delavan, Nathan Gunn, Marc Kudisch (baritones), Timothy Splain (piano)
behind the scenes
David Dower (director), Marc Kudisch (concept, co-creator), Merwin Foard, Jeff Mattsey, Timothy Splain (co-creators), Hershey Felder (scenic design, producer), Christopher Ash (lighting design), Erik Carstensen (sound design, line producer), Trevor Hay (production artist), Rebecca Peters, Brett Taylor (production stage managers), Chuck Osgood (photos)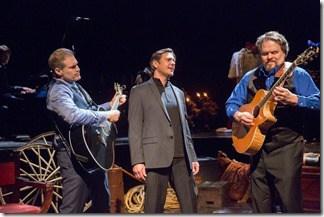 15-1232