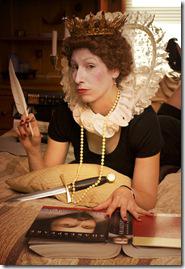 Bard Fiction 
Written by Ben Tallen, Aaron Greer,
   Brian Watson Jones, Pulp Bard Wiki
Directed by Christopher O. Kidder
Greenhouse Theater Ctr, 2257 N. Lincoln (map)
thru April 15  |  tickets: $25   |  more info
  
Check for half-price tickets 
  
  
   Read entire review
  
---
Time fly-eth by when you're is having fun!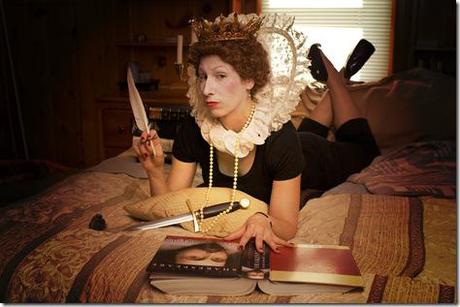 Commedia Beauregard presents
Bard Fiction
Review by K.D. Hopkins
The audio introduction to Bard Fiction asks that all phones and noise making devices be turned off because "we are about to go all Shakespeare on your arse." It bodes well for an evening of hilarity and budding comic genius. Commedia Beauregard blends Quentin Tarantino and the Bard himself. There are more similarities than I have ever previously noticed between the two scribes. Tarantino is known for naturalism and street language in his productions – particularly "Pulp Fiction". Bard Fiction also brings in Tarantino's deconstructed timeline with flashbacks and a present day ghost in a past time setting.
We follow the adventures of Julius Winfield and Vincenzio de la Vega as they work for the powerful Lord Marcellus Wallace. Jovan King plays Julius with just enough edge and a wink to Samuel L. Jackson. The famous quote from Ezekiel 25:17 is spoken with beautiful Shakespearean nuance and Jackson menace. Josh Zagoren, as Vincenzio, is my favorite character in the play. Zagoren exudes a brilliantly bizarre coolness that has a touch of thug, slacker, and poet. The dialog may emulate iambic pentameter, but it is spoken as if a can of whoop ass has been opened. Zagoren's gestures and body language are, simply put, funny. Every line and movement encompasses his character.
Julius' encounter with Lady Mia Wallace is hysterically absurd. They are warned that the last man to accompany Lady Mia was killed because he dared to rub the Lady's dainty feet. Yes Lord Wallace is a jealous and insane liege. Lady Mia is played by Jacqueline Davies and – like Uma Thurman in the film – she plays it with a full bucket of crazy. Davies projects a dangerous kind of sexy in a jet black wig and Shakespeare-gone-naughty attire. It's a blend of Disney meets Frederick's of Hollywood, and Davies carries it off beautifully. Vincenzio's visit to the Apothecary is a great scene, with Kevin Alves as the Apothecary and Ashley Boots as his wife Juno.
The Apothecary is Vincenzio's dealer of snuff which was popular in the 1600′s and American Colonial times. Snuff is finely powdered tobacco but it is inferred that the Apothecary adds something special to his blend. A good parallel to the film is in Scene 7 when Lady Mia gets into Vincenzio's special stash. Sprint the Messenger (Sara Wolfson) is brought into the scene for additional comic effect. Wolfson nimbly carries off the hustler that is Sprint, always ready to deliver, for the right price. The revival of Lady Mia has the same shocking and comic effect as when John Travolta's character had to plunge a needle into Uma Thurman's heart in the film.
Of special note is the scenes with Butch the boxer (Zach Livingston) and the ghost of his father (Clark Bender). Butch is on the run for having killed his opponent rather than throwing the fight at the behest of Lord Wallace. Bender's laconic delivery gets gales of laughter from the audience.
It might be a good idea to watch Tarantino's film to get some of the references, but not a necessity. The comedy stands on its own as an homage to both Shakespeare and the Tarantino genre. Shakespeare was in a sense the Tarantino of his day, pulling back the curtains on those who seemed to live a more exciting life. The lives of those who lived as upper class and their consorts were fascinating and remain as such with the modern fascination of celebrity.
Bard Fiction is definitely a comic gem that should not be missed. Even the characters of the Gimp and Rustics Maynard and Zed are lightened up, which was not the case in the film. This is not a play for kids even with the classic language. There are still references to sodomy, drug use, and fetishism. If you bring the kids be prepared to explain some freaky stuff. Although Bard Fiction runs almost two hours with one 15 minute intermission, the time flies because the play is so fun!
Rating: ★★★½
Bard Fiction continues through April 15th at Greenhouse Theater Center, 2257 N. Lincoln (map), with performances Thursdays-Saturdays at 8pm, Sundays at 3pm.  Tickets are $25, and are available by phone (773-404-7336) or online at Tix.com (check for half-price tickets at Goldstar.com). More information at cbtheatre.org.  (Running time: 2 hours 10 minutes, which includes one intermission)
---