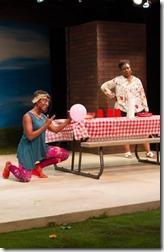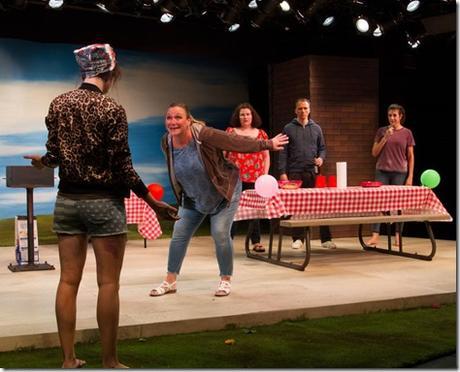 Review by Lauren Whalen
It's never a good sign when the entire first act is a fake-out. I realize this is a minor spoiler, but it's nigh-impossible to review Barbecue without revealing at least one plot twist. If I kept everything secret, this review would be a paragraph long. Plot twists and fake-outs aren't necessarily bad in and of themselves, but when the entire play relies on them - and when they're clichés to boot - that's where the problems begin. At its core, Robert O'Hara's play is the story of an intervention that magnifies into something much larger. Perhaps if the playwright had kept the story in mind, rather than turning it into a rather dull sideshow, Barbecue would be a thoughtful analysis about the gray area of truth. Coulda,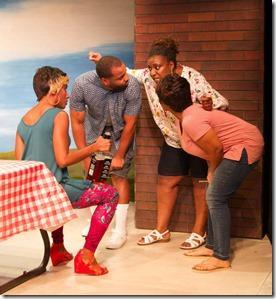 woulda, shoulda.
Barbecue begins in a park on a summer day, as a dysfunctional set of siblings prepare for a meal that's much more than just a meal. Youngest sister Barbara is addicted to drugs. Unlike her sister Adlean, Barbara's "minor" crack and alcohol issues have ballooned into something dangerous and destructive, and her family - rather, her oldest sister Lillie Anne - has decided enough is enough. Armed with a taser, duct tape, rope and Jack Daniels, Barbara's sisters and brother only want what's best for her. Or do they? What's really going on here?
Early in the play, we see the family played by two sets of actors: one white, one black. As the players change, the story continues and the "truth" shifts. This could have been very interesting and eye-opening. Key phrase: "could have been." Instead of really exploring the characters and their motivations, playwright O'Hara relies on lazy gotcha moments, the likes of which the audience have seen a thousand times or more. The audience invests an hour into the first act, only to find out . . . nothing is as it seems. Again, this could be interesting, fascinating even. Instead, there are stereotypes galore, a very loose understanding of what "rehab" means and unearned laughs that are few and far between.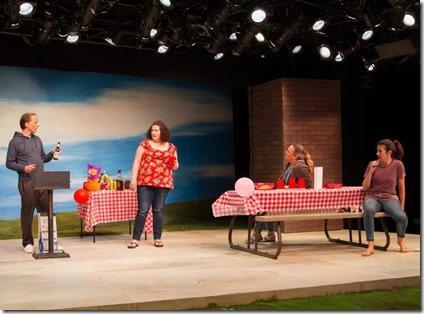 It's difficult to critique the rest of because the script is so intensely flawed. Director Damon Kiely does deserve credit for keeping the pacing relatively tight and trying to squeeze out as much authenticity as he can, which isn't much. Both "Barbaras", Abby Pierce and Ginneh Thomasstand out: Pierce for her relentless nice girl façade that melts away the second she's threatened, and Thomas for her cultivated veneer that wears off as her take-no-prisoners ambition takes over. Celeste M. Cooper is unequivocally hilarious as Barbara's sister Marie, a cancer survivor whose newfound zest for life is peppered with irreverent observations.
Excellent performances aside, however, feels false, and not in a deep, thought-provoking way. One can sense O'Hara's desperation to keep the audience engaged with twist after twist, while sacrificing character development and real moments. Inauthentic from beginning to end, is completely and utterly forgettable. Strawdog Theatre Company has an excellent group of actors, but they don't seem to match that skill when picking scripts that challenge performers and engage theatergoers.
continues through September 30th at Steppenwolf's 1700 Theatre, 1700 N. Halsted (map), with performances Fridays 8pm, Saturdays 3:30pm & 8pm, Sundays 3:30pm. Tickets are $45, and are available by phone (312-335-1650) or online through Steppenwolf.org (check for availability of ). More information at Strawdog.org. (Running time: 2 hours, includes an intermission)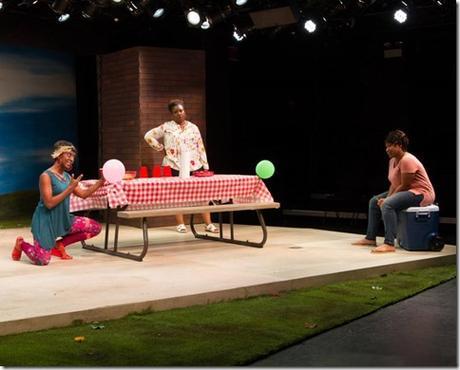 John Henry Roberts (James T), Terence Sims (James T), Barbara Figgins (Lillie Anne), Deanna Reed-Foster (Lillie Anne), Kristin Collins (Adlean), Kamille Dawkins (Adline), Celeste M. Cooper (Marie), Anita Deely (Marie), Abby Pierce (Barbara), Ginneh Thomas (Barbara)
Understudies: Peter Ash, Paulette Hicks, Cynthia Hines, Candice Monique, Marc Rogers, Emma Skorepa
behind the scenes
Damon Kiely (director), Joanna Iwanicka (scenic design concept), Jared Gooding (lighting design), Aly Renee Amidei (costume design), (sound design, photos), Leah Hummel (properties design), Casey Peek (stage manager), Becca Levy (production manager), Michael Burke (asst. director), Taylor Barfield (dramaturg), Seth Rickard (producer), Pat Yuzawa-Rubin, Jack Rubin, Tim & Ada Zingelman (associate producers)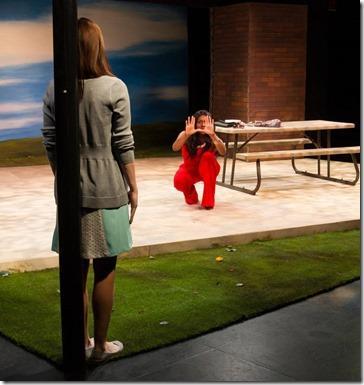 Tags: 17-0824, 1700 Theatre, Abby Pierce, Aly Renee Amidei, Anita Deely, Barbara Figgins, Becca Levy, Candice Monique, Casey Peek, Celeste M. Cooper, Chicago Theater, Cynthia Hines, Damon Kiely, Deanna Reed-Foster, Emma Skorepa, Ginneh Thomas, Heath Hays, Jack Rubin, Jared Gooding, Joanna Iwanicka, John Henry Roberts, Kamille Dawkins, Kristin Collins, Lauren Whalen, Leah Hummel, Marc Rogers, Michael Burke, Pat Yuzawa-Rubin, Paulette Hicks, Peter Ash, post, Robert O'Hara, Seth Rickard, Strawdog Theatre, Taylor Barfield, Terence Sims, Tim & Ada Zingelman
Category: 1700 Theatre, 2017 Reviews, Lauren Whalen, Strawdog Theatre