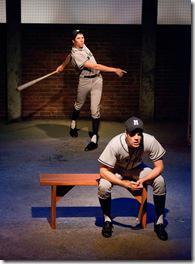 Bang the Drum Slowly 
Adapted by Eric Simonson
   from book by Mark Harris  
Directed by Michael Menendian  
at Raven Theatre, 6157 N. Clark (map)
thru June 30  |  tickets: $30   |  more info
  
Check for half-price tickets 
  
  
   Read entire review
  
---
Raven Theatre hits a home run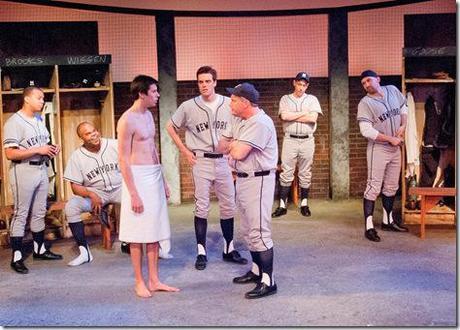 Raven Theatre presents
Bang the Drum Slowly
Review by Katy Walsh 
Men have always mystified me.  Having grown up with three sisters, I totally get every possible emotion for death, break-ups, or coupon expiration emitted by gals.  I don't always understand what a man is thinking or feeling.  Their level of communication often is a grunt, a shrug, or a 'whatever'.  My 'How do you feel?' inquiry to a guy is met with a one word explanation:  'hungry', 'tired' or 'mad.'  That's why stumbling into a man cave and observing the species interact is my favorite bromantic fantasy.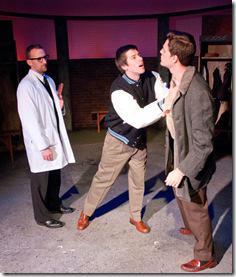 Raven Theatre presents
Bang the Drum Slowly
.  It's the 1950's.  Professional baseball players work side jobs and negotiate their own contracts.  The New York Mammoths are gearing up for a World Series championship season.  They have a winning line-up with Henry "Author" Wiggen on the mound.  Author narrates his recollection of that pivotal year.  The year he won and lost.  Just before spring training, his best friend and third-string catcher, Bruce Pearson is diagnosed with Hodgkin's Disease.   Author must protect his dying friend from a money-grubbing whore, scam-smelling management and guy-ragging locker room.  But as Bruce's secret penetrates the ball club, these fellows finally become a team. 
Bang the Drum Slowly
is male bonding at its finest.
This is a guy-guy show!  Mark Harris wrote the book. Eric Simonson penned the script. And Michael Menendian directs the action.  13 of the 15 ensemble members are men.  It's enough testosterone to knock one out of the park.  So, Menendian does! His direction is tight and rhythmic.  He orchestrates bench movement like a sports ballet.  There are two scenes in particular that unexpectedly disrupt his natural flow.  A fantastic brawl (Fight Choreographer David Woolley) breaks out in the locker room. I didn't see it coming and then I saw Volkers' face and thought 'Josh is going to clobber that guy!' And he did!  I would see the show again just to watch this fight scene.  Later, there is a delightful drunken party scene.  The jocular camaraderie is boozy, bittersweet and beautiful.  
Menendian's roster is a successful team.  In the lead, Michael Stegall (Author) narrates onstage for most of the play.  An even keeled Stegall delivers his exposition with smiling earnestness.  The heart-tugging Kevin Duvall (Bruce) plays it simple and sincere.  Duvall wins over teammates and the audience.  The theater departure seems somber out of reverence for Duvall.  It seems weirdly tasteful.  Bringing rapid-fire anger and hilarity, Tim Walsh (Dutch) tries to unravel Author's story to solve the mystery.  A confident Walsh masterfully balances his buffoonery and managerial role.  And Joshua J. Volkers (Goose, Dr. Clark, Doctor) transforms from weathered morose has-been to big-hearted tough guy. A poignant Volkers effectively connects the audience to the reality of aging ballplayers of the time period.  Later as the team doctor, he cracks the entire theater up with one well-delivered line drive.  It's a big win for the home team!
Bang the Drum Slowly is the perfect summer bromance for guys and the gals that love them.  It's time to man up at the Raven!
FULL DISCLOSURE: I'm not related to Tim Walsh but Joshua J. Volkers and I share the same podline, Chicago Theatre Off Book and he's a BFF.
Rating: ★★★½
Bang the Drum Slowly continues through June 30th at Raven Theatre, 6157 N. Clark (map), with performances Thursdays-Saturdays at 8pm, Sundays 3pm.  Tickets are $30, and are available by phone (773-338-2177) or online at TicketTurtle.com (check for half-price tickets at Goldstar.com). More information at RavenTheatre.com.  (Running time: 2 hours 15 minutes, which includes an intermission)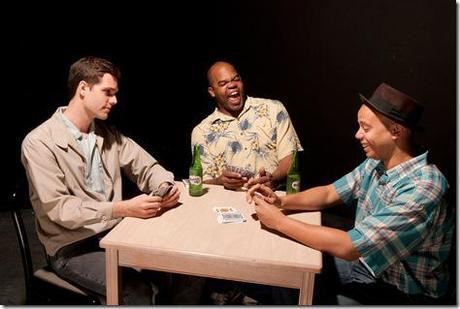 All photos by Dean LaPrairie 
---