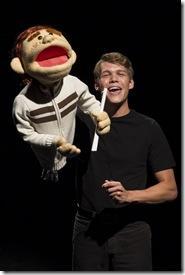 Avenue Q 
Music/Lyrics by Robert Lopez and Jeff Marx
Book by Jeff Whitty 
Directed by David E. Walters  
at Stage 773, 1225 W. Belmont (map)
thru Oct 14   |  tickets: $27-$30   |  more info
  
Check for half-price tickets 
  
  
   Read entire review
  
---
Unevenly paved 'Avenue' has strong performances and puppetry, poor staging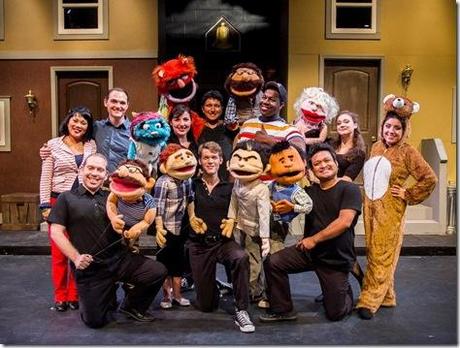 NightBlue Performing Arts Company presents
Avenue Q
Review by Lauren Whalen 
Puppet sex. That shocking and hilarious image brings to mind two things: the 2004 Matt Stone-Trey Parker movie "Team America: World Police" and the off-Broadway experiment turned monster hit musical, Avenue Q. The latter is a dirty "Sesame Street": human beings and puppets coexist in working-class New York City, tunefully chirping obscenity-ridden life lessons. It's a genius piece of work, but difficult for theater companies on limited budgets – and for performers who must belt complex lyrics while wielding large hand puppets. NightBlue's Avenue Q – the show's regional Chicago debut – boasts stunning original puppets and four incredibly strong performances. If only the staging weren't so very problematic.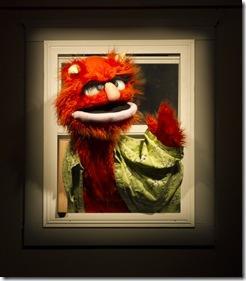 On Avenue Q – home to dreamers and slackers alike – wide-eyed college graduate Princeton (
Adam Fane
) wonders what to do with his BA in English. Princeton's neighbors all have issues: sweet teaching assistant Kate Monster (
Casi Maggio
) dreams of opening her own monster school and happy-go-lucky Nicky (
Jason Richards Smith
) wonders if his uptight roommate Rod (
Fane
) prefers men. Meanwhile, bossy therapist Christmas Eve (
Kate Garassino
) just wants her fiancé Brian (
Alex Heika
) to get a job, resident pervert Trekkie Monster (
Smith
) adores the dirtiest parts of the internet and landlord Gary Coleman (
David Robbins
) is the same former child star who sued his parents.
Unfortunately, NightBlue's Avenue Q is unevenly paved, leading to a bumpy run rather than a smooth stroll. The production's main issue is director David E. Walters' blocking: the venue has a three-quarter stage, with audience members on all but one side. However, cast members mostly play to the front section. (As the show is general admission, make sure you get there early and sit facing the stage – my viewing companion and I sat on the side and our experience was compromised.) Walters often places performers in a straight line, which looks amateurish, and Mike Mendiola's choreography is over-the-top for a show that isn't based around dance.
Avenue Q's cast is as inconsistent as its staging and choreography. Often, I felt I was watching two different shows: one with top-notch actors, and one with the director's friends. In the latter category: the ensemble (the show doesn't need one, just an extra puppeteer), Heika (utterly miscast as jovial Brian, who fails to connect with anyone) and Robbins. The role of Gary Coleman was written for a woman. Though there are men with the right vocal range, Robbins isn't one of them – to the detriment of fun songs like "Schadenfreude" and "Loud as the Hell You Want".
In the former category are four captivating, fantastic performers who sing beautifully and deliver each joke with aplomb. Fane is equal parts wide-eyed naivete and nasal denial in the dual role of Princeton and Rod – seamlessly transitioning from one puppet to another in the blink of an eye. Garassino wails "The More You Ruv Someone" with humor and heart, and lovingly pokes fun at ethnic stereotypes. Maggio gracefully brings life to the Kate Monster puppet, her chirpy soprano always sweet, never annoying. But Smith is Avenue Q's true standout. His Trekkie Monster's utter joy in pornography had me roaring, and his Nicky projects a winning glee and affectionate loyalty.
Many companies rent puppets for Avenue Q, but NightBlue didn't take the easy way and the production is better for it. Noah Ginex's puppets are works of art: like grittier versions of Jim Henson's Muppets, they project humanity from every strand of fur and oversized eye. Despite its copious issues, NightBlue's Avenue Q (now Jeff-recommended) is an admirable execution of a challenging show. And you won't find a better ending line than these comforting words of wisdom: "everything in life is only for now".
Rating: ★★★
Avenue Q continues through October 14th at Stage 773, 1225 W. Belmont (map), with performances Thursdays and Fridays at 8pm, Saturdays at 5pm and 9pm, Sundays 3pm.  Tickets are $27-$30, and are available by phone (773-327-5252) or online through PrintTixUSA.com (check for half-price tickets at Goldstar.com). More info at NightBlueTheater.com.  (Running time: 2 hours, includes an intermission)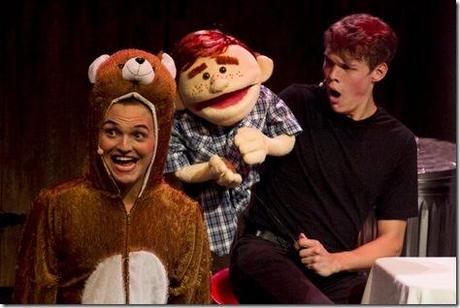 ---
artists
cast
Adam Fane (Princeton, Rod); Kate Garassino (Christmas Eve); Alex Heika (Brian, Bad Idea Bear); Casi Maggio (Kate Monster); David Robbins (Gary Coleman); Jason Richards Smith (Nicky, Trekkie Monster); Monica Szaflik (Lucy, Bad Idea Bear); Mike Mendiola, Matt Morales, Nora Navarro (ensemble)
band 
Aaron Benham (conductor, piano, music director); Sam Filip (string bass, electric bass); Phil Martin (drums, percussion); Anthony Parsons (flute, clarinet, alto sax); Charlie Worth (keyboard)
behind the scenes
David E. Walters  (producer, director); Matt Morales (asst. director); Aaron Benham (music director); Mike Mendiola (choreography); Noah Ginex (original puppet design, master puppeteer); Irene Patino (stage manager)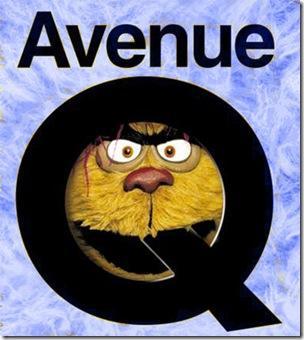 12-0948