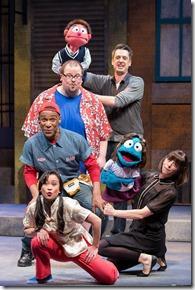 Avenue Q
Book by Jeff Whitty
Music and Lyrics by Robert Lopez and Jeff Marx
Directed by L. Walter Stearns  
at Mercury Theater, 3745 N. Southport (map)
thru June 29  |  tickets: $20-$59   |  more info
  
Check for half-price tickets 
  
  
   Read review
  
---
Laughs aplenty in racy but endearing puppet musical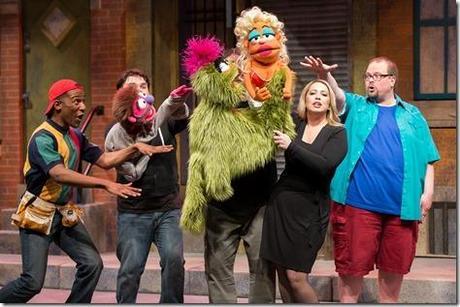 Mercury Theater presents
Avenue Q
Review by Lauren Whalen 
When life hands you lemons, sing a lot of swear words and shove your hand up a puppet's derriere. At first glance, this is the essence of Avenue Q, the raunchy "Sesame Street" parody that beat out Wicked for the Best New Musical Tony Award in 2004. Dig a little deeper, however, and the true themes reveal themselves, albeit in hilariously dirty ways. Mercury Theater Chicago's latest production hits all the right notes, highlighting the musical's copious heart without ever sacrificing its adult humor.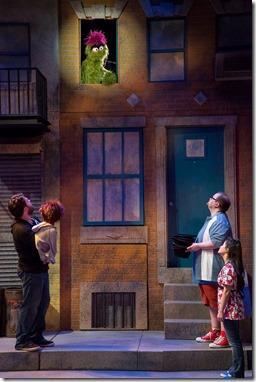 Told with a combination of puppets and human characters,
Avenue Q
follows a group of friends in a downtrodden but hopeful New York neighborhood. There's recent college graduate Princeton (
Jackson Evans
), wondering what to do with his BA in English, and sweetly single Kate Monster (
Leah Morrow
), who dreams of starting her own school. Meanwhile, night-and-day roommates Rod (
Adam Fane
) and Nicky (
Daniel Smeriglio
) quibble over Rod's sexuality, therapist
Christmas
Eve (
Christine Bunuan
) harasses her hapless husband Brian (
Sean Patrick Fawcett
) to get a job already, and Trekkie Monster (
Thom Van Ermen
) throws garbage out the window when he's not pleasuring himself to pornography. Presiding over the action is the building's superintendent, none other than ex-child star Gary Coleman (
Donterrio Johnson
).
The enduring power of Avenue Q can be found in its near-seamless blend of existentialism, sass and sweetness. As evidenced by his subsequent work on The Book of Mormon and Frozen, co-composer and lyricist Robert Lopez can pen one heck of a catchy tune. Jeff Whitty's book merrily chirps along like a children's show on steroids, creating a wide-eyed world with a healthy dose of bawdy humor. Characters wonder about their purpose in life in one breath, and declare that it's okay to be loud while copulating in the next. Like the best episodes of "South Park", Avenue Q knows just when to set loose a string of decidedly un-PC gags, and when to interject a life lesson with a childlike sense of wonder.
Director L. Walter Stearns (who also serves as Mercury's Executive Director) keeps the show at an easy, fun pace, even managing to clip through the slightly sluggish second act. Eugene Dizon conducts a small but powerful band, and Kevin Bellie's choreography is reminiscent of old-school children's TV, with merry line changes and jazz squares. Russ Walko's puppets are colorful and eye-catching, at once cartoonish and lifelike, and Joanna Iwanicka's "moving box puppets" make an inspired cameo. Alan Donahue's gorgeously rendered set perfectly conjures a ramshackle but tight-knit neighborhood.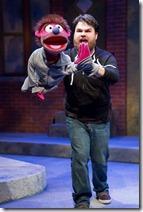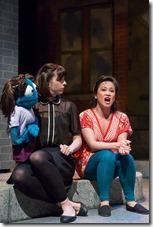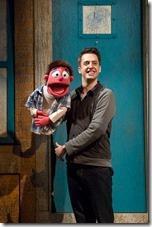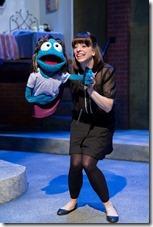 Most Avenue Q actors have quite the challenge: create a fully realized character out of a bunch of felt manipulated by one hand. Thankfully, all rise to the occasion. Fane previously played uptight closeted Rod in NightBlue Performing Arts' 2012 production (and was nominated for a Jeff Award), and is even stronger this go-round. Stephanie Herman's beautiful voice and animated energy are put to wonderful use in several small roles, including a fuzzy but enabling bear and a wanton lounge singer. Real-life married couple Bunuan and Fawcett make a charming Christmas Eve and Brian, and Van Ermen's Trekkie is appropriately nasty yet heartwarming. Morrow is a drier and snarkier Kate Monster than I've previously seen, but the darker interpretation works, and she's still relatable in her lovelorn loneliness.
Mercury Theater gets it right: despite its very adult content, Avenue Q leaves its audience with warm fuzzies. Thanks to the excellent production team, musicians and cast, this show is not to be missed. I attended Avenue Q with a friend who, despite being a big fan of the soundtrack, had never seen the musical live. Half the fun was listening to her delighted squeals, giggles and claps, as – to paraphrase a song from the show – her fantasy came true.
Rating: ★★★½
Avenue Q continues through June 29th at Mercury Theater, 3745 N. Southport (map), with performances Wednesdays and Thursdays at 7:30pm, Fridays at 8pm, Saturdays 2pm and 8pm, Sundays 2pm and 6:30pm.  Tickets are $20-$59, and are available by phone (773-325-1700) or online through Vendini.com (check for half-price tickets at Goldstar.com). More information at MercuryTheaterChicago.com.  (PARENTAL ADVISORY: Contains adult material not appropriate for young children. Running time: 2 hours 30 minutes, includes an intermission)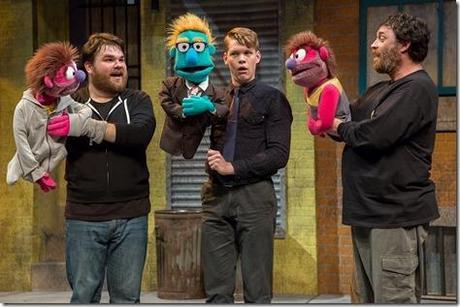 Photos by Brett Beiner 
---
artists
cast
Jackson Evans (Princeton), Sean Patrick Fawcett (Brian), Leah Morrow (Kate Monster), Daniel Smeriglio (Nicky, Bad Idea Bear), Adam Fane (Rod, Newcomer), Christine Bunuan (Christmas Eve), Donterrio Johnson (Gary Coleman), Thom Van Ermen (Trekkie Monster, Ricky), Stephanie Herman (Bad Idea Bear, Mrs. T, Lucy the Slut)
understudies
Hannah Dawe (Kate Monster, Lucy, Bad Idea Bear), Derek Czeplewski (Brian, Trekkie Monster, Nicky, Bad Idea Bear), Andrew Lund (Princeton, Rod)
band
Eugene Dizon (conductor, keyboard 1), Kevin Reeks (keyboard 2), Dan Meinhardt (reeds), Scott Sedlacek (guitars), Lindsay Williams (drums)
behind the scenes
L. Walter Stearns (director), Eugene Dizon (musical director), Kevin Bellie (choreographer), Alan Donahue (scenic design), Nick Belley, Jess Goings (lighting design), Rachel Boylan (costume design), Mike Ross (sound design), Kevin Barthel (wig design), Russ Walko (puppets design, creation), Cyclone Studios (videography), Kevin C. Noonchester (puppetry coach), Kristi J. Martens (production stage manager), Daniel J. Hanson (assistant stage manager), Matthew Gunnels (assistant director), Sophia Briones (properties designer), Joanna Iwanicka ("Moving Box" puppets), Brett Beiner (photos)
14-0455