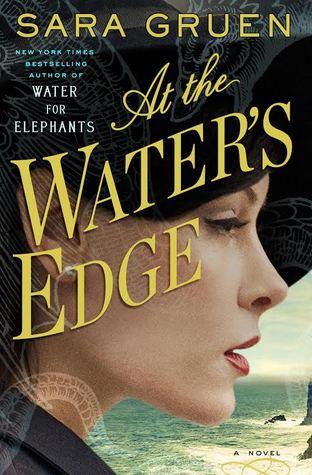 At The Water's Edge

 by Sara Gruen
Summary: In her stunning new novel, Gruen returns to the kind of storytelling she excelled at in Water for Elephants: a historical timeframe in an unusual setting with a moving love story. Think Scottish Downton Abbey.
After embarrassing themselves at the social event of the year in high society Philadelphia on New Year's Eve of 1942, Maddie and Ellis Hyde are cut off financially by Ellis's father, a former army Colonel who is already embarrassed by his son's inability to serve in WWII due to his being colorblind. To Maddie's horror, Ellis decides that the only way to regain his father's favor is to succeed in a venture his father attempted and very publicly failed at: he will hunt the famous Loch Ness monster and when he finds it he will restore his father's name and return to his father's good graces (and pocketbook). Joined by their friend Hank, a wealthy socialite, the three make their way to Scotland in the midst of war. Each day the two men go off to hunt the monster, while another monster, Hitler, is devastating Europe. And Maddie, now alone in a foreign country, must begin to figure out who she is and what she wants. The novel tells of Maddie's social awakening: to the harsh realities of life, to the beauties of nature, to a connection with forces larger than herself, to female friendship, and finally, to love.
Source: I borrowed a Kindle copy from my local library
Add to Goodreads
Review:
I loved At the Water's Edge. I was a big fan of Water for Elephants, despite the fact that the novel really didn't fit into my normal category of fiction I read. I was impressed by the writing, which is why I decided to pick this book up. I had to see if the author would wow me all over again. She definitely did. This book has some negative reviews and it's constantly compared to the author's other novel. I think a lot of people were looking for another Water for Elephants instead of being open to a new story line, which is the recipe for disappointment. Authors should not be expected to write more of the same and I'm disappointed that so many people wanted the novel to be so much like her first.
At the Water's Edge is NOT Water for Elephants. It's a completely different story: Different time period, different types of people, different conflicts, and a different plot. It's not the same. Do not expect it to be. If you're open to a similar style of writing with lessons to learn about life and love, then At the Water's Edge will not disappoint.
I admit the book was tough to get into at first. I couldn't stand the attitude of the main characters. They were spoiled, privileged, selfish, and ridiculous. Maddie didn't seem quite so bad at times, but I could tell she was naïve and ridiculous and had no idea how to navigate the real world. It was tough to like a character who had never done her own hair, makeup, nails, laundry, dishes, etc or feel sorry for her. The other problem was that, because the main characters were selfish and clueless, the fact that the novel took place in a time of war ended up not mattering a whole lot to the plot. For anyone reading the book in hopes it would be a war-focused historical fiction novel, I can see why it would be disappointing. And yet, the selfishness of the characters and the war time setting did impact the plot in some subtle and some obvious ways and were quite brilliantly executed plot points.
It did not take long for the story to take shape and suck you in. I was hooked and unable to put it down and I wasn't even sure how it happened so quickly. I went from trudging through the first few chapters to plowing through it.
At the Water's Edge was about Maddie. She found herself in Scotland with her husband and his friend on a quest to photograph the Loch Ness monster and redeem his family's name that was tarnished by a badly faked photograph. During her stay, Maddie began to realize her husband wasn't the kind of person she thought he was and his alcohol and drug addiction began to spiral out of control. Maddie was left at the inn most of the time and started to form friendships with the "help" there and step outside of her station a bit.
Maddie grew so much as a character and I loved watching it happen. I hated her husband and I just wanted her to see what I saw and figure out a way to change her situation. Once she stopped expecting other people to change her life or take care of her, she became a truly amazing character. I began to admire her and root for her.
I highly recommend At the Water's Edge. I was captivated. It was full of drama, secrets, history, romance, and conflict. It was the kind of historical fiction I love. It wasn't too focused on the war or too focused on romance and kept a good balance between the two. The story was about growth and identity and was brilliantly executed. Despite being different from Water for Elephants, it left me with the same feeling after closing it and realizing I read an excellent book that I just want to savor again.