Now is the time for full disclosure. There are no real surprises or shocks in At His Best. Unless you have been living in some utopia without the various 'who the daddy?' talk shows, or the past mid-century of soap operas, no spoiler alerts are necessary.
The story is of two lives decades apart. A mother and daughter on their respective wedding days welcome the same man into their homes and form an intimate bond.Laura Barati plays the role of the mother Ann who gets it on the night before her wedding with her husband's best man Brogan (Rob Vignisson). It appears to be a passionate and compulsive last fling. They wake up the next day and she says that it is over and that she will marry Freddy (Ed Porter). He says 'but I love you'. Cue the theme from "Name A Soap".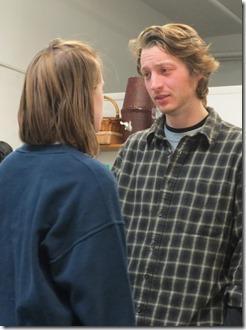 In the next scene it is the same apartment twenty something years later, and Tom (
Kevin Fanshaw
) has prepared a surprise dinner for his fiancée Caroline (
Elee Schrock
), with the wedding just 4 days away.  But an unexpected stranger, Sam Brogan (
Robert Koon
), disrupts their dinner. Sam, a middle-aged guy recently laid off from the Chrysler plant, tells the couple that he was the best man at her parent's wedding and immediately insinuates himself into Caroline's life.
It's a promising premise, and mostly works due to the acting. Koon gives a particularly fine performance as Sam, who has come into Caroline's life to claim her as his own. He emits that loving dad energy and easy-to-like Midwestern openness. It is not too much of a stretch to see that he could have been the Brogan of years ago. Vignisson gives a nice emotionally shaded side to the same character in the first scene. His Brogan is painfully in love and his yearning is in every scene between him and Barati. It's commendable that this is never overdone, even in the confrontation between Brogan and Tom.  Schrock, as Caroline, is not given much to work with as the orphan immediately drawn to Sam as a father figure. Rose's dialogue and plot line constrains her to being in awe of this man who knew her mother.
Ed Porter, playing Caroline's father Freddy. is becoming a journeyman Chicago actor and with the chops to prove it. He can transform himself from odd character (Bib inJack's Precious Moment) to an everyday guy who wants to believe that he has his wife to himself and a beautiful daughter. Porter and Barati share the best scene in the play when Ann is about to tell him about her and Brogan. They have a fine chemistry that made me want to see more of their dynamic to fill in the plot holes.
All in all the cast is good, but the material feels more like a work in progress. Mike Mroch's direction is appropriate, especially given the material. Perhaps there was dialogue cut for the sake of brevity but in this case, with numerous holes in the plot, it might have remained or been re-written. Also, the sound needs to be fixed. There is a loud and distracting hum throughout the show until music is cued. Is it a part of the show as Ann's ghost?
The cast is the best reason to go and spend an evening at the Den Theatre. I would prefer that this be a big Douglas Sirk melodrama with all of the Technicolor craziness instead of a watered down rehash of a common dramatic device better suited for television. The actors could easily handle the weight.
Rating: ★★
At His Best continues through January 26th at The Den Theatre, 1333 N. Milwaukee (map), with performances Thursdays-Saturdays at 8pm, Sundays 3pm.  Tickets are $10-$15, and are available online through BrownPaperTickets.com (check for half-price tickets at Goldstar.com). More information at ColdBasement.org.  (Running time: 80 minutes, no intermission)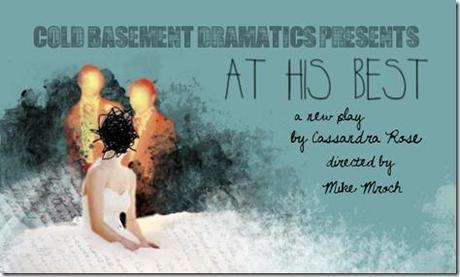 Photos by Brandy Reichenberger
---
artists
cast
Laura Barati (Ann), Rob Vignisson (Brogan), Kevin Fanshaw (Tom), Elee Schrock (Caroline), Robert Koon (Sam), Ed Porter (Freddy)
behind the scenes
Mike Mroch (director), Mary Brennan (stage manager), Brandy Reichenberger (dramaturg, photos), Brittany Bodley (costume design), Kate Hardiman (lighting design), John Kelly (lighting advisor), Janelle Boudreau (props design), Sophie Blumberg (sound design), Michael Wax (set design, technical direction), Sam Hubbard (violence design), John Pagano (production manager)