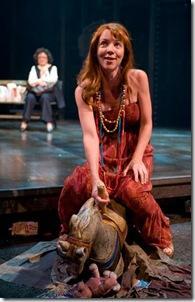 Assassins  
Written by Stephen Sondheim (music/lyrics)
   and John Weidman (book)
Directed by Mark Clements
Baker Theater Complex, Milwaukee (map)
thru Oct 7   |  tickets: $10-$65   |  more info
  
Check for half-price tickets 
  
  
   Read entire review
  
---
All too timely yet thought provoking in this 'Age of Celebrity'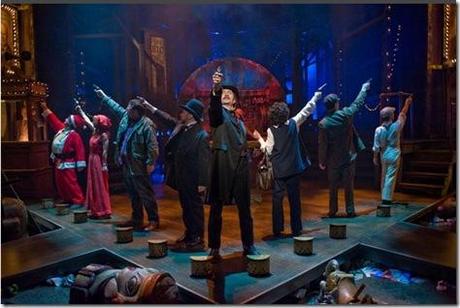 Milwaukee Repertory Theater presents
Assassins
Review by Harry Cherkinian
It was 33 years ago when composer Stephen Sondheim finally decided to create a full fledged musical about some of our nation's most notorious and (in)famous killers, set in a carnival like atmosphere. A psychotic carnival setting, but somehow it showcased the "normalcy" of the killers' approaches to their intended targets, successful in their goal and otherwise.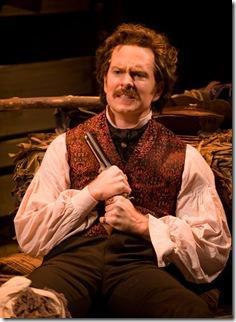 And the Pulitzer Prize-winning composer and lyricist came up with the perfect title:
Assassins
.  Sondheim had toyed with the idea for a decade, still a good 12 years well after artist and cultural icon Andy Warhol coined the pop phrase: "In the future, everyone will be famous for 15 minutes."
That might apply to the overabundance of "celebrities" today famous for the sake of being famous (think: reality television). But in Sondheim's world of crazed killers who appear remarkably sane (well, most of them, some of the time), celebrity is what they hunger for, long after they and their infamous deeds are done and remembered until…………..well, unhappily ever after.
The Milwaukee Repertory Theater (known as The Rep to its patrons) has kicked off its new season with a production that dazzles (especially the set design) as well as provokes long after the "shots have been fired" (be forewarned) and the Sondheim strains linger in memory.  How to make sense of a musical based on assassination and the resulting tragedies for a nation time after time?
Director Mark Clements (starting his third season as The Rep's Artistic Director) has, for the most part, humanizes these caricatured monsters of history, fleshing out the person behind the perverse acts. We get a sense of who John Wilkes Booth really is and why he shot Abraham Lincoln, thanks in part to John Weidman's book of a history lesson.
Who remembers Charles Guiteau (President James Garfield's killer) or Giuseppe Zangara (President Franklin D. Roosevelt)? Yet, by mixing satire with music and a sort of "humanity," we can somehow understand the pathology of what leads these individuals to commit such incomprehensible crimes.
Nine assassins tell their stories: Lee Harvey Oswald, Booth, Guiteau, Leon Czolgosz, Zangara, Samuel Byck, Lynette "Squeaky" Fromme, Sara Jane Moore and John Hinkley. With the more modern assassins, there is already the "back story" of our own history as it relates to the story. Where were we when JFK was shot? The summer of the Sharon Tate murders by Charles Manson and his followers?
Within the act of killing, these "assassins" are united by common bonds of isolation from a society that they no longer relate to and somehow rejects them. "Attention must be paid," quotes Booth from another play of a man's isolation (Willy Loman from Death of a Salesman). And it is, time and time again, at such a terrible price.
A stellar cast that works well individually as well as part of the ensemble helps to shore up some of the more one-dimensional characterizations.  Adam Monley's portrayal of Booth is the "devil on the shoulder" of assassins (and a fine devil he is), appearing to other wannabes to goad, cajole and ensure that history be played out with such savagery.  His performance so humanizes Lincoln's killer that we have to catch ourselves from viewing him as a real person (which they all are, after all). Caroline O'Connor's Sara Jane Moore is a delicate balance of a harmless crackpot intertwined with a serious killer (Gerald Ford). As Manson follower Fromme, Sarah Litzsinger teaches us about how Mason's hold worked on his followers while incrementally seducing the young innocent into a life of downward depravity.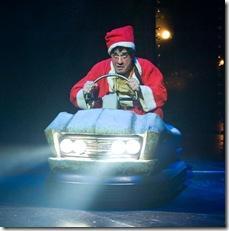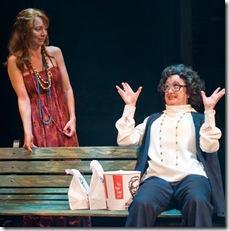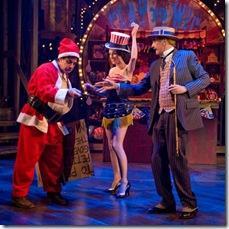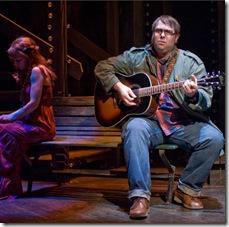 Chris Peluso (Balladeer/Lee Harvey Oswald), Mark Price (Guiteau), Steve French (Czolgosz), Brian Sills (Zangara) and Evan Harrington (John Hinckley) do a fine job with singing and acting duties. Ironically, are two Rep veterans that get shortchanged. As the Proprietor who offers prizes for killing a president, Jon Daly (a fine actor in his own right) struggles with the Sondheim melodies, focusing far too hard on the singing. Rep veteran Lee Ernst hits just the right notes as Nixon assassin in the making Byck. However, the "notes" are played at one level: screaming LOUD.  Less would be so much more within what is still a fine performance as we watch Byck unravel in his escalating rants dressed in a Santa Claus suit.
The real "star" of Assassins is the fantastical set design by Todd Edward Ivins.  A revolving rickety wooden structure like some labyrinthine scaffold, the assassins move through, in and out, no clear beginning or end (unlike their crimes).  The gigantic pinball machine like concept of the presidents' images only moves us deeper into the malevolent maelstrom of murder, as an assassin makes his or her mark and a ringing bell accompanies "Win," the glare of a spotlight on the fallen leader. This is game show reality, but straight from hell.
As Booth tells another assassin-in-the-making, "pass on the truth."   But the truth depends on who's looking in the distorted funhouse mirror of Assassins, and what they choose to see.
Rating: ★★★½
Assassins continues through October 7th at the Quadracci Powerhouse Theater, located in the Patty & Jay Baker Theater Complex, 108 E. Wells, Milwaukee (map).  Tickets are $10-$65, and are available by phone (414-224-9490) or through their website (check for half-price tickets at Goldstar.com). More info at MilwaukeeRep.com.  (Running time: 2 hours 20 minutes, includes an intermission)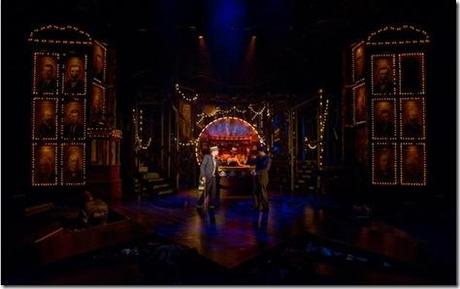 Photos by Michael Brosilow 
---
artists
cast
Jonathan Altman, Luke Brotherhood, Jonathan Gillard Daly*, Lee E. Ernst*, Kelley Faulkner*, Steve French*, Evan Harrington*, Melissa Joy Hart*, Ray Jivoff*, Alex Keiper*, Sarah Litzsinger*, Adam Monley*, Caroline O'Connor*, Chris Peluso*, Mark Price*, Brian Sills*, JR Yancher
orchestra
Blaire Bielawski (sax, clarinet); Anton Hatwich (bass); Dan Kazemi (music director, keyboards); Bob Monagle (guitar, mandolin); Patrick Morrow (percussion); Kyle Samuelson (trombone, euphonium); Barrie Shaw (reed 1); Tom Schleuter (horns)
behind the scenes
Mark Clements (director); Dan Kazemi (music director); Michael Pink (additional music staging); Todd Edward Ivins (set, projections); Alex Tecoma (costumes); Jeff Nellis (lighting); Jon Weston (sound design); Jill Walmsley Zager (dialect coach); Sean Foote (asst. stound); Briana J. Fahey (stage manager); Laura F. Wendt (asst. stage manager); Lenny Banovez (asst. director); Kaitlin Kitzmiller, Marissa Robinson (stage management interns); Michael Brosilow (photos)
* Actors' Equity member
12-09m1