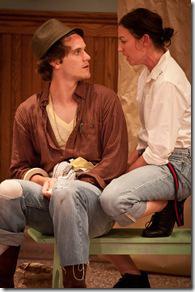 As You Like It
Written by William Shakespeare 
Directed by Kathryn Walsh  
Evanston Arts Depot, 600 Main St. (map)
thru Aug 13  |  tickets: $10-$20  |  more info
Check for half-price tickets
  
  
  
   Read entire review
---
Young radicals grapple with thorniness of love in Shakespeare forest comedy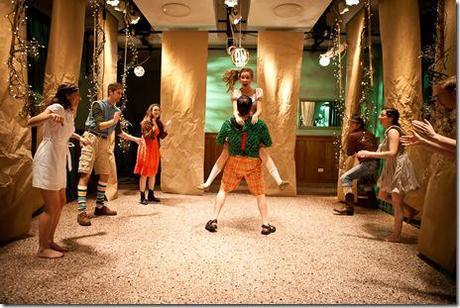 Two Pence Shakespeare presents
As You Like It
Review by Dan Jakes
If A Midsummer Night's Dream is Shakespeare's inebriated and fantastical romance, then As You Like It is its sober counterpart. There are no fairies or flowers guiding the latter lovers' entangled trysts; they accomplish those just fine on their own. It is that one foot in reality that adds a layer of nuance and realism to the mishap that takes place in the Forest of Arden. Director Kathryn Walsh highlights that element along with sophisticated characterizations in her layered, sportive production.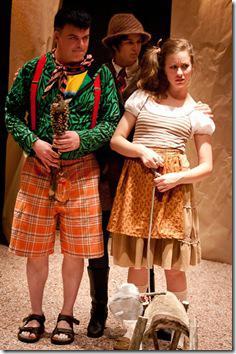 There's some 60's folk influence in
Izumi Inaba
's costume designs that set a fitting motif for a story about social and political outsiders living on the fringe. Exiled by his younger brother, Duke Senior (
Glenn Fahlstrom
, content and believable as a man who sees the bigger picture) establishes a small, peaceful community outside of town. His village, a commune of sorts, is a simple oasis with musical revelry and an appreciation for humble living. Distanced from conflict and family turmoil in the city, he's later joined by his banished daughter Rosalind (
Kate LoConti
) and her sympathetic, protesting cousin Celia (
Sarah Augusta
). In an attempt to live in-hiding, the two women swap genders where, in Shakespearian fashion, romantic identity-confusion ensues.
What does not ensue, much to the story's benefit, is the overemphasis on slap-stick hijinks that dilutes lesser productions. Two hours and forty minutes is a long time to watch hyperbolic antics; audiences need more substantial ideas to invest in, and on that, Two Pence delivers by dealing with the play's silliness in moderation. Chad Fess pulls out the broad stops as the flamboyant, codpieced Touchstone the fool, and the rest of the young ensemble–especially James Graham (Orlando)  and Jared Fernly (Amiens/Charles)–is game for physical comedy. The wrestling and comic tip-toeing, however, never overshadow the liberated youngsters' journey through emotional maturity. When Lucy Carapetyan (Jaques, gender-reversed) recites her All the World's a Stage speech, she does it with a detached amusement, as if the idea has just clicked. Her refreshing delivery allows the idea to speak for itself. Likewise, LoConti's Rosalind is multidimensional. Her attempts to manipulate Orlando are equal attempts to cope with emotions she's not yet experienced. Charismatic and fiercely intelligent as she may be, LoConti plays her character as realistically naive. It's a pleasure to watch her work through love's fickleness.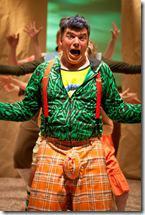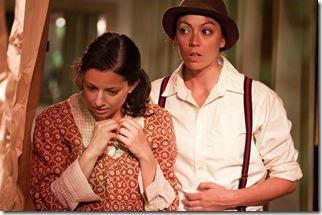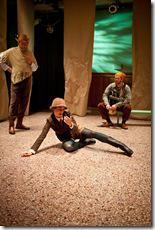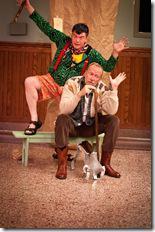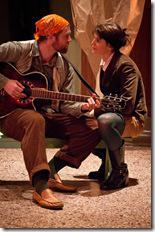 Simplicity and attention to detail is a thread in Walsh's show. A mostly paper-and-lights set by Dan Stratton makes economic and functional use of the Evanston Arts Depot (beautifully lit by Jessica Carson). Casting too is spot on–doe-eyed Alex Hugh Brown (Silvius) reads as pensive and romantic before he even speaks. A few glaring conceptual misfires (textually justifiable as it might be, I'm not convinced playing Adam as a literal puppet, albeit an impressively designed one, serves the rest of the production) derail the narrative's flow. Mostly, though, Two Pence makes a convincing case for following the heart – prickly detours and all.
Rating: ★★★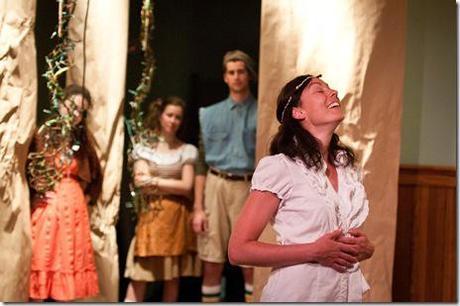 Two Pence Shakespeare's As You Like It continues through August 13th at the Evanston Arts Depot, 600 Main Street (map), with performances Thursdays-Saturdays at 7:30pm. Tickets are $10-$20, and can be purchased online at BrownPaperTickets.com.
For more information, visit www.twopenceshakespeare.org.
 All photos by Alexander Bruehl 
---
artists
cast
Sarah Augusta, Alex Hugh Brown, Lucy Carapetyan, Caitlin Collins, Glenn Fahlstrom, Jared Fernley, Chad Barney Fess, James Graham, Kate LoConti, Michael Mercier and Margaret Maggie Scrantom
behind the scenes