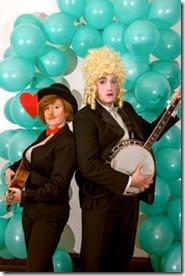 As You Like It 
Written by William Shakespeare 
Adapted by Jessica Shoemaker
Directed by Matthew Wills  
at Bethany Church, 1244 W. Thorndale (map)
thru February 24  |  tickets: $12-$15   |  more info
  
Check for half-price tickets 
  
  
   Read entire review
  
---
Shakespeare gone warp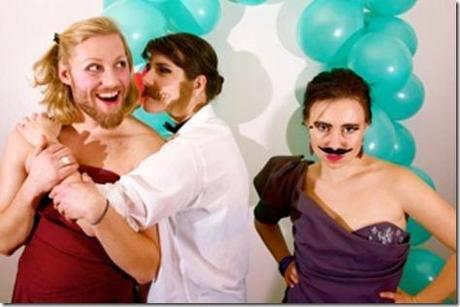 (re)discover theatre presents
As You Like It
Review by K.D. Hopkins
I am sure that I have not seen every take on Shakespeare that exists. That would be a Herculean task and probably not worth the effort. I have seen the Bard modernized, updated, done in Kabuki, and even attempts at Dadaism. (re)discover theatre has taken one of Shakespeare's most adaptable plays and put a moderately balanced touch of farce and pathos on the proceedings. The set is minimalism at its best with Zack Chaykin (Touchstone/Jaques) and Pamela Mae Davis (Corin/Hysperia) bringing a bit of Lewis Carroll to the props. (There is unrequited or perhaps secret love between a chaise lounge and a vanity set.) Willie Nelson's "Crazy" gets a go round delineating the zaniness of the action. It is quite the brew and ably done by (re) discover theater for the opening of their second season.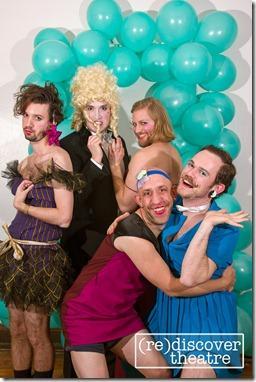 Jessica Shoemaker
adapts this version for (re)discover, and the casting choices don't always live up to the press release. It has been advertised as 'shocking' and 'sexy'. I will give a nod to the sexy boast but there was nothing shocking to be seen. Gender switched roles has been done to great acclaim (see Theo Ubique's
Man of La Mancha
). Molly Rose Lewis
(Duke Frederick) puts on a butch façade while wearing a sequined dress with Joan Crawford shoulder pads – actually more Carol Burnett in the "Gone with the Wind" send up. Lewis is not very menacing, and Duke Frederick doesn't quite come off as a cross dresser. The result is more shrill than vengeful noble.
Tracy Kaplan
(Duke Senior) fares much better as the exiled hippie in the woods. This is a believable portrayal of an outcast. Kaplan floats about like a leader of the infamous Rainbow Tribe, offering peace, love, and a crash pad.
The squabbling siblings Oliver (Andrew L. Saenz) and Orlando (Jake Szczepaniak) are played with gusto and a healthy dose of testosterone. The chemistry between Rosalind (Jessica Shoemaker) and Orlando is sexy and edgy. There are some gaps in the show that don't explain the romance between Celia (Miriam Reuter) and Oliver. If this is a viewer's first Shakespeare experience it might be a confusing adventure. The reference to their relationship is so fleeting that I found myself piecing it together, which proved a bit distracting. Also, it's not very fair to Reuter and Saenz, who also display some juicy chemistry.
The more peripheral characters steal the show in this production. As mentioned earlier, Chaykin is wonderful as Touchstone in a Marie Antoinette wig and corset. The actor has wonderful physical acuity that is displayed perfectly when Touchstone has to drag away the defeated Le Beau (Mahler in a cartoonish muscle suit). Chaykin is even funnier as Jaques, playing him as very emo which my daughter explains as 'look at your shoes music people". His reed-thin physique and posture are the perfect update on the melancholy lord who declares all the world a stage.
David Cady plays the role of Adam the faithful servant with a soupcon of Marcel Marceau. Cady tugs at the heart strings with his perfect character role. (Adam is one of Shakespeare's more uncomfortable characters in my opinion.) He is a double amputee rolling around after Orlando, even offering his life's savings for the 'favor' of being his servant. Even though Orlando reluctantly takes the money, the notion of a happy slave makes me squirm as much as Shylock surely did.
The characters of Phebe (Audrey Flegel) and Silvius (Bobby Arnold) are my favorite couple in this production. Arnold pines away with silent movie emoting that is side splitting. Flegel's snooty shepherdess is equally fun in another nod to Burnett's Mrs. Wiggins. It s worth the time to watch Arnold become hypnotized by Flegel's cartoon quality backside.
The staging is paced well and adapted to the constraints of a church hall, though some of the dialog gets lost in the sound of stomping shoes. It occurred to me that the sounds of shoes stomping was a signal of power and nobility. If that is the case, find another way. It's distracting and does not enhance the characters other than making them more shrill (I'm talking to you Duke Frederick).
The singing and musicianship of Davis and Arnold is a highlight. A simple ukulele and mandolin accompany their fine voices and sharp timing. For some of the characters, the costumes seem well thought out, but for others that is not the case. In the attempt for shock value, some characters take a hit or get obscured and that impacts the quality of the play. It is a valiant if uneven effort and I look forward to seeing what (re)discover will do with Medea.
Rating: ★★½
As You Like It continues through February 24th at Bethany Church Hall, 1244 W. Thorndale (map), with performances Thursday-Saturday at 8pm, Sundays 2pm.  Tickets are $12-$15, and are available by phone (312-884-1733) or at BrownPaperTickets.com (check for half-price tickets at Goldstar.com). More info at rediscovertheatre.com.  Note: The entrance to the performance space is on Magnolia Street. (Running time: 2 hours, includes an intermission)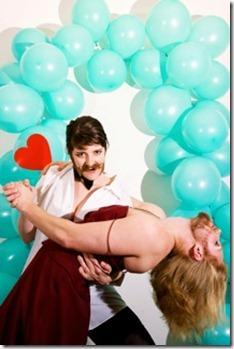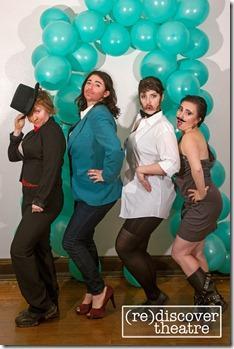 Photos by Nick Gang
---
artists
cast
Bobby Arnold (Silvius), David Cady (Adam), Zack Chaykin (Jaques/Touchstone), Pamela Mae Davis (Corin/Hysperia), Audrey Flegel (Phebe), Tracey Kaplan (Duke Senior), Molly Rose Lewis (Duke Frederick), Jake Mahler (Charles Le Beau/ Amiens), Miriam Reuter (Celia), Andrew L. Saenz (Oliver), Jessica Shoemaker (Rosalind), Jake Szczepaniak (Orlando)
behind the scenes
Matthew Willis (director/ sound design), Chris Marino (text coach), Liz Rice (dramaturg) Aaron Pagal (fight choreographer), Kelly Schmidt (ASM/ hair and makeup designer), Kaitlin Breen (lighting/scenic designer), Cassy Schillo (properties designer), Janet Howe (costume designer), Chrystle Morman (asst. costume designer), Jessica Shoemaker (adaptation), Nick Gang (photos)
13-0223