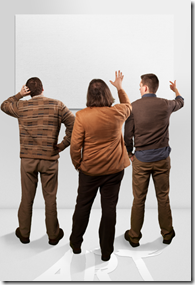 Art
Written by Yasmina Reza  
Directed by Chris Yearwood
at Stage 773, 1225 W. Belmont (map)
thru April 19th  |  tickets: $10-$15   |  more info
  
Check for half-price tickets 
  
  
   Read entire review
  
---
This production is a work of art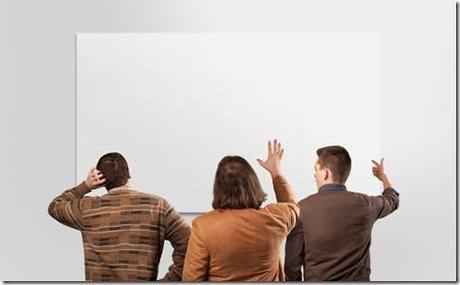 The Parlor Room Players presents
Art
Review by Anuja Vaidya
Let me first put this out there – Art isn't really at all about art. Well, not tangible art. Rather it is about the subtle art of sustaining friendships over time. Friendships that seemed so natural and simple suddenly become difficult to navigate as our priorities change. Yasmina Reza's witty and pithy script explores the fragmented relationship between three men who have been friends for 15 years, and The Parlor Room Players' production does justice to the clever script, making for an enjoyable and thought-provoking show.
The simple act of buying a painting becomes the straw that breaks the camels back for the three friends who are struggling to relate to each other as they once did. Marc can't believe that his friend Serge has spent an obscene amount of money on "a piece of shit," as Marc so eloquently describes it. Serge is stung by Marc's vitriolic reaction and defends his taste, albeit in a condescending manner. It is clear that a rift has grown between the two of them, but this incident causes them to realize and address it. Enter the peacemaker, Yvan. A perpetual bundle-of-nerves, Yvan nervously tries to avoid a confrontation, but to no avail. The confrontation happens, and Yvan is dragged right into the middle of it.
The Parlor Room Players production not only succeeds in bringing out the clever lines that characterize Reza's script, but also bring out the underlying angst and disappointment that each character is dealing with. It is one of those great productions where you laugh through nearly the entire show but are acutely aware that it is a sad situation that the characters are in.
Given the bare bones set (two chairs and a painting), the audience's focus stays fixed on the actors. So it's a good thing that this cast delivers, particularly Jack Dearborn as Serge and Bill Zimmerman as Yvan. Dearborn has a finely tuned sense of comic timing and it shows. He is hilarious even when he isn't delivering any dialog. It is hard to keep a straight face when he so perfectly adopts the slightly snobby air of someone who believes that he is 'cultured'.
But it is Zimmerman who absolutely steals the show. He plays Yvan, shaky nerves and all, to a T. Zimmerman's skilled performance saves this character from becoming annoying and idiosyncratic. Zimmerman's Yvan is endearing and pitiable. One of the funniest moments in the play is when Yvan barges in to Serge's apartment and launches into a long speech about his domestic woes – the intensity and pace are perfect!
The bonds that tie us together, be it love, friendship or family, are bound to begin to chafe at one time or another. It is then time to make a decision. Does the relationship mean enough to us to work through the issues, or is it time to let go? Art drops us into the very moment that these characters are grappling with that decision. While the sense of sorrow is palpable, the laugh-out-loud moments alleviate it, making this show both entertaining and endearing.
Rating: ★★★½
Art plays March 7 – March 22 and then April 11 – April 19 at Stage 773, 1225 W. Belmont (map), with performances Thursdays/Fridays at 8pm.  Tickets are $10-$15, and are available by phone (773.327.5252) or online here (check for half-price tickets at Goldstar.com). More information at Stage773.com.  (Running time: 1 hours 20 minutes, no intermission)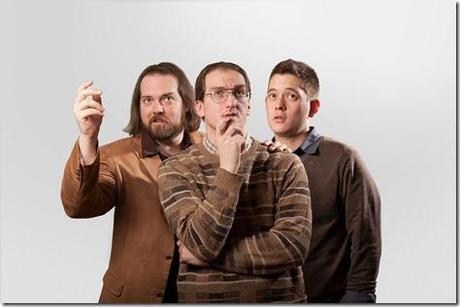 ---
artists
cast
Jack Dearborn (Serge), Ian McLeland (Marc), Bill Zimmerman (Yvan)
behind the scenes
Chris Yearwood (director, producer), Ally Wetz (stage manager), Lewie Long (board operator), Amy Geist (fight choreographer)
13-0318