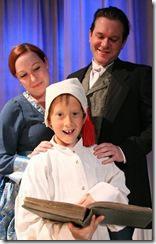 Around the World in 80 Days
Written for the stage by Mark Brown
From the novel of Jules Verne
Directed by John Gawlik  
at Pheasant Run Resort, St. Charles (map)
thru July 31  | tickets: $27-$39  | more info
Check for half-price tickets
   Read entire review
---
An adventure of imagination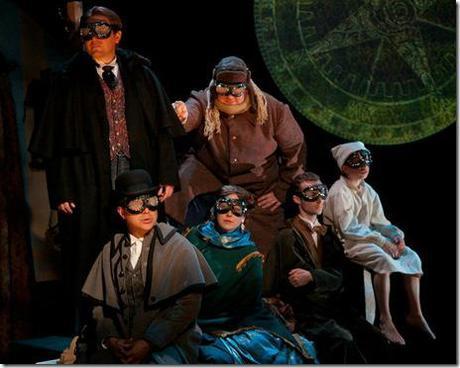 Fox Valley Repertory presents 
Around the World in 80 Days
Review by Dan Jakes
If there's a lesson to be learned from Jules Verne's 1873 adventure novel, it is that a wildly rich white man with doting servants and boundless free time can do just about anything he puts his mind to. For Englishman Phileas Fogg, that means taking a voyage around the globe to prove to his doubting colleagues that, with the completion of the Indian railway, a world-wide journey is achievable within a breezy 80 days.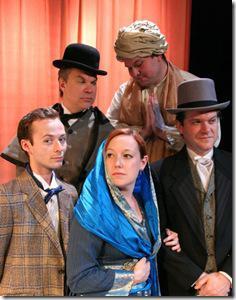 Fogg has no particular reason to set out in his dangerous endeavor, let alone a reason to toss a £20,000 bet on its outcome, but that's a part of
Around the World
's appeal. Verene's escapist novel filled a need for whimsical, careless fantasy during the late 19th-century, a grim period for a France marked by war and hardship. Reading about a man tossing around lumps of money to solve his problems made for a cathartic daydream. Here, Director
John Gawlik
frames Verne's adventure story into a more contemporary, universal sort of fantasy: a child's bedtime story.
It's a clever update. Book in hand, the mostly silent boy (Caden Bohmer, Colin Steele) reads to himself and imagines the story's action around him, participating at times and observing at others. In lieu of shortfalling realism, we get to watch the young boy's room transform into the American Western landscape as a kid would envision it. Cushions and blankets serve double-duty as an elephant. His bed becomes a ship. Projections by Liviu Pasare make the ever-changing atmosphere more fluid and contribute to Stephen H. Carmody's set design and the story's ticking-clock motif. In this decisively dreamy, playful environment, Verne's sometimes severe characters are re-imagined through the child's mind and become sillier, broader, interactive, and at times delightfully cartoonish.
Gawklik's playful direction pairs well with Mark Brown's adaptation, which calls for a small ensemble to play 39 characters (fake mustaches abound). The cast is mostly up for the job. Brian Hamman is steely but amiable as the unwaveringly confident Fogg, and Matthew Sherbach is hilarious as Passepartout, Fogg's hapless French servus callidus assistant. Peter Defaria and Sean Patrick Fawcett do the most leg work to fill the other thirty or so characters along the road–their strong performances only occasionally marred by character breaks (twice is fine–after that, you're reaching into Jimmy Fallon territory) and ill-conceived stabs at meta-theatre.
The show works as a sprint, but it's questionable whether or not there's enough substance in this staging to stretch the length of its two-act running time–somewhere around the second half the frenetic pace tires and the light-hearted amusement wears around the edges. For most of the journey, though, the ensemble's charm supplies just enough mileage to make Around the World in 80 Days a worthy trip.  
Rating: ★★½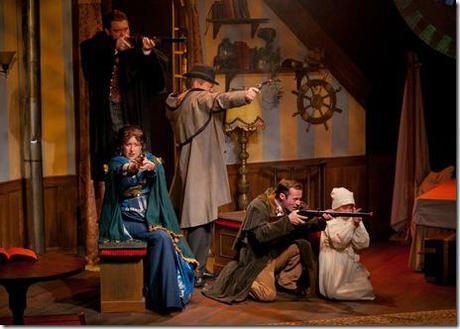 Fox Valley Repertory's Around the World in 80 Days continues through July 31st at Pheasant Run Resort, 4051 E. Main Street, St. Charles (map), with performances Fridays and Saturdays at 8pm and Sundays at 2pm. Tickets are $27-$39, and can be purchased by phone (630-584-6342) or online at Ticketmaster. More information at foxvalleyrep.org.
Photos by Kimberly G. Morris, Trademan Photography  
---
artists
cast
Peter DeFaria* (Actor 2), Brian Hamman* (Actor 5), Sean Patrick Fawcett (Actor 1), Lauren Pizzi (Actor 4), Matthew Sherbach (Actor 3), Caden Bohmer (The Boy), Colin Steele (The Boy), Laura Korn (Understudy), Eric Ryan Swanson (Understudy)
behind the scenes
Mark Brown (playwright), John Gawlik (director), Liviu Pasare (video design), Charles Cooper (lighting), Kimberly G. Morris (costumes), Stephen H. Carmody (sets), Christopher Kriz (sound), John Tovar (fight choreography), Nancy Staiger (stage manager), Melanie Zastrow (rehearsal asst. stage manager), Laura Eilers (performance asst. manager), Joel Lambie (props), Isaac Mandel (sound engineer), Kimberly G. Morris, Trademan Photography (photos)
*denotes members of Actors' Equity Association