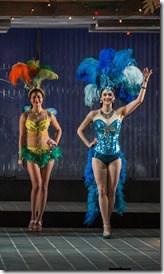 Another Word for Beauty
Written by José Rivera
Goodman Theatre, 170 N. Dearborn (map)
thru Feb 21  |  tix: $25-$75  |  more info
  
Check for half-price tickets  
  
---
Ziegfeld Follies meets The Hunger Games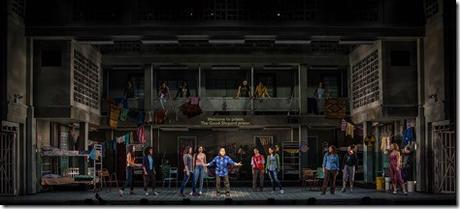 Goodman Theatre presents
Another Word for Beauty
Review by Lawrence Bommer
In this New York-based world premiere from director Steve Cosson and his troupe, The Civilians, Goodman Theatre creates a sympathetic showcase for José Rivera's depiction of a Colombian women's prison. Like Tectonic Theater's The Laramie Project, Another Word for Beauty is based on interviews conducted by the artists in Bogota's El Buen Pastor's maximum security penal institution as the convicts prepared for the giant jail's annual beauty pageant. (Purportedly to honor the Virgin Mary, the spectacle is also a national celebration, highlighting the supposed rehabilitation and transformation of bad ladies getting a second chance.)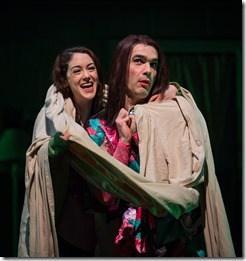 Grammy Award-winning composer
Héctor Buitrago
of
Aterciopelados
provides appropriately driving songs. Choreographer
Maija Garcia
sets the score to characteristic dances, both for individual inmates and the "telenovela"-style broadcast. As we know from Steve Harvey's fiasco at the Miss Universe contest, Colombia takes its beauty contests very seriously. So does Steve Cosson.
A less than compelling mashup of Kiss of the Spider Woman, Marat/Sade, "The Hunger Games," the Ziegfeld Follies, and a Lifetime movie, Rivera's result is an earnest docudrama full of literally arresting case histories. No question, Another Word for Beauty is impressive in its sympathy with the underdog. But the sterling intentions of Goodman's 160-minute enterprise succumb to excessive exposition, tedious overwriting, and heavy-handed declamation. Its meritorious compassion is not, unfortunately, contagious.
In a guided tour of the various "patios" that comprise the slammer, administered by Yolanda (Stephanie Andrea Barron), the jail jester known as "The Mermaid," we get the back stories and heartfelt confessions of five hopefuls who would be "Seniorita Simpatica." They're a cross-section from overcrowded cellblocks containing 2,000 inmates–political prisoners (both ex-FARC radical terrorists and right-wing paramilitary assassins), sex workers, common murderers, dissidents, and, no doubt, innocents incarcerated in a daily hell. Unremarkably, these jailbirds are products of poverty, sexism, and marginalization. Their sisterly solidarity is a very human response to the cold, cruel, and impersonal walls and bars that keep them captive. At times we even feel their pain: When your little son Gregorio is taken away from you the moment he turns 3, yours is not the only felony that was committed.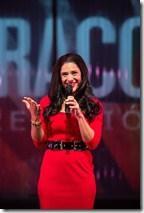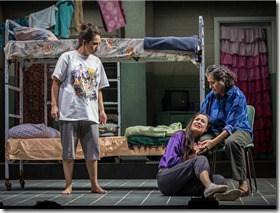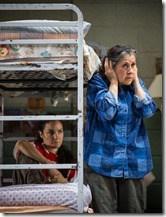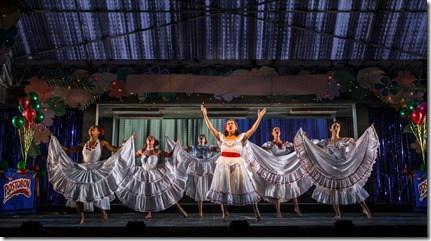 Enhanced with sporadic magic realism (the ghost of a transvestite, once imprisoned as a woman, visits his sister), Rivera's Brechtian flashbacks are demarcated by video placards. At time editorials more than true-life testimony, they let us see the crimes and corruption and feel the flaws and failures that brought these folks to "Good Shepherd" prison. However familiar, their "origin tales" offer ferocious and detailed vindications of criminals as victims.
Up to a point. You can blow up 18 people at President Uribe's inaugural in 2002, you can use your sniper's rifle to kill Communists in the jungle, you can work for the Cali cartel to poison peasants—but it helps to know that a Carnival-colorful extravaganza with breakout hoofing, depicting creation myths, can divert an affluent audience in Chicago, slumming it on a cold winter night. That's showbiz.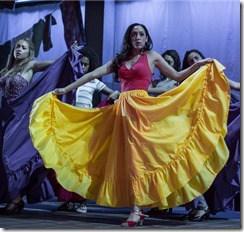 The first act features predictable intrigue over who will get the crown and a half-hearted attempt to boycott the glitzy travesty or complain to Amnesty International about the lethal infirmary. But the gaudily spangly second act consoles the audience for trying to care: El Buen Pastor's cheesy and stilted beauty pageant is an elaborate excuse for an ostentatiously talented ensemble to strut their exotic headdresses and eye-popping gowns (hardly self-made in
Emily Rebholz
' dazzling creations) and cavort to Garcia's vogue-ing processionals.
As they answer the usual hollow questions posed by Dan Domingues' unctuous emcee, the women defend their worth from the depths they're in. When asked for synonyms for beauty, the future winner declares, "There is no other word for beauty." That's as profound as The Civilians' gala ever gets.
Rating: ★★
Another Word for Beauty continues through February 21st at Goodman Theatre, 170 N. Dearborn (map), with performances Wednesdays and Thursdays 7:30pm, Fridays 8pm, Saturdays 2pm & 8pm, Sundays 2pm and 7:30pm.  Tickets are $25-$75, and are available by phone (312-443-3800) or online through their website (check for half-price tickets at Goldstar.com). More information at GoodmanTheatre.org/Beauty.  (Running time: 2 hours 40 minutes, includes an intermission)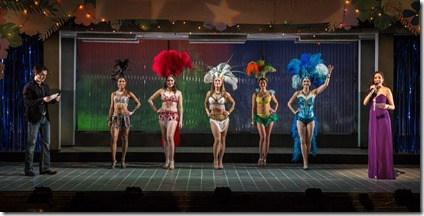 Photos by Liz Lauren
---
artists
cast
Stephanie Andrea Barron (Yolanda), Helen Cespedes (Xiomara), Monique Gabriela Curnen (Marilin, Magnolia) Dan Domingues (Danny, Maurico, Arturo), Danaya Esperanza (Luzmery), Zoë Sophia Garcia (Nora), Marisol Miranda (Carmen, Tatiana, Elisinda), Yunuen Pardo (Jeimi), Socorro Santiago (Ciliana), Heather Velazquez (Maikelyn, Eva), Carmen Zilles (Isabelle), Antonia Arcely, Paula Ramirez (supplemental extras)
behind the scenes
Steven Cosson (director), Andrew Boyce (set design), Emily Rebholz (costume design), Maija Garcia (choreographer), Robert Wierzel (lighting design), Mike Tutaj (projection design), Michael Bodeen, Rob Milburn (sound design), Briana J. Fahey (production stage manager), Mike Przygoda (music director, musician), Ruben Gonzalez, Diego Salcedo, Javier Saume Mazzei (musicians), The Civilians (collaborator), Neena Arndt (dramaturg), Adam Belcuore, Erica Sartini-Combs (casting), Liz Lauren (photos)
16-0141