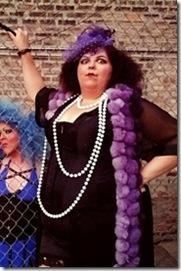 AnneePocalypse! 
Written by Jason Dabrowski, Calidonia Olivares 
   and Jacob Christopher Green 
Directed by Calidonia Olivares 
at Mary's Attic, 5400 N. Clark (map) 
thru Sept 23  |  tickets: $15-$25   |  more info 
  
Check for half-price tickets  
  
  
  Read entire review 
---
Good, not great, musical parody – with zombies!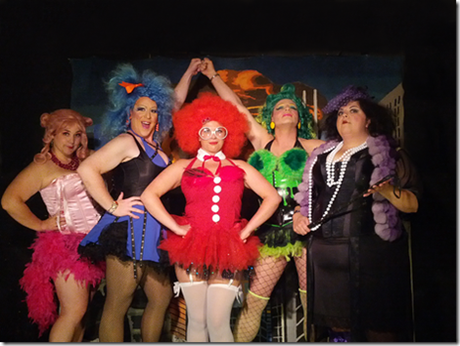 [hubris productions] presents
AnneePocalypse!
Review by Lauren Whalen 
Picture the classic feel-good family musical Annie: so squeaky clean it was based on a comic strip, which was based on a poem about a cute little orphan. Now add drag queens, prostitutes, zombies and a whole lot of bathroom humor. AnneePocalypse!knows its source material alarmingly well and leaves nothing sacred. While the song parodies are hilariously on target, the script of the Chicago Fringe darling could have used to more work to maximize audience enjoyment.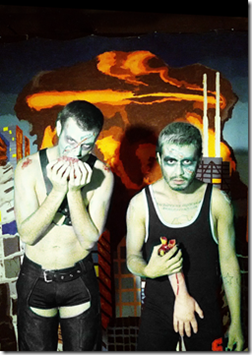 It's 2013, a certain Mormon is now President and the world is overrun by zombies. Meanwhile, the sadistic madam Mistress Flannigan (
Calidonia Olivares
) exploits and abuses her house of hookers, among them the blind, balding and unabashedly cheerful Annee (
Amanda Roeder
). All Annee wants is a sugar daddy with a sexually ambiguous secretary who's up for a threesome. When Annee is tapped to star in a porn film helmed by the warmongering coffee magnate turned porn king billionaire Daddy Starbucks (
Nathan Petts
), life is looking sunny. But why do Starbucks' previous porn stars keep meeting unfortunate accidents? And more importantly, will his assistant Grace Feral (
Holly Portman
) be up for the
ménage a trois 
of Annee's dreams?
Like a successful sex worker, AnneePocalypse has a lot going for it. The score, which begins with the zombies' Romney-fied rendition of "We'd Like to Thank You, Herbert Hoover", sends up everything from special Mormon undergarments to movie makeover montages. (Only the final takeoff of the iconic "Tomorrow" disappoints.) Writers Jason Dabrowski, Jacob Christopher Green and Olivares (Miss Flannigan herself) know theAnnie soundtrack backwards and forwards, and their musical parodies never cease to entertain. Shawn Quinlan's impressive choreography makes the most of a small performance space and Green's costumes are brightly colored yet delightfully dirty. Petts (aka Daddy Starbucks) also serves as the show's prop master, leading to one of the show's best gags (hint: it has something to do with a Christian-run fast-food chain). Roeder's broad portrayal of the title character is pure fun, and she belts out hopeful high notes with aplomb. Corey Cochran is a master of pursed lips and cue cards as Starbucks' mute assistant Poonjab. And the zombie chorus of undead porn stars stomp, growl and lisp so drolly, I wanted to see more of them and less of the prostitutes.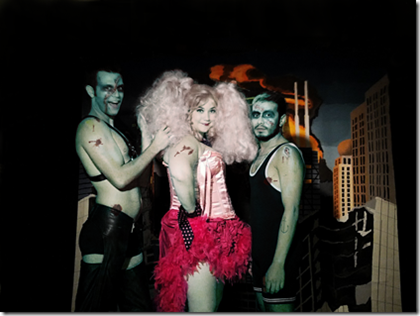 If only the cast of AnneePocalypse were more in tune with the size of Mary's Attic: it's small, meaning the audience can hear even a whisper just fine. There's no need to scream dialogue as one might in a larger theater. And while the show's lyrics are giggle-inducing and clever, the script doesn't fare so well. Even at just over an hour, it feels very slow and the jokes need more punch. Despite these flaws, AnneePocalypseis a fun nod to the cheesiest of musical theatre with dirty jokes and zombies thrown in for good measure. Also, Mary's Attic has a bar just steps away from the stage. This testament to tacky is probably best enjoyed with a drink in hand while sitting next to a snarky, geeky friend.
Rating: ★★★
AnneePocaplyse! continues through September 23rd at Mary's Attic, 5400 N. Clark (map), with performances Fridays-Sundays at 8pm.  Tickets are $15 ($25 VIP tix include reserved seat and a drink), and are available thru BrownPaperTickets.com(check for half-price tickets at Goldstar.com). More info at HubrisProductions.com. (Running time: 70 minutes, no intermission)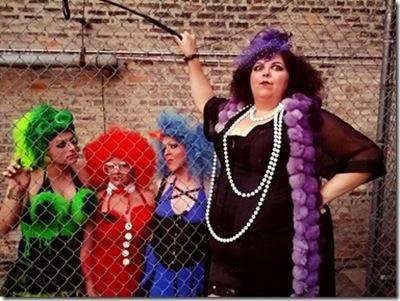 Photos by Jason Dabrowski
---
artists
cast
Amanda Roeder (Annee), Calidonia Olivares (Mistress Flannigan), Muffy Fishbasket (Herself), CJ Leavens (Polly), Corey Cochran (Jackie/Poonjab), Nathan Petts (Daddy Starbucks), Holly Portman(Grace Feral), Andrew Martin (Clay Aikenass), Brian Troyan (Jonny Depth), Jesus Plaza (Tom Cruize), Arielle Goodman (Twisted Fister)
behind the scenes
Calidonia Olivares (Director), Jonny Stax (Musical Director), Shawn Quinlan (Choreographer, asst. costumes), Jacob Christopher Green (Costume Designer), Nathan Petts (Prop Master), Tina Frey(Stage Manager), Jason Dabrowski (photos)