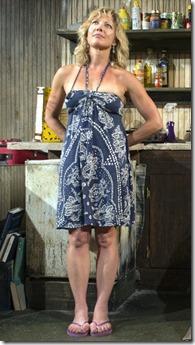 Annapurna
Written by Sharr White  
Directed by Eric Burgher
at Profiles' Alley Stage, 4147 N. Broadway (map)
thru July 20  |  tickets: $30-$40   |  more info
  
Check for half-price tickets  
  
  
   Read review
  
---
Hard truths and dirty trailers in sublime 'Annapurna'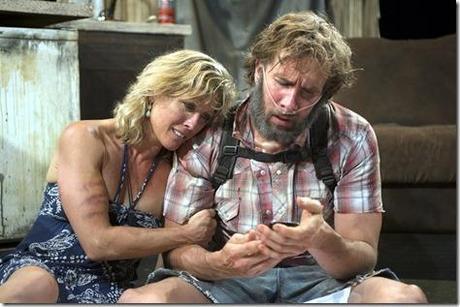 Profiles Theatre presents
Annapurna
Review by Lauren Whalen 
One of my favorite quotes comes from the 1999 film "Magnolia": "We may be through with the past, but the past ain't through with us." Sharr White's one-act play Annapurna is a darkly funny embodiment of that very sentiment, a staggeringly human portrayal of what happens when past and present collide. Directed by Eric Burgher, Profiles Theatre's production hits all the right hilarious and heartbreaking notes, thanks in large part to the tiny but dynamic cast.
Twenty years ago, Emma (Lia D. Mortensen) left her husband Ulysses (Darrell W. Cox) in the middle of the night. She remembers why, he does not. Now Ulysses, a formerly prolific poet and professor, lives in a trailer in the Colorado mountains. He cooks in the nude, wears an oxygen tank strapped to his back, and is the not-so-proud semi-owner of a very loud dog. One morning, Emma shows up with multiple suitcases, over $17,000 in cash, and news that their son Sam, now a 25-year-old PhD student, will be coming by any minute to reunite with the father he hasn't seen or heard from in decades. As Emma and Ulysses reminisce and argue (sometimes both at the same time), they inch slowly toward reconciliation – and the real reason Emma and Sam disappeared that fateful night. This Annapurna is the play's Midwest premiere, after its 2011 debut in San Francisco, and a 2013-14 Los Angeles and New York run featuring real-life married couple Megan Mullally and Nick Offerman.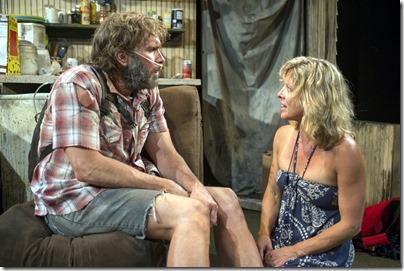 Two-person plays, especially those featuring two characters with a dysfunctional history, can quickly become screechy and maudlin. Thankfully, Annapurna (you'll find out the meaning of the title late in the play) manages to avoid these traps. White's skillful writing never fails to see the humor in every situation, even if said humor is quite dark. Ulysses and Emma are fully realized human beings, as opposed to stereotypes of the mountain man and the twice-wronged wife. Because of White's writing and Burgher's subtle but strong direction, one can see exactly why Ulysses and Emma were attracted to one another – and why their relationship was doomed from the start. Even Sam, whom we never see, is alive in colorful detail thanks to his parents' dialog.
Katie-Bell Springmann's set design is nothing short of stellar – Profiles' small Alley Stage studio is meticulously transformed into Ulysses' dingy mobile home. Everything from the dirty toilet to the toothpaste-smeared sink is so precisely realistic, it's less theatrical set and more gritty art installation. As Ulysses, Cox channels latter-day Clint Eastwood. His emotional arc is near-flawless – I only wish his speech had been less garbled at times. Mortensen is a perfect Emma, a survivor hiding a lot under her prissy khakis and perfect tan, a loving mother who has tried to protect her child from physical and emotional danger with varying degrees of success, and a woman who can't deny her simultaneous attraction and revulsion for the man who used to be her whole world.
Profiles is known for its intimate and powerful work, and Annapurna is no exception. White's play is ideally suited for the company – it's complex, thoughtful and relentless. Lovely direction, acting and production values (Jeffrey Levin's original music deserves kudos as well) supplement outstanding source material. The result is a 90-minute play that packs a punch and lingers long after blackout.
Rating: ★★★½
Annapurna continues through July 20th at Profiles Theatre's Alley Stage, 4147 N. Broadway  (map), with performances Thursdays and Fridays at 8pm, Saturdays 5pm and 8pm, Sundays 7pm.  Tickets are $30-440, and are available by phone (773-549-1815) or through PrintTixUSA.com (check for half-price tickets at Goldstar.com). More information at ProfilesTheatre.org.  (Running time: 90 minutes, no intermission)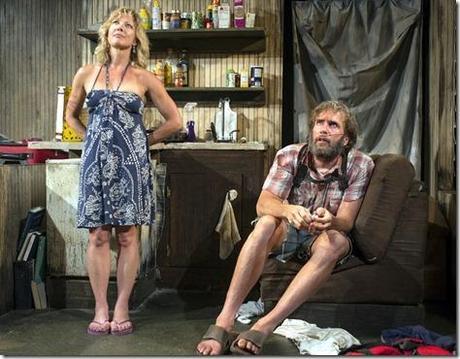 Photos by Michael Brosilow 
---
artists
cast
Darrell W. Cox (Ulysses), Lia D. Mortensen (Emma)
behind the scenes
Eric Burgher (director), Katie-Bell Springmann (set design), Mike Durst and Claire Chrzan (lighting design), Jeffrey Levin (sound design, original music), Raquel Adorno (costume design), Michael Brosilow (photos)
14-0639