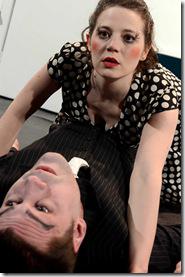 Anger/Fly
Written by Ruth Margraff  
Directed by Kate Hendrickson
at Trap Door Theatre, 1655 W. Cortland (map)
thru June 17  |  tickets: $20-$25   |  more info
  
Check for half-price tickets 
  
  
   Read entire review
  
---
A colorful new Avant-Garde romp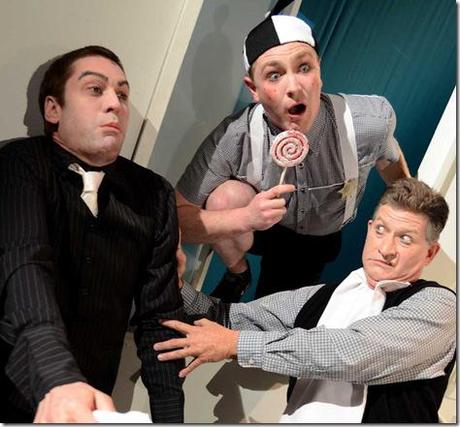 Trap Door Theatre presents
Anger/Fly
Review by Keith Glab
An adaptation of a work by Eugene Ionesco could potentially try to turn the work into a more cohesive narrative or dial up the abstract head games even further. Ruth Margraff's Anger/Fly, which was inspired by a short film scenario of Ionesco's, instead stays true to the Avant-Garde pioneer's juxtaposition of the absurd and the banal.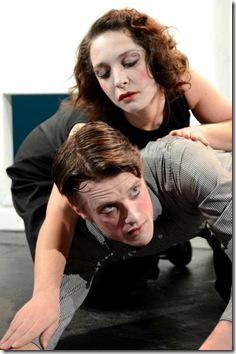 The piece, which makes its world premiere at Trap Door Theatre, is set in an uncomfortably idyllic town where all the walls are white. Everyone is pretentious, competing about mundane things such as pets and stifling their anger when they fall short in the competition or when someone differs too much from them. We see marriage as a series of perfunctory rituals and mutual projection onto each other. A boy (
Casey Chapman
) endlessly fights his natural impulse to pick his nose in an effort to be good. All the while, Lady TV (
Maria Stephens
) reminds the town of just how wonderful everything is, shooting happy bubbles and an omnipresent smile across several video screens.
Three couples depict relationships at younger, middle, and older stages, although the differences between their age appearance and behavior are nominal. The town's only blemish, a melancholy tramp (Antonio Brunetti), is kept at bay with the occasional coin thrown his way. His price not quite met, the tramp metamorphoses into a fly that wades into the soup of every husband in town. This precipitates an orgy of paint, sex, and violence that covers the stage and some of the audience (splash-free seats are available).
Although there isn't a whole lot of substance to this 70-minute piece, the nine-person cast engenders rapt attention through their captivating performances. They are charismatic enough to make mundane activities such as licking a lollipop or leaning on a lamp post engrossing. They are also able to adopt the exaggerated facial expressions, movements, and cadences required by this absurdist piece without any awkwardness.
You might presume that nine actors on Trap Door's diminutive stage would appear clumsy, but that somehow never happens. The cast maintains a hypnotic physical and vocal rhythm throughout the piece. The only frustrating part about the size of the cast is that there are so many interesting interactions taking place at once that you inevitably miss several.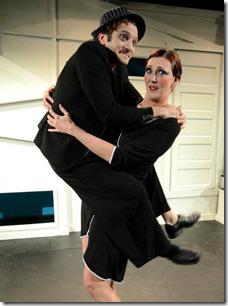 Although the production is dazzling to the eyes, it lacks thematic clarity. The actors have such conviction that you know they have motivation behind everything they do, but that motivation often isn't evident to the audience given the abstract circumstances. While the whitewashed society seen at the start of the piece is obviously decried, it is unclear whether the kernel of nonconformity that exposes the pretense is inevitable, desirable, or preventable; or whether its result is an improvement, a catastrophe, or merely a different state of being. Loss of innocence, projection of preconceptions, and the inevitability of death are just some of the themes that are underscored but not fully explored.
If you are hoping to come away with an enhanced understanding of the human condition, you may not leave completely satisfied. But If you're looking to enjoy an evening of abstract performance art, Anger/Fly will engage you almost to surfeit.
Rating: ★★★
Anger/Fly continues through June 17th at Trap Door Theatre, 1655 W. Cortland (map), with performances Thursdays-Saturdays at 8pm.  Tickets are $20-$25 (2-for-1 admission on Thursdays), and are available by phone (773-384-0494) or online at TicketLeap.com (check for half-price tickets at Goldstar.com). More information at TrapDoorTheatre.com.  (Running time: 70 minutes with no intermission)
All photos by Michal Janicki 
---