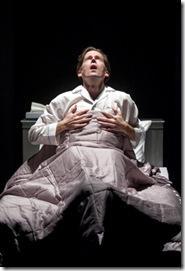 Angels in America:  
   Perestroika
Written by Tony Kushner  
Directed by Charles Newell
at Court Theatre, 5535 S. Ellis (map)
thru June 3  |  tickets: $45-$65   |  more info
  
Check for half-price tickets 
  
  
   Read entire review
  
---
A clarion cry that reverberates toward infinity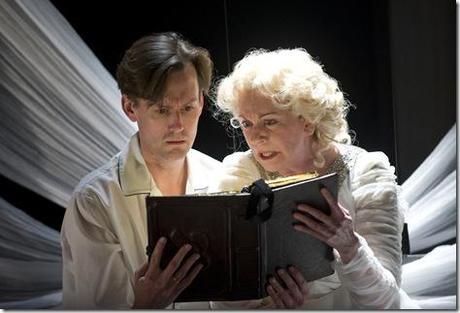 Court Theatre presents
Angels in America
   Part Two: Perestroika
Review by Catey Sullivan 
Of the two plays that comprise Angels in America, Perestroika is the weaker of the two plot-wise. But even at his weakest, playwright Tony Kushner creates a narrative that's as all-consuming as fire. And where Millennium Approaches (see my review) sets up the events to come and establishes the roster of characters formed so compellingly from Kushner's pen, Perestroika digs in even more deeply. If Part One gives us its characters down to their bone marrow, Part Two burrows into their very souls.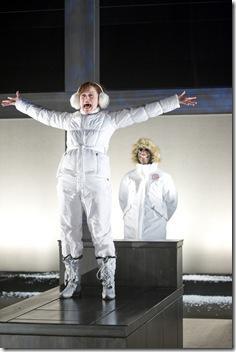 Kushner has rewritten – and added – scenes to the piece since it last played Chicago in 1994. We learn more about the innate sadness of the titular winged creatures, abandoned by God and huddled around a celestial radio of sorts that broadcasts catastrophes yet-to-come on earth. And there are some incredibly funny references to the Wizard of Oz amid the turmoil of
Perestroika
, including one entire scene that's been lifted wholesale from the 1939 classic. At nearly four hours, Perestroika is longer than it was previously. It is also richer and more complete. As the ailing Prior Walter wrestles with unearthly angels and battles the earth-bound demons of disease and loss, his path seems more complete, more vibrantly detailed and more thoroughly explained than in Perestroika's earlier version.
As for that path, it allows for incredible performances first hinted at in Part One. Among these is Hollis Resnik as Ethel Rosenberg, a specter whose (mostly) silent vigil over the dying Roy Cohn resounds with both a cosmic sense of justice and vengeance. (Cohn claims in Part One that he's responsible for having the Rosenbergs sent to the electric chair, condemned as spies in 1953). A scene where she delivers the Kaddish for Cohn is quietly breathtaking. It doesn't matter if you can't speak a word of Hebrew – the scene is a hair-prickling ode to forgiveness and the cyclical nature of karma. Resnik also disappears into the role of Hannah Pitt, who upends her life and moves from Salt Lake City to New York City after her son Joe comes out to her in a frantic, wee hours phone call. Hannah is at once brusque and deeply compassionate, a conservative Mormon who comes to care – judgment free – for her son's lover's ex-lover. And it's not a coincidence that the Mormon faith is rooted in the belief of an angel made manifest on Earth.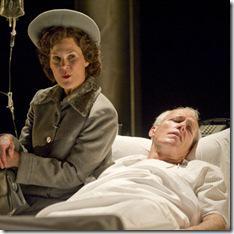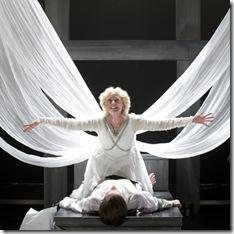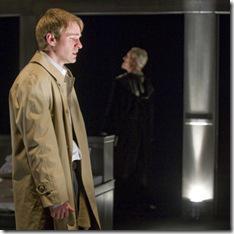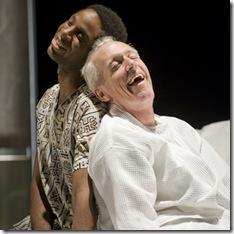 Michael Pogue is also an understated powerhouse as Belize, the subtly flamboyant (yes, that's possible), furiously dignified health care worker who ministers to both the prophetic Prior Walter and the dying Roy Cohn. And as Louis Ironson, Eddie Bennett is equal parts antagonizing and heart-breaking as a man who commits an unforgivable yet completely understandable betrayal. Then there's the Angel, played by Mary Beth Fisher with precisely the sort of mysterious, regal air you'd expect from an ethereal harbinger. Hovering against the vast expanse of blackness in John Culbert's mammoth grid of a black set, Fisher is both a threat and a comfort to the afflicted Prior, a celestial blessing made manifest and a terrorizing autocrat making death-defying demands. Geoff Packard's Joe Pitt captures the unbearable conflict in a gay man who has been living the worst kind of lie for his entire life,
At the close of Perestroika, Prior addresses the audience directly with a message of Phoenix-like hope. It's been almost 20 years since that message was initially heard in Chicago. It remains as resonant and glorious as ever. And when he calls for the Great Work to begin, it's a clarion cry that reverberates toward infinity.
Rating: ★★★★
Angels in America – Part Two: Perestroika continues through June 3rd at Court Theatre, 5535 S. Ellis (map), with performances in repertory with Part One on Wednesdays/Thursdays 7:30pm, Fridays 8pm, Saturdays 3pm and 8pm, and Sundays 2pm and 7pm.  Tickets are $45-$65, and are available by phone (773-753-4472) or online here (check for half-price tickets at Goldstar.com). More information at AngelsInChicago.com  (Running time: 3 hours 50 minutes)
All photos by Michael Brosilow 
---
artists