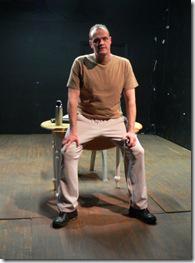 An Interrogation Primer 
Written by Michael Nowacki
Directed by Eric Ziegenhagen  
Side Project Theatre, 1439 W. Jarvis (map)
thru Dec 17  |  tickets: $5-$15   |  more info
Check for half-price tickets 
  
  
   Read entire review
  
---
'Interrogation Primer' packs a powerful punch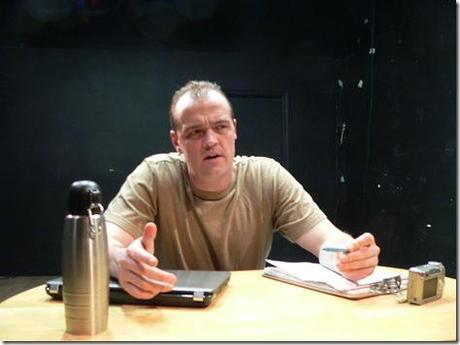 Side Project Theatre presents
An Interrogation Primer
Review by Lauren Whalen 
In war, no one walks away clean. Even the best intentions are pulverized in the wake of homesickness, squalor and sheer boredom. Sadistic impulses run rampant and are often rewarded. And a job in which the fates of human beings hang in the balance becomes mind-numbingly repetitive. Just another day at the office.
With minimal production values, actors (one) and running time (just over half an hour), The Side Project's stunning world premiere of An Interrogation Primer makes efficient but haunting work of a shocking instruction manual. Director Eric Ziegenhagen uses a precision that would make the military proud. Each light cue, sound and movement is bare bones but deliberate in unsettling the audience. More often than not, I found myself leaning forward. I couldn't look away. The images Michael Nowacki's dialog generated in my head shook me to the core, yet I couldn't turn them off. It was only when the lights came up that I remembered to breathe.
As the door to The Side Project's tiny studio space slides shut, effectively trapping the audience, an unnamed soldier (Sean Bolger) enters, already looking worn out. Beginning with the statement "You start by taking off his blindfold. You do it gently, careful not to jerk his head or neck," Bolger takes the viewer through the steps of an interrogation. He punctuates his second-person sentences with the slap of a clipboard, the slam of a door, the stomp of his large foot. Fluorescent lights buzz and hum to unsettling effect as Bolger describes the training of interrogators, the drudgery of paperwork, the treatment of Iraqi prisoners who claim to love George W. Bush, the often arbitrary determination of release versus incarceration in Abu Ghraib, which happens five to six times every single day. With each word Bolger grows older and more exhausted, but never wavering in his eye contact as he explains steadily, "You're in Iraq. Good and evil are different now."
Each beat in the script – ranging from darkly humorous to just plain dark – is clear and present thanks to Bolger's brilliant execution of Ziegenhagen's thoughtful direction. Dennis Mae and Todd Peacock-Preston's nominal set and props –a table and chair, a laptop, a water bottle, and a clipboard – effectively transcend continents and time zones, though a beat-up desk or card table might have been more realistic. And Casey Diers' lighting, the aforementioned fluorescent bulbs, is disturbing in its simplicity. You are there, in the room. There is no escape.
What's most chilling about An Interrogation Primer is its truth. Writer Nowacki joined the army in 1990 at age 17, serving as an infantryman in the Persian Gulf War, then joined the Illinois National Guard. He served until 2006, spending the last two years as an interrogator. He knows of which he speaks. Thanks to a vivid script, calculated production elements, smart direction and a chilling solo performance, An Interrogation Primer is 35 claustrophobic minutes of solid truth. When the lights come up, the lyrics to Creedence Clearwater Revival's anti-Vietnam anthem "Fortunate Son" come to mind: "they'll send you off to war/and when you ask them, 'how much should we give?'/the only answer 'more, more, more.'" The interrogator gives hours of effort, lifetimes of energy and a large chunk of his soul. He makes it home, sobered by what he has done, but can never let go. He ain't no fortunate son.
Rating: ★★★½
An Interrogation Primer continues through December 17th at the Side Project Theatre, 1439 W. Jarvis (map), with performances Wednesdays and Thursdays at 7:30pm, and Saturdays at 4pm. Tickets are $5-$15, and are available by phone (773-973-2150) or online at brownpapertickets.com.  More information at thesideproject.net.  (Running time: 35 minutes with no intermission)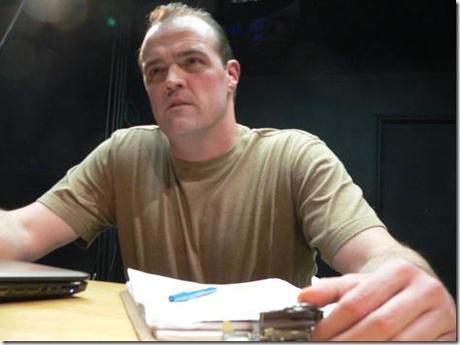 ---
artists