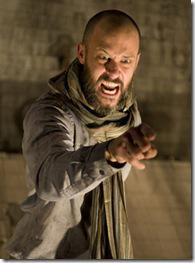 An Iliad 
Adapted by Denis O'Hare and Lisa Peterson
Directed by Charlie Newell 
at Court Theatre, 5535 S. Ellis (map)
thru Dec 11  |  tickets: $40-$60   |  more info
Check for half-price tickets 
  
  
   Read entire review
  
---
Kane's game-changing performance propels apocalyptic epic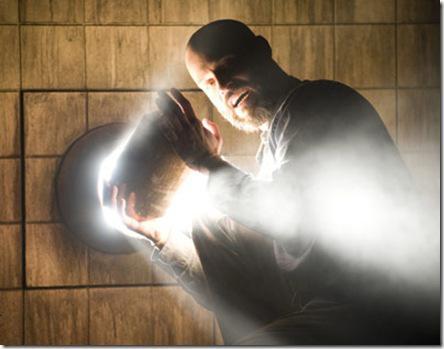 Court Theatre presents
An Iliad
Review by Catey Sullivan 
Toward the final, scorching moments of An Iliad, Timothy Edward Kane drops his voice to a plaintive hiss. He's been describing an act of all but unspeakable violence, an illustration of grotesque cruelty that is gasp-inducing in its heartlessness. He hardly takes a breath between describing the act and distancing himself from it. This was someone else's awful work, he stresses with unimpeachable confidence , "…not me.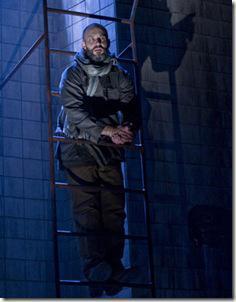 I'm not like that, I'm a peaceful – "
Then he breaks off, and the real horror begins, "But it happens anyway," he shrugs, " Some trick in our blood and -" the last word is a hideous murmur, an admission of guilt that will make the skin on the back of your neck prickle: "rage."
That confession – owning up to the kind of rage that can make monsters of men – is a moment of climactic intensity that arrives just as you think An Iliad can't possibly escalate any further. Over and over, Kane reaches a point in this narrative of the Trojan War was that seems to be the apex of horror, an anecdote of barbarity, a portrait of inhuman torment, a moment of inconsolable tragedy. And each time, Kane yanks the tenterhooks still tighter, making An Iliad a panorama of gods and monsters and inhumanity and ungodliness that burns its way into your cranium like acid onto cotton, dissolving all that is pure and leaving only ugly, twisted char.
If that sounds bloody well over the top, well, so is An Iliad. In the best possible way. Adapted from Homer's daunting epic by Denis O'Hare and Lisa Peterson and directed by Charles Newell, An Iliad is mighty in both ambition and achievement. Homer's source material, the bane of many an English 101 undergrad, covers no less than 10 years of the Trojan War and is widely considered the first great epic of Western Literature.
It's a daunting read, even translated from its native Greek into English. Tackle it without help and it's the rare gifted reader who will not become bogged down in what seems like an circular abyss of death and atrocity and deux ex machine as feuding factions of Trojans and Greeks laying waste hither and yon all for ownership rights to a comely "kidnapped" blonde who just may have left willingly in the first place.
What Kane does so magnificently in An Iliad is restore the blunt tragedy of war to a story that time and bad teachers have tamed into an impenetrable fantasy along the lines of dungeons and dragons. With spectacular physicality and quicksilver dazzling command of the emotional spectrum from manic elation to dead-eyed torpor, Kane commands ever last inch of the stage. He is one person with the presence of one hundred, and he makes this ancient, potentially dusty story as vivid as newly slaughtered troops and as immediate as an oncoming freight train.
"Every time I sing this song, I hope it is the last time," he notes early on, and it's with a world weariness that only hints at the harrowing chapters he's about to unleash. Like all wars, The Trojan War won't ever really end so much as merely mutate into something different and equally brutal, he indicates. This is because Gods – the overseers and interlopers in our bloody, earthly feuding – don't die, he continues. "They become us. They change. They burrow inside us. They become us, they become our impulses." Lust? That's the manifestation of Aphrodite. Mischief? Hermes. And so it goes, mortals interweaving an endless natural and supernatural tapestry,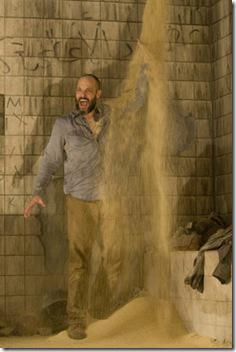 bedeviling the world in a skein of perpetual, tumor-like knots.
It's heady stuff to be sure – An Iliad demands a thinking audience. It's Kane's gift that he makes that demand so irresistible. He's immensely down to earth, making the most cerebral of concepts as concrete and blood and guts, instilling the adventures of Hector, Petroclus, Andromache, Achilles and Agamemnon with the immediacy of a murder next door (or, gods forbid, in your own home.) . For years, Kane has been doing an able job primarily in supporting parts – making one very significant departure a few years ago when he took on the lead in Tom Stoppard's Rock and Roll (our review). Even that leviathan of a role didn't indicate the depth and the power Kane has at his command in An Illiad.
His work here is truly eye-opening, and should be a game-changer in his already solid career. An Iliad is exhausting and exhaustive; you'll feel utterly wonderfully rinsed out by the time Kane's through with you, as if you've been wrung through a ringer of war and come out the other side sadder, wiser and humbled by the whims of gods and monsters that make the world go around.
Kane doesn't do it alone, of course. An Iliad benefits tremendously form the subtle and powerful sound design of Andre Pluess and the apocalyptic blasted-earth scenic design of Todd Rosenthal. And Keith Parham's lighting design is the visual equivalent of Pluess' evocative sound, combining to create a scorching epic that blazes behind the eyes long after the lights have come up.
Rating: ★★★★
An Iliad continues through December 11th at Court Theatre, 5535 S. Ellis (map), with performances Thursdays at 7:30, Fridays at 8pm, Saturdays at 3pm and 8pm, Sundays at 2:30pm and 7:30pm.  Tickets are $40-$60, and are available by phone (773-753-4472) or online here. (check for half-price tickets at Goldstar.com). More information at courttheatre.org.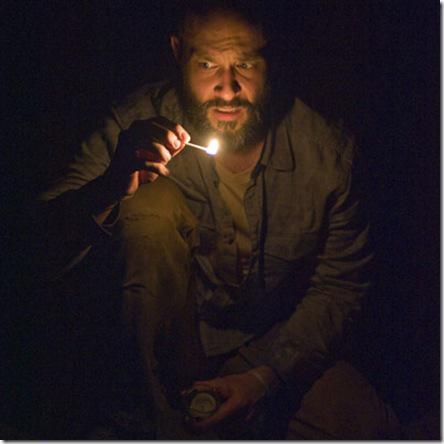 All photos by Michael Brosilow 
---
artists