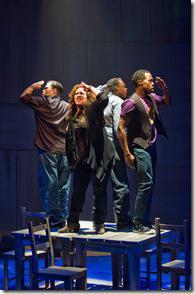 Ameriville
Written by UNIVERSES 
Directed by Chay Yew
VG Biograph Theater, 2433 N. Lincoln (map)
thru Feb 26  |  tickets: $20-$50   |  more info
  
Check for half-price tickets 
  
  
   Read entire review
  
---
Victory Gardens brings an invaluable gift to the Chicago stage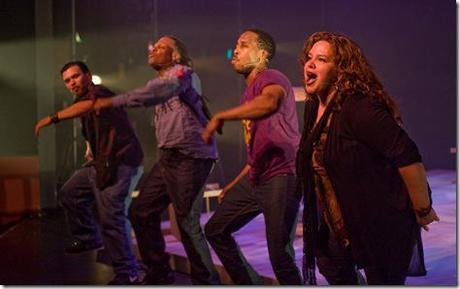 Victory Gardens Theater presents
Ameriville
Review by Lauren Whalen 
What if Hurricane Katrina happened again? The natural catastrophe awakened countless debates about politics, poverty and relief and lives on in America's collective mind. In Ameriville, New York-based poetry ensemble UNIVERSES collaborates with Victory Gardens' new Artistic Director Chay Yew to explore a country divided by Katrina, and what its aftermath means for us all. The result is performance art at its best: unique, pure power with an agit-prop edge.
In 90 energetic minutes, UNIVERSES ensemble members Gamal Abdel Chasten, William Ruiz (aka Ninja), Mildred Ruiz-Sapp and Steven Sapp combine spoken word, a cappella harmonies, body percussion and stand-up comedy to tackle the baffling and scary state of the union following Katrina. On a plain wood-based set with a few tables and chairs, startling images and statistics are projected as the quartet holds forth on disasters of all sorts: homelessness, gun violence, a health care system that disregards many and helps few. No matter how dire the circumstances they enact, UNIVERSES never falter in passionate enthusiasm and outright anger. And all of these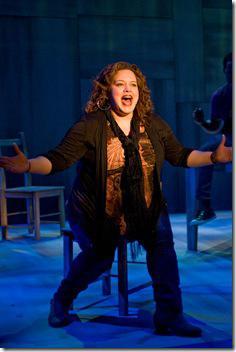 feelings are contagious.
Ameriville's diverse content and nonlinear plot is difficult to describe, but here are some highlights: a God-fearing mask maker ponders an open-armed statue of Jesus and the lies people tell to survive. An older gentleman who survived Katrina scoffs at his post-traumatic stress disorder diagnosis while barely masking his crippling emotional pain. A female soldier recounts her inner battle – loyalty to family versus allegiance to country – which makes life on the homefront all the more difficult. A small business owner turned vagrant observes the privileged but clueless individuals who pass him in front of Starbucks, and a lighthearted gun commercial morphs into horrifying reality.
If nothing else, UNIVERSES deserve an award for stamina. Rarely leaving the stage, an ensemble member jokes about gentrification, beatboxes a catchy rhythm and belts a searing spiritual – in the span of three minutes. Brian Sidney Bembridge's starkly striking set is their playground; Millicent Johnnie's earthy choreography as natural as walking. UNIVERSES is a stunning collective, but its individual members shine too. Ruiz displays an impressive array of voices and movements, while Chasten and Sapp know exactly when to incorporate broad comedy into a heartbreaking soliloquy. And Ruiz-Sapp, the group's lone female, has a deep baritone that beckons the audience into her soulful, sad world and doesn't let go until she's good and finished.
In his inaugural season, Yew has brought an invaluable gift to Victory Gardens in the form of UNIVERSES. So memorable is Ameriville, it leaves less of an impression and more of an imprint. At the performance I attended, the crowd collectively leaned forward for the entire hour and a half, captivated but not silent. They laughed loudly. They applauded heartily. They murmured in agreement. At curtain call, they leapt to their feet. Ameriville isn't technically interactive but UNIVERSES command audience engagement from the first soulful ballad to the final plea for a better world. Never preachy, but always compelling, Ameriville fulfills and inspires. This is meat and potatoes theater. Everybody row, indeed.
Rating: ★★★½
Ameriville continues through February 26th at Victory Gardens Biograph Theater, 2433 N. Lincoln (map), with performances Tuesdays-Saturdays at 7:30pm; matinees on Saturdays at 4pm and Sundays at 3pm.  Tickets are $20-$50, and are available by phone (773-871-3000) or online here (check for half-price tickets at Goldstar.com). More information at victorygardens.org.  (Running time: 90 minutes with no intermission)
All photos by Michael Brosilow 
---