This isn't your typical high school reunion. The boys from American Pie are back to bring havoc and mischief back to theaters. The whole gang is back together again including favorites Jim (Jason Biggs), Kevin, Oz, Finch and Stifler (Seann William Scott). The level of enjoyment the audience will receive from this union fully depends on their connection with the earlier movies in the franchise.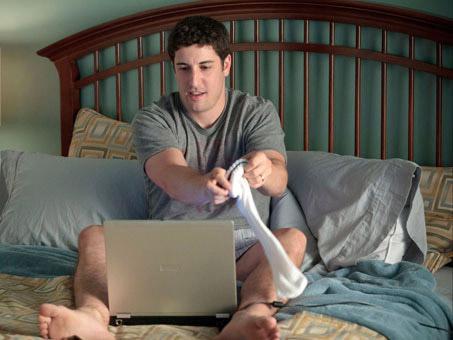 Jim and Michelle (Alyson Hannigan)have been married for a few years now and things have gotten a little stale in the bedroom. In a classic American Pie moment, everything that could go wrong does. Jim and Michelle realize they have to solve their problem fast or their marriage is doomed. Luckily, the 13 year reunion at their High School is taking place and everyone has come back for the festivities.
Stifler is back to his old tricks. When we first see him we expect that maybe he is on top of the world. Then we discover that it's mostly in his head and he's not working the job of his dreams. His buddies have seem to forgotten he exists because they have grown tired of his antics. There's a chance for Stifler to redeem himself in American Reunion and its well deserved. He has always been one of the highlights of the series. Oz was forgotten in American Wedding, but his character is brought back in a big way. While some stories get more time than others, Oz and Heather get their well deserved bow in this installment.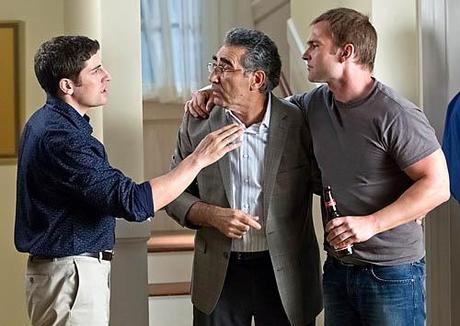 While its great seeing all the classic characters again (okay maybe not Tara Reid) there's obvious references to the past movies that are sure to go over the heads of new audiences. One particular note is on the character who created the MILF term. It seems like he has had a fallout with his cohort, but if you haven't seen the first movie in the series, this joke won't register. Even though I have recently re-watched the first two films, I even had trouble connecting this link.
The other problem that has nothing to do with obscure jokes, is that there were just too many characters to showcase. There were characters in the first two films that didn't make a comeback (including Casey Affleck), but the ones who came in for a cameo were wasted. Sure their appearance gets smiles from the audience, but some of these actors haven't had a career other than the American Pie series and there's little reason for them to come out for this reunion.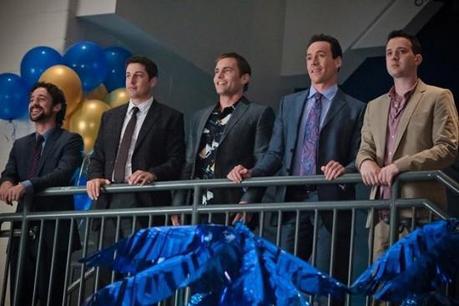 After all that, American Reunion can still be considered a success. The storyline is just a loose thread used to bring these characters back into the theater. There's even a subplot with Jim that includes the girl he used to babysit and while it brings up tons of laughs, some of it feels kind of cheap but that's totally okay for American Pie. The gross-out factor that was such a reason for American Pie's legacy has stayed strong although must of the most disgusting gags are in the first half-hour of the film. The enjoyment that American Reunion provides will solely depend on whether you love the originals. Since I love the originals, for that reason alone, its worth taking one more trip back to high school with the gang from American Pie.
*For a refresh on the other films – check out Trilogy Thursday: American Pie.