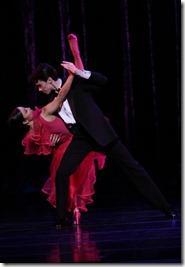 American Legends  
Choreographed by Jerome Robbins, Twyla Tharp,
   Gerald Arpino and Stanton Welch
at Auditorium Theatre, 50 E. Congress (map)
thru Feb 24  |  tickets: $31-$152   |  more info
  
Check for half-price tickets  
  
  
   Read entire review
  
---
Joffrey gives legendary performance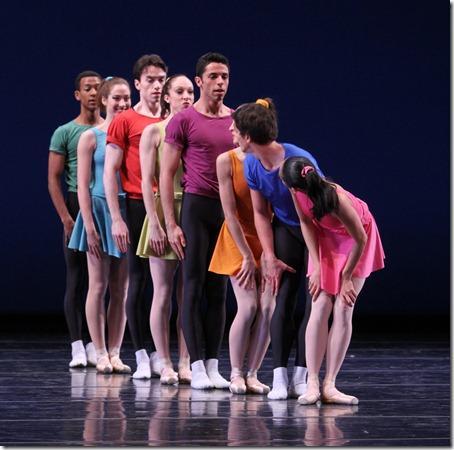 Joffrey Ballet presents
American Legends
Review by Lauren Whalen 
What makes an American choreographer? Precision. Astuteness. Respect for traditions coupled with the willingness to tweak these traditions, sometimes turn them on their European and Russian heads. The Joffrey Ballet's American Legends pays tribute to all these qualities and more, with four pieces ranging from sweet and old-school to edgy and contemporary, with a closing stunner featuring the head Rat Packer himself, Frank Sinatra. American Legends is a breathtaking, exhilarating evening, ideal for dance newbies, die-hard balletomanes and everyone in between.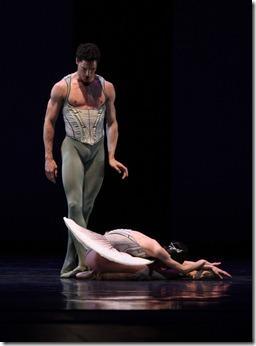 The program begins with "Interplay",
Jerome Robbins
' mischievous battle of the sexes.
West Side Story
fans will recognize Robbins' signature style that would later become iconic in the Broadway hit. No death or bloodshed here, however: just light as a feather emotion that cynics might call schmaltzy but I call sweet.
Santo Loquasto
costumes the eight dancers in a rainbow of bright, fun colors and
Morton Gould
's quick, bright score casts a nostalgic glow. There were a few hiccups in the steps – very obvious with choreography as precise as Robbins' – and the eight dancers could employ a bit more energy, but their childlike glee almost makes up for the piece's shortcomings.
"Sea Shadow", the evening's next piece, is a dramatic contrast to interplay. Choreographed by Joffrey co-founder Gerald Arpino in 1962, the pas de deux still feels modern. The steps are classical, the Ravel score haunting, the story tragic (it's inspired by the Ondine fable, a tragic tale of love between a man and a sea nymph), the effect timeless. Temur Suluashvili is an ideal partner – strong and supportive, with raw expression in every tendu – but the real draw is Joffrey star Victoria Jaiani. As the longing nymph, Jaini employs the scalpel-sharp exactitude of Ann Reinking and the refined elegance of Julie Kent, with an ethereal loveliness that's all her own. She is always wonderful to watch, and in "Sea Shadow" she is simply otherwordly.
Stanton Welch, creator of the ambitious "Son of Chamber Symphony", set out to deconstruct ballet by discovering new interpretations of old traditions. The result is an extremely ambitious piece (choreographed for the Joffrey, it premiered at the Jacob's Pillow festival last August) that could have been an utter mess of odd tones and stripped-down steps, but is instead a challenging, intelligent exploration. John Adams' score is classical, but very technical and complex, and the choreography organically grows out of that. Welch's steps, and the dancers who execute them, are sharp in every sense – physically, mentally and musically – but the piece doesn't go too far into its own head. Travis Halsey's magnificent costume design suggests traditional costumes and incorporates yet another twist: for example, the women wear tutus made of cotton batting instead of the traditional tulle. "Son of Chamber Symphony" is ballet under a microscope: smart, accurate and very enjoyable.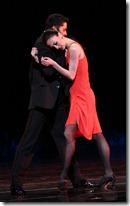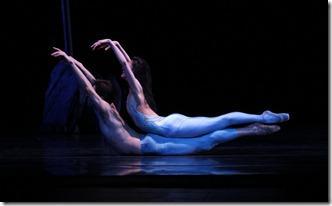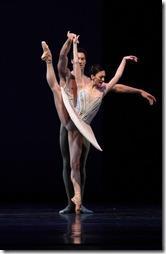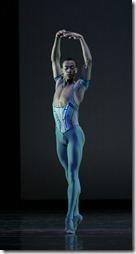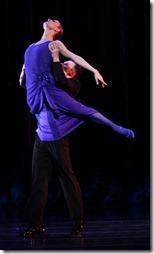 All three pieces, though uniquely excellent, are a mere precursor to the program's final dance, "Nine Sinatra Songs". Twyla Tharp is a name known even to non-dancers: she is the mastermind behind the groundbreaking Billy Joel musical Movin' Out. Two decades before, Tharp worked her magic on the music of Frank Sinatra. With Oscar de la Renta costumes and a glittering disco ball, "Nine Sinatra Songs" captures infatuation, drunkenness, gender role play and romance with a backdrop of high heels and legendary crooning. In the Joffrey's performance, standouts include Lucas Segovia and Joanna Wozniak (in an intoxicated pas de deux to "One for My Baby, and One More for the Road"), Amber Neumann and Derrick Agnoletti (Agnoletti's trademark showmanship shines through a play on the cha-cha) and Yumelia Garcia and Ogulcan Borova (as a couple passionately feuding and reconciling to the tune of "That's Life").
When I was 12, I saw Hubbard Street Dance Chicago perform "Nine Sinatra Songs" as the company toured through downstate Illinois. It was my first exposure to Tharp and though I'd been dancing since I was four years old, I had no idea dance could do that. Twenty years later, I am as much in awe. With their most exciting program in years, the Joffrey demonstrates how American choreographers can inspire amusement, tragedy, intelligence and lust in the span of two hours. It's enough to make a patriot out of anyone.
Rating: ★★★½
American Legends continues through February 24th at Auditorium Theatre, 50 E. Congress Pkwy. (map), with performances Thursdays/Fridays at 7:30pm, Saturdays 2pm and 7:30pm, Sundays 2pm.  Tickets are $31-$152, and are available by phone (312.386.8905) or online through their website (check for half-price tickets at Goldstar.com). More information at Joffrey.org.  (Running time: 2 hours, includes two intermissions)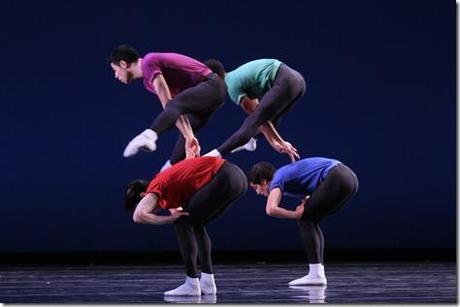 Photos by Herbert Migdoll
---
artists
cast
Casting varies according to performance.
Matthew Adamczyk, Derrick Agnoletti, Yoshihisa Arai, Guillaume Basso, Miguel Angel Blanco, Ogulcan Borova, Katherine Bruno, Fabrice Calmels, Raul Casasola, April Daly, Erica Lynette Edwards, Yumelia Garcia, Cara Marie Gary, John Mark Giragosian, Dylan Gutierrez, Elizabeth Hansen, Jaime Hickey, Rory Hohenstein, Anastacia Holden, Dara Holmes, Victoria Jaiani, Fabio Lo Giudice, Graham Maverick, Caitlin Meighan, Jeraldine Mendoza, Katherine Minor, Jacqueline Moscicke, Amber Neumann, Alexis Polito, Valerie Robin, Christine Rocas, Aaron Rogers, Ricardo Santos, Lucas Segovia, Abigail Simon, Michael Smith, Temur Suluashvili, Jack Thorpe-Baker, Shane Urton, Alberto Velazquez, Mauro Villanueva, Mahallia Ward, Jenny Winton, Joanna Wozniak, Kara Zimmerman
behind the scenes
For Joffrey Ballet:
Ashley C. Wheater (Artistic Director), Christopher Clinton Conway (Executive Director), Scott Speck (Music Director), Nicolas Blanc and Gerard Charles (Ballet Masters), Graca Sales (Ballet Master/Principal Coach)
For "Interplay":
Jerome Robbins (Choreography), Morton Gould (Music), Santo Loquasto (Costume Design), Nicole Pearce, after Ronald Bates (Lighting Design), Jean-Pierre Frohlich (Staging)
For "Sea Shadow":
Gerald Arpino (Choreogaphy), Maurice Ravel (Music), A. Christina Giannini (Original Costume Design), Jack Mehler (Lighting Design)
For "Son of Chamber Symphony":
Stanton Welch (Choreography), John Adams (Music), Travis Halsey (Costume Design), Jack Mehler (Lighting Design/Scenic Concept)
For "Nine Sinatra Songs":
Twyla Tharp (Choreography), Frank Sinatra (Songs Sung By), Oscar de la Renta (Original Costume Design), Santo Loquasto (Scenic Design), Jennifer Tipton (Original Lighting), Nicole Pearce (Lighting Recreation), Crista Francesca Villella (Staging)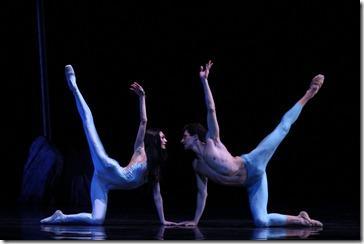 13-0230