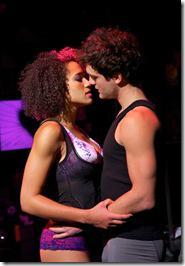 American Idiot 
By Green Day (music) , Michael Mayer (book) 
   and Billie Joe Armstrong (book, lyrics)
Directed by Michael Mayer
Oriental Theatre, 24 W. Randolph (map)
thru Feb 19  |  tickets: $27-$106   |  more info
  
Check for half-price tickets 
  
  
   Read entire review
  
---
Passionate score almost makes one forget clichéd plot, characters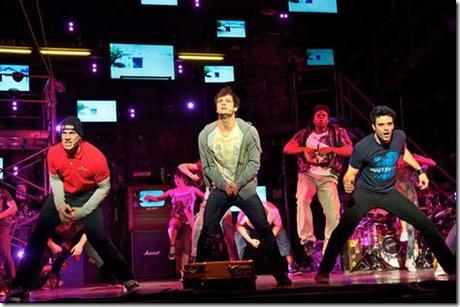 Broadway in Chicago presents
American Idiot
Review by Catey Sullivan 
Forget MIA single digit salute at the Halftime. If I had a dollar for every time American Idiot's aggressively disaffected young cast flipped the bird during the opening number, I could have bought a glass of ridiculously expensive concession-stand vino for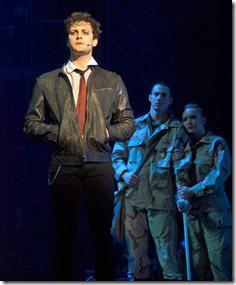 everybody from the loge on down.
Here's the problem with that: About the 10th or so time you catch someone defiantly making that middle-finger thrust, the gesture is leached of its power. It becomes a cliché. In the case of American Idiot, it comes to symbolize the unoriginal, naval-gazing war cry of the post-high school demographic that fritters away young adulthood by living in their parents' basement in a haze of beer, pot and bitching about how all the over-30 soul-crushing hypocrites have made the U. S. of A "a country of make believe that doesn't believe in me."
When the American Idiot cast was showcased at the 2010 Tonys, there was a lot of ambient noise about how utterly ground-breaking the musical rooted songs by indie rockers Green Day was. Actually, it's anything but. Yes, that score is extraordinary, and in the touring production at the Oriental Theatre, it pulsates with passion and soaring intensity. But American Idiot's plot is essentially 90 minutes of whining by self-indulgent 20somethings who wear their self-involved angst on their sleeves like some kind of post-modern Scout badge. These characters may fancy themselves rebels, but their rebellion is the sort that is only possible when one has an effortlessly privileged upbringing. In American Idiot, Johnny is able to dramatically stomp away from home only because his mother lends him money for a bus ticket. That's not rebellion, it's entitlement. Real rebels don't finance the uprising with their allowance  And real visionaries possess vocabularies that transcend repetitive, tired and ultimately meaningless obscenities. Matters are not helped by Steve Hoggett's twitchy, fist-pumping choreography. This is dance by way of late 1980s aerobics class.
What redeems American Idiot is the music of Green Day front man Billie Joe Armstrong. The score ranges from raucous, gloriously ear-splitting anthems of anger to almost impossibly delicate and shades of yearning softness. It's all performed with fervor and absolute clarity by the cast, all of whom instill each lyric with a life-or-death intensity that – almost – makes you forget the clichéd plot and characters.
As Johnny, disaffected-youth-in-chief Van Hughes has a voice that can growl with vehemence or make you week with pathos. His rendition of "Wake Me Up When September Ends" is a heartbreaker in all the right ways. Gabrielle McClinton's Whatsername is a radiant dancer of athletic grace and an actor of raw emotion. Leading the charge on "21 Guns," she's got the presence and the voice to make a rabid Green Day fan of everyone in earshot. Also haunting is Joshua Kobak's St. Jimmy, a drug dealer who trafficks in broken dreams that masquerade as enlightenment.
If American Idiot were presented as a concert, we'd be raving its praises. This is music that touches the soul, performed with a fierce passion. It's a shame the score is surrounded by such an uninspired story.
Rating: ★★
American Idiot continues through February 19th at Ford Center for the Performing Arts (Oriental Theatre), 24 W. Randolph (map). Tickets are $27-$106, and are available by phone (800-775-2000) or online at BroadwayinChicago.com (check for half-price tickets at Goldstar.com). More information at AmericanIdiottheMusical.com.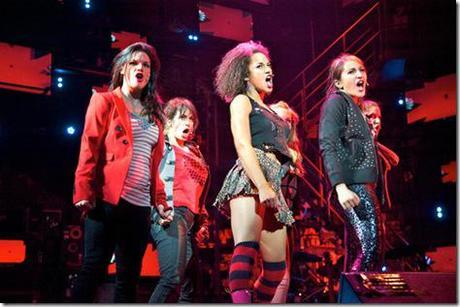 All photos by Doug Hamilton
---
artists