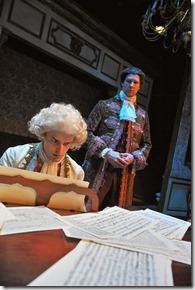 Amadeus
Written by Peter Shaffer 
Directed by Peter Marston Sullivan
at Stage 773, 1225 W. Belmont (map)
thru March 16  |  tickets: $25   |  more info
  
Check for half-price tickets 
  
  
   Read review
  
---
Gorgeous revival delivers a desperately needed message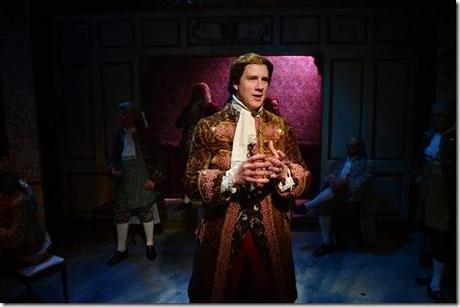 BoHo Theatre presents
Amadeus
Review by Clint May 
As a worker in the creative world myself, Peter Shaffer's story of professional insecurity rings true on many levels. Managers that sabotage their own protégés, steal credit, feign friendship to deflect blame—Amadeus may only have a slight grounding in historical facts, but it transcends that to become a Gothic myth with eternal resonance. Looking through history there are many actually more technically true stories (the Bernini and Borromini rivalry in architecture springs to mind). The apocryphal stories that spread after Mozart's mysterious death contributed to a myth of professional contention between he and Saleri that has next to no basis in fact. Still, this fictional Salieri's journey is an engrossing exploration of the creative process, devotion, and the true cost of fame. BoHo has marshalled great talent to bring his Pyrrhic victory to life.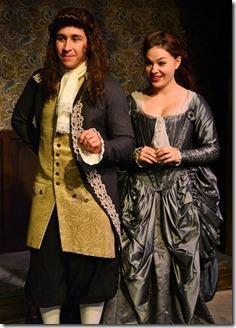 Near death, Antonio Salieri (
Steve O'Connell
) uses an operatic invocation to pull us, the audience, out of the future that he may confess to posterity his hand in the great Mozart's death. When he was a young man, he promised that if God made him a composer of some note, he would devote his life to celibacy and aiding the poor. His dreams appear to be rewarded when he becomes the loyal court composer for
Holy Roman Emperor
Joseph II
(
David Tibble
) in Vienna. Life is good, with a star pupil and a "statuesque" wife of great purity. One day, his venticelli bring him news of the precocious Mozart's (
Chris Ballou
) arrival and intent to stay in his city. Upon hearing a work by the younger prodigy, he instantly feels slighted by God. In his megalomania, he sees the divinity of the work contrasting with the immaturity of the man as a slap in the face from the divine. Renouncing his vows, he commits himself to befriending the young man while secretly thwarting his every potential success.
Director Peter Marston Sullivan keeps the pace moving smoothly and the ensemble tuned to just this side of overwrought—entirely appropriate for the Poe-like nature of the material. O'Connell is fantastic as the seemingly mild-mannered composer with a priggish air masking deep reservoirs of bile. It's Ballou who steals every scene as the scatalogically fascinated (that part is true) man-child. His every nervous titter and feelings of an entitled disdain for establishment rings true as does his slow descent into madness (there's something prescient of Michael Jackson in Shaffer's invention).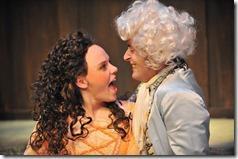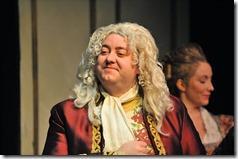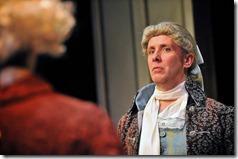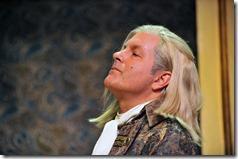 The large cast never seems to overwhelm Patrick Ham's intimate space, which is both sumptuous and absolutely as sparse and needs be. Combined with Theresa Ham's lavish costuming, this revival is even richer visually than my last BoHo outing, the fantastic Veronica's Room. Much of the same praise I gave for that goes to this production as well. BoHo's dedication to rich characterization and detail is making them one of my favorite troupes.
My main man Vonnegut—as per usual—commented quite accurately on the anxiety of our age when he said, "…simply moderate giftedness has been made worthless by the printing press and radio and television and satellites and all that. A moderately gifted person who would have been a community treasure a thousand years ago has to give up…since modern communications put him or her into daily competition with nothing but the world's champions." As the would-be patron saint of the mediocre, Salieri forgives us and absolves us of our 'sin.' Thirty-five years after its debut, Shaffer's message of the perils of envy is needed now more than ever, and BoHo has crafted a beautiful, haunting vehicle in which to deliver it.
Rating: ★★★★
Amadeus continues through March 16th at Stage 773, 1225 W. Belmont (map), with performances Thursdays-Saturdays at 8pm, Sundays 2pm.  Tickets are $25, and are available by phone (773-327-5252) or online through Stage773.com (check for half-price tickets at Goldstar.com). More information at BohoTheatre.com.  (Running time: 2 hours 20 minutes, includes an intermission)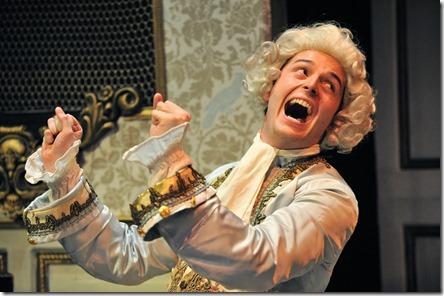 Photos by Peter Coombs 
---
artists
cast
Steve O'Connell (Salieri), Chris Ballou (Mozart), Amanda Jane Long (Constanze), David Tibble (Joseph II), Scott Danielson (Rosenburg), Russell Alan Rowe (Strack) Sean Thomas (Van Swieten), Jeff Kurysz (Venticelli 1) Sasha Hatfield (Venticelli 2), Patrick Byrne, Kaitlin Henderson, Rus Rainer, Chelsea Taylor (ensemble)
behind the scenes
Peter Marston Sullivan (director), Kaela Altman (producer), Meg Love (production manager), Tod Koval (stage manager), Patrick Ham (scenic design), Megan Turnquist (lighting design), Theresa Ham (costume design), Matthew Tibbs (sound design), Cassy Schillo (properties design), Amanda Jane Long (style coach) Peter Robel, Stephanie Sullivan (language consultants), Dalton Long (assistant stage manager), Peter Coombs (photos)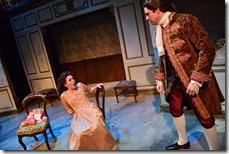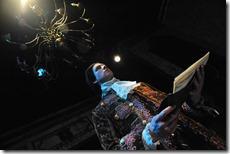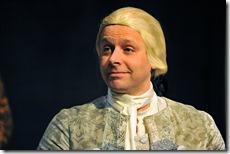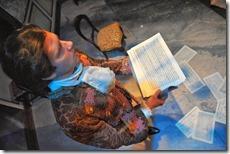 14-0229