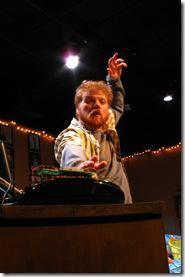 All Childish Things 
Written by Joseph Zettelmaier 
Directed by Dennis Frymire
Greenhouse Theater Ctr, 2257 N. Lincoln (map)
thru Dec 17  |  tickets: $20-$25   |  more info
Check for half-price tickets 
  
  
   Read entire review
  
---
Watching Star Wars would be better use of your time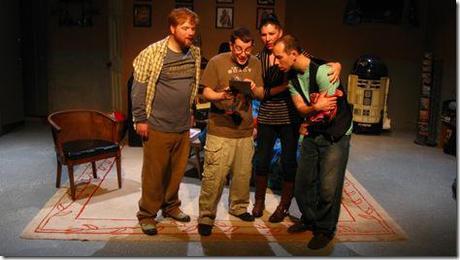 Hubris Productions presents
All Childish Things
Review by J.H. Palmer
Joseph Zettelmaier's All Childish Things is a heist with a nerdy, Midwestern twist: set in Cincinnati in 2006, the four principle characters; Dave (Nathan Pease), Max (Nathan Petts), Carter (Kevin D'Ambrosio), and Kendra (Kim Boler), have hatched a plan to break into the warehouse of Kenner Toys to steal priceless, still-in-the-package Star Wars collectibles to be sold for a cool 2 million dollars to Kendra's contact, who turns out to be Star Wars enthusiast and mob boss The Big Man (Eric Loughlin, who doubles as the voice of Dave's mother, and in doing so manages to channel John Roberts as Linda in the television series "Bob's Burgers"). The problems begin early in the piece, beginning with the nebulousness of Dave's age; at the beginning of Act I he is watching TV in the basement of his mother's house, surrounded by Star Wars memorabilia and various computer gadgets, when his mother interrupts his reverie to ask if he wants anything from the store. In this scene Dave could be 6 years old, he could be 16 years old, but as it turns out he's closer to 26 years old. This is part of the plot – here is a fully grown man living in his mother's basement looking for a way out, and turns to crime to launch himself from a prolonged adolescence into adulthood, but if I hadn't read the synopsis before watching the opening scene, this would not have been clear.
In Act I the principles are introduced to us in what feels like slow motion: we meet Max (Nathan Petts), Dave's nerdy childhood friend and recently divorced father of a four year-old. (We learn that his daughter's name is Carrie, named for Carrie Fisher, but we never see the child, nor find out where she is). While Petts manages to convey the social awkwardness of a grown man stuck in the suspended animation of a pre-teen mind, his acting methods consist mostly of sighing, whining, and pacing onstage while the audience worries about what's coming next. (The highpoint of his portrayal is an impression of Chewbacca in Act I that I'm guessing is responsible for landing him the role.)
Through dialog we learn that there is a third character who has been friends with Dave and Max for equally as long, the more sophisticated Carter (Kevin D'Ambrosio), who's girlfriend Kendra (Kim Boler) is the subject of much badmouthing both before she makes her entrance and during her stage time. Frankly, it's difficult to watch actors treat each other with such unfettered animosity onstage; it's hard to believe that someone would invite a significant other to hang out with their buddies if the person in question was so uniformly disliked, and if I were the disliked party, I'm not sure I would want to spend much time with a group of childhood friends who spoke to me in such acrimonious tones.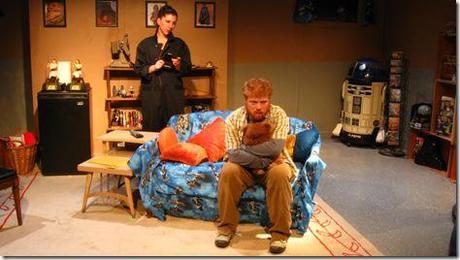 Much of Act I is spent going over the details of the heist, which manages to be about as exciting as a board meeting. In Act II, predictably, things go wrong. For some reason the Kenner warehouse is protected by armed guards, causing the quartet of frenemies to scatter and meet back in the basement one by one, with a lot of panicky conjecture regarding what has happened to whom. I'm not sure whether to credit the cast or the director with the school of acting that believes if you deliver your lines louder, they will sound better. More than once I literally stared at my feet, my fingers plugging my eardrums, in an attempt to escape the unnecessary volume on display. Just as delivering lines loudly doesn't automatically make them funnier, neither does it make them more dramatic.
Late in Act II we meet The Big Man (Eric Loughlin), the underwhelming mob boss who has a penchant for Star Wars figurines, and who strikes a deal with the rag-tag crew in exchange for the priceless Bobba Fett figurine that Dave has managed to abscond with at the offstage Kenner warehouse skirmish. The figurine has a removable helmet, which makes it extremely rare, and it is treated with a reverence that's just short of the Holy Grail.
Dave is the most likeable and multidimensional character in the piece (but then there's not much competition for that pronouncement).  Unfortunately a play can't rest on the shoulders of one character any more than a dinner conversation can rest on the shoulder of one participant. If you want a good heist play, there are plenty out there; I wouldn't recommend sitting through this one.
Rating: ★
Hubris Productions' All Childish Things continues through December 17th at Greenhouse Theater Center, 2257 N. Lincoln (map), with performances at 8pm Thursdays through Saturdays, 3pm on Sundays. Tickets are $20-$25, and are available by phone (773-404-7336) or online at tix.com. More information at hubrisproductions.com. (Running time: 120 minutes with one 10 minute intermission)
---
artists
cast