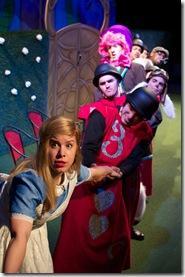 Alice in Wonderland 
Adapted and Directed by Ernie Nolan 
   Based on the books by Lewis Carroll  
at Apollo Theater, 2540 N. Lincoln (map) 
thru Dec 29  |  tickets: $16-$19   |  more info 
  
Check for half-price tickets  
  
  
  Read entire review 
---
Jubilant costumes, interactive script propels Alice down the rabbit hole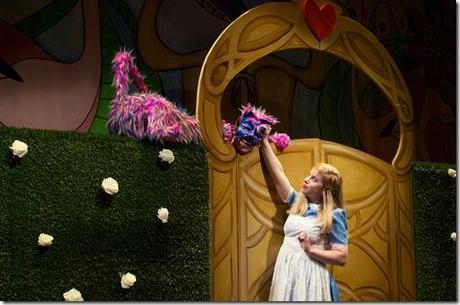 Emerald City Theatre presents
Alice in Wonderland
Review by J.H. Palmer
Emerald City Theatre has adapted Lewis Carroll's story Alice in Wonderland into a 45 minute children's play. The staging and costuming are a great strength in this piece; the Caterpillar (Eric Ryan Swanson) has a costume large enough for three – Swanson stands in the front segment on stilts, and two concealed actors work the middle and end segments. The Cheshire Cat (Daniel Desmarais) is brought to life with acting, staging, costume pieces, some animatronics, and a clever representation of the absence of the cat when he disappears and all the audience sees is his smile.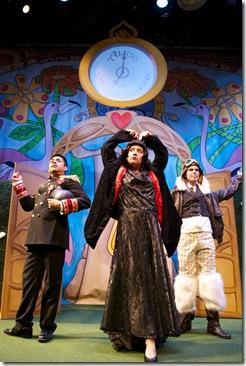 The story sweeps along at a quick pace, starting when Alice (
Maddy LaRoche
) follows the White Rabbit (
Adam Molloy
) down a rabbit hole and is transported to the land of tea parties and talking cards. The atmosphere is interactive; at times Alice asks the audience questions (which they have been invited to respond to at the beginning of the play, along with a brief explanation of the difference between answering questions asked of them by the actors and disrupting the proceedings.) At a particularly dramatic moment when the Queen of Hearts (
Allison Martone
) has it in for some misbehaving cards, Alice "hides" the cards in the audience, asking young patrons for their help in hiding them. The Queen of Hearts commands the King of Hearts (
Manuel Ortiz
), and anyone else near enough to hear her, in a booming voice and a costume reminiscent of a '20s flapper.
Emerald City crams a lot of action into a short period of time, including a croquet scene where a flamingo is used to hit a hedgehog (not real ones, naturally), cards (Isabel Dieppa, Eric Ryan Swanson, and Daniel Desmarais) frantically paint white roses red on a hedge that will soon be inspected by the Queen,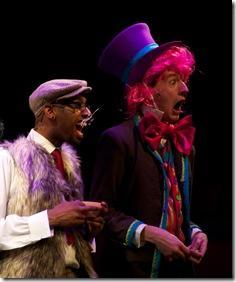 and a tea party scene with the Mad Hatter (
Alex Seeley
), the March Hare (
Joshua N. Banks
), and the Doormouse (
Isabel Dieppa
, who animates a hand puppet representing the mouse while concealed under the tea table.)
Before the play began I wondered how the more frightening elements of the story would be handled. The scariest moment, to my mind, is when the Queen of Hearts shouts "Off with their heads!" I looked over at my young theatergoing guests, aged 6 and 8, but they seemed to handle it just fine. This is a great introduction to the classic story, and one that steers clear of Disneyfication.
There's a lot of set design and costuming invested in this piece, and it pays off; this is a satisfying production to watch unfold, even if you're not in the suggested 5-10 year-old age range. The production I attended had an ice cream social after the performance, which is an extra draw; attend any Saturday performance between now and August 25 for this post-performance treat. 
Rating: ★★★
Alice in Wonderland continues through December 29th at Apollo Theater, 2540 N. Lincoln (map, directions).  Tickets are $16-$19 (with a limited amount of $13 tickets for children), and are available by phone (773-935-6100) or online throughTicketmaster.com (check for half-price tickets at Goldstar.com). More information atEmeraldCityTheatre.com.  (Running time: 45 minutes, no intermission.  Free Ice Cream Social after performances on 7/28, 8/4, 8/11, 8/18 and 8/25)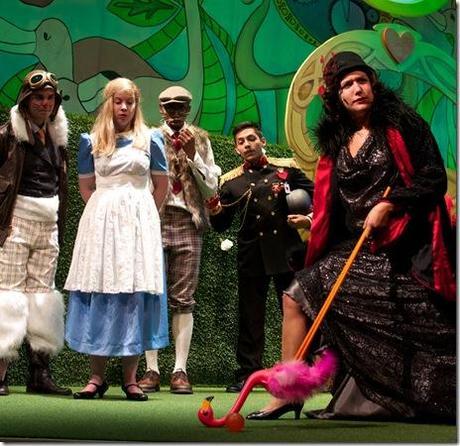 Photos by Tom McGrath 
---
artists
cast
Maddy LaRoche (Alice); Adam Molloy (White Rabbit, others); Allison Martone (Queen of Hearts, others); Isabel Dieppa (Doormouse, others); Manuel Ortiz (King of Hearts, others); Eric Ryan Swanson (Caterpillar, others); Daniel Desmarais (Cheshire Cat, others); Alex Seeley (Mad Hatter, others); Joshua N. Banks (March Hare, others)
behind the scenes
Ernie Nolan (adaptor, director); Navi Afshar, Meg Lindsey (stage managers); Robert S. Kuhn (set design); Nathan Rohrer (costumes); Jeff Glass (lighting); Christian Gero (sound); D.J. Reed (props);Tom McGrath (photos)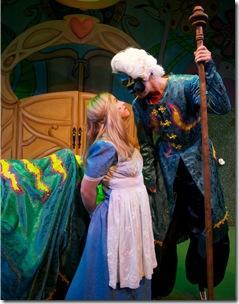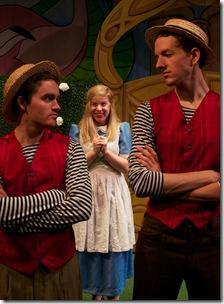 12-0735